A 23-year-old woman was driving home in November 2018 when she saw something amiss while crossing on the Interstate 275 bridge in Tampa, Florida. Luckily, she followed her instincts, and as a result, she ended up saving a man's life who was about to commit suicide.
Nicole Oyola was driving over the Howard Frankland Bridge when she saw a car with its hazard lights on parked on the side of the road.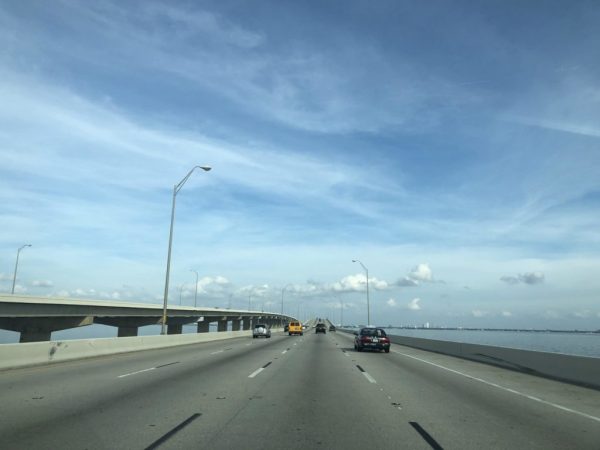 Initially, she thought the driver's car might have broken down, but when she slowed down her car, she saw the man was on the edge of the bridge with one foot dangling.
"I questioned myself, should I stop? Then something in my gut told me he needs you," she told Yahoo Lifestyle. Then, in a split-second decision, she pulled over.
"I started talking to him. I told him, 'You're worth it. You're enough. I don't know what you're going through, but I love you and God loves you and everything is going to be okay,'" Oyola recounted to Fox 13.
Good Samaritan talks down suicidal man on Howard Franklin Bridge, prevents him from jumping to his death

A man was just moments away from jumping to his death off the Howard Frankland Bridge, when Nicole Oyola was driving by, sensed something was wrong, followed her gut and stopped to help. She was able to talk him out of jumping by simply saying she cared about him. He's now getting the help he needs thanks to her simple act of compassion.If you or someone you know is having suicidal thoughts, don't hesitate to call to 211 or reach out to the Crisis Center of Tampa Bay. You can remain anonymous when you call and still get the help you need.FULL STORY: http://www.fox13news.com/news/local-news/clearwater-woman-saves-suicidal-man-from-jumping-off-howard-frankland?fbclid=IwAR0T_g_OMQcqoshMD2uuk4KiWIxb6m7iTuSIFHHwix-_U4DBmIhIWfHKWkg

Gepostet von FOX 13's Jordan Bowen am Donnerstag, 1. November 2018
The man, in his early 20s, was overcome with emotion, and at first, he was unresponsive to her. But it turned out that those few words of compassion, in that time at that place, literally meant the difference between life and death for the young man.
"He looked at me, and after he looked at me he started crying and I said, 'I just want to give you a hug.' So he came to the other side and I gave him a hug,'" Oyola said.
After the man got off the edge, they sat down and had a talk. That's when Oyola learned that the man was lonely, she told Yahoo Lifestyle.
"How is it that people were so selfish to drive by and not stop," she said. "I was amazed."
Having obtained the man's permission, Oyola called the police, and one officer soon arrived and prayed with the man before taking him away to get the help he needed. As he may still have been considered a threat to himself, he may have been held for 72 hours under the Baker Act.
Clara Reynolds, the CEO of Crisis Center of Tampa Bay, said that it is Oyola's act of compassion that prevented a tragedy.
"Personal interaction from somebody that just says, 'You know what? I care about you. I'm here for you. I don't want to see you go.' That is the game changer. That can be the live-saver," Reynolds told Fox 13.
But for Oyola, she explained that she reached out because she would just want someone to do the same for her.
"God has a purpose for everyone. I believe in that, so I stopped. I just wanted to help him feel better. If I was going through that, I would want someone to stop for me too," she said.
The man was so close to taking his life, but Oyola's words had turned him around. A little act of kindness from the heart definitely goes a long way!