Green Leader Elizabeth May Gets $1,500 Fine for Contempt in Pipeline Arrest
May 29, 2018 Last Updated: May 29, 2018
VANCOUVER—Green Leader Elizabeth May pleaded guilty to a criminal contempt of court charge Monday, moments before a British Columbia Supreme Court judge said the MP exploited her position to encourage others to also break the law by violating his injunction at a Kinder Morgan work site.
Justice Kenneth Affleck said May is also a lawyer and therefore had a responsibility to obey his order and to persuade others to do so.
Affleck issued an injunction more than two months ago preventing people from protesting within five metres of two work sites in Burnaby.
On Monday, Affleck said his order preserved the right to peaceful, lawful, and safe protests but May, 63, chose to protest at a main gate to Kinder Morgan's pipeline terminal, where she was arrested.
"On March 23, Ms. May went to a work site with the intention of defying the injunction in a manner that drew maximum attention by the media to that defiance," he said. "That is criminal contempt of court."
A patriotic moment here with around seven more minutes before police take action pic.twitter.com/ajjyh5aHSO

— Jeremy Lye (@JJLye980) March 23, 2018
New Democrat MP Kennedy Stewart, who was arrested with May as they protested with about 100 others, pleaded guilty to criminal contempt of court two weeks ago. He paid a $500 fine, but said later he did not regret his actions.
May's lawyer, Alex Ejsmont, apologized to the court on his client's behalf and proposed a fine of $500.
However, Affleck said May's punishment had to be greater than it was for others who do not hold positions of authority. He ordered her to pay a $1,500 fine.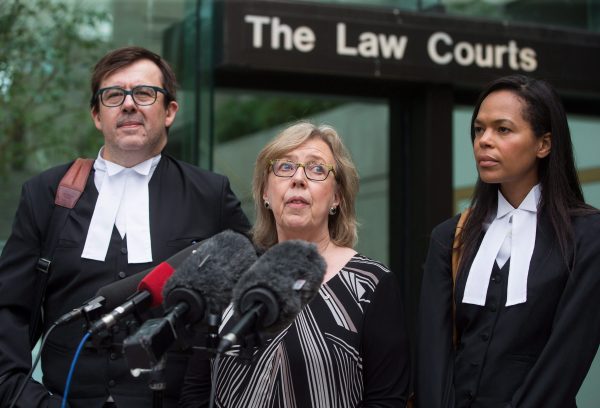 May said outside court she respects the judge's decision that she should face a stiffer fine but believes non-violent civil disobedience has a place in a functioning democracy.
"I'm holding my head up high," she said. "My job continues, to do everything I can to represent the constituents of Saanich-Gulf Islands, to protect the Salish Sea, to stand with First Nations in solidarity, and to continue to speak, as we can in a democracy, against this project."
May said she will reassure her constituents in the Vancouver Island riding that she was not charged with a Criminal Code offence.
"I'm not a convicted criminal. This is a common law offence under an unusual provision around enforcement of private injunctions," she said, adding her role as an MP is not affected by her guilty plea.
May paused and looked at her lawyer before saying she would not repeat her actions, though she vowed to keep up her fight against the pipeline expansion.