Senate investigators in late October intensified their scrutiny of the acquisition of a U.S. maker of anti-vibration technologies with military applications by a Chinese firm tied to Hunter Biden.
Investigations and oversight staff from the office of Senate Finance Committee Chairman Chuck Grassley (R-Iowa) received an "extensive, classified briefing" on Oct. 25 from the Treasury and Commerce departments and the Office of the Director of National Intelligence, according to Grassley's office.
"Chairman Grassley intends to review additional material and will contact the agencies with follow-up questions in the coming weeks," Michael Zona, the communications director for Grassley's office, said in a statement on Oct. 25.
Grassley first raised concerns about the acquisition of Henniges, the U.S. company, in mid-August. The Obama administration's Committee on Foreign Investment in the United States (CFIUS) approved the acquisition, despite several red flags and potential conflicts of interest.
One of the firms that acquired Henniges is Bohai Harvest RST, which was formed in November 2013 through the merger of a Chinese Communist Party-linked firm, Bohai Capital, and a company named Rosemont Seneca Partners. Hunter Biden, the son of then-Vice President Joe Biden, and Chris Heinz, the stepson of former Secretary of State John Kerry, reportedly formed Rosemont Seneca Partners in 2009.
"The direct involvement of Mr. Hunter Biden and Mr. Heinz in the acquisition of Henniges by the Chinese government creates a potential conflict of interest. Both are directly related to high-ranking Obama administration officials. The Department of State, then under Mr. Kerry's leadership, is also a CFIUS member and played a direct role in the decision to approve the Henniges transaction," Grassley wrote in an Aug. 14 letter to Treasury Secretary Steven Mnuchin.
"The appearance of potential conflicts in this case is particularly troubling given Mr. Biden's and Mr. Heinz's history of investing in and collaborating with Chinese companies, including at least one posing significant national security concerns. This history with China pre and post-dates the 2015 Henniges transaction."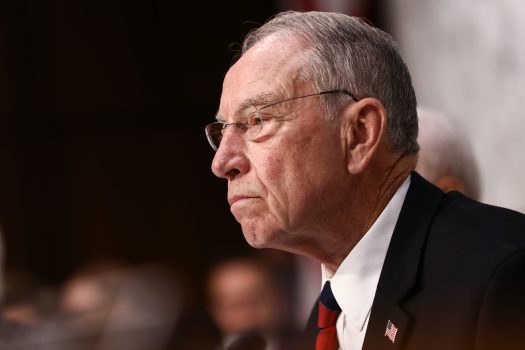 A partnership between a Chinese Communist Party-owned aviation company and an investment firm with ties to the Party acquired Henniges.
Grassley previously raised concerns about several red flags and potential conflicts of interest.
In an early example, Hunter Biden and his father, Joe Biden, flew to China in December 2013, one month after the merger involving the Hunter Biden-founded firm that created Bohai Harvest RST. During the trip, Hunter Biden helped arrange a meeting between Jonathan Li, the CEO of Bohai Capital, and then-Vice President Biden. Hunter Biden then had a private meeting with Li.
Following that trip, the business license of Bohai Harvest was approved by China.
Bohai Harvest, in December 2014, invested in China General Nuclear Power Corp., according to Grassley's letter. In April of 2016, the Department of Justice charged China General Nuclear Power with conspiracy to develop special nuclear material outside the United States.
The Aviation Industry Corp. of China joined with Bohai Harvest to acquire Henniges for $600 million in 2015. Aviation Industry Corp. acquired 51 percent of Henniges, while Bohai Harvest purchased the remainder.
CFIUS approved the transaction, even as the Chinese aviation company was reportedly involved in the theft of sensitive data related to the Joint Strike Fighter program. The stolen data reportedly ended up being incorporated into China's J-20 and J-31 aircraft.
"Recent reporting shows an overwhelming risk of conflicts and national security concerns in the Henniges acquisition that require additional Congressional scrutiny to ensure that the CFIUS process worked as designed, free of any political pressure and influence," Grassley wrote.
In his inquiry, Grassley references the acquisition of Canadian mining company Uranium One by a Russian company that was similarly approved by the CFIUS. The beneficiaries of the transaction funneled millions of dollars to the Clinton Foundation at a time when Hillary Clinton was secretary of state, raising concerns that the approval was a pay-to-play scheme.
"As I stated when I began my oversight of the Uranium One transaction, public confidence in the integrity of the CFIUS approval process requires a commitment to transparency and responsiveness to Congressional oversight inquiries," Grassley wrote.
The Epoch Times previously requested comments about Grassley's inquiry from the Treasury Department, Joe Biden's campaign, Bohai Harvest, and Henniges. None responded.
Hunter Biden announced through his attorney on Oct. 13 that he would step down from Bohai Harvest by the end of October.