WARNING: THIS ARTICLE INCLUDES GRAPHIC CONTENT
Two absolutely shocking videos have exposed a hellish and an unimaginable crime that has been occurring in China's forced labor camps and detention centers over the last two decades. These graphic segments of footage, which have never been seen before, are not only hard to watch but also makes one wonder what life is like for political prisoners in communist China.
The disturbing videos highlight prisoners of faith and other detainees being tortured into forced labor work under unimaginable conditions with some being left emaciated, while others are left with rotted and blistering skin. However, the Chinese communist regime doesn't see it as a gross violation of human rights but considers it a way to reform prisoners.
Healthy Man Tortured to the Brink of Death
The first gruesome video shows an almost near-death retired management clerk named Shi Zhimin from Hebei Province Textile Factory, located in Langfang City, China. He was arrested by Mengzhou City Detention Center and was detained for seven months in December 2004.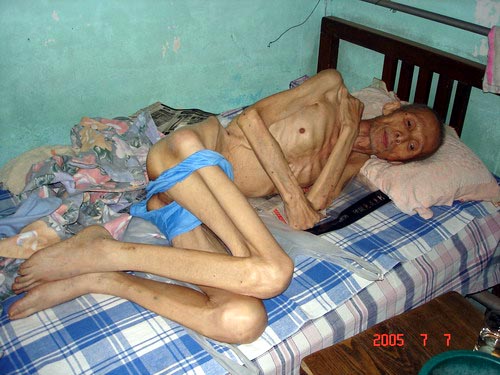 Reportedly, Shi went on a hunger strike to protest for his unjustified treatment and was then put in handcuffs and monitored round the clock. Before detention, Shi, who was of the age of 70 at that time, weighed 100 pounds (approx. 45 kg) but was severely emaciated after seven months of extreme torture, weighing only 55 pounds (approx. 25 kg).
In the video, a severely weak Shi shared of how in the detention center, he was tortured and restrained by a method named "Dead Person's Bed" in which the four limbs of the person are stretched out and tied to the four corners of a cold metal bed frame. The person is not allowed to eat, drink, or use the restroom. Shi went through this inhumane torture for three entire days. During his detention period, Shi lost weight, struggled to talk or even move, and developed a strange enormous boil near his tail bone.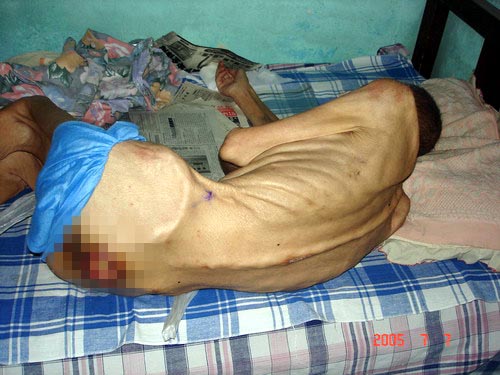 "They found a large, hard lump inside my stomach, and both my feet were badly swollen. They thought I could not live longer than a week, so they removed the force-feeding tube," Shi said.
However, this wasn't the first time Shi was subjected to torture. In fact, from 1999, Shi has been arrested more than 10 times by police and government agents and has been sentenced to forced labor camps, prisons, and detention centers. Over the years, Shi has had his beard and face burned with a lighter by prison guards, his home ransacked, his head hit with a metal rod, and been "forced-fed by inserting a tube into my nostrils."
But why was an elderly gentleman made to endure such a barbaric treatment? The reason is that he was an adherent of the spiritual system of Falun Gong, also known as Falun Dafa—an ancient mind-body system based on the tenets of Truthfulness, Compassion, and Tolerance being freely practiced in over 100 countries worldwide.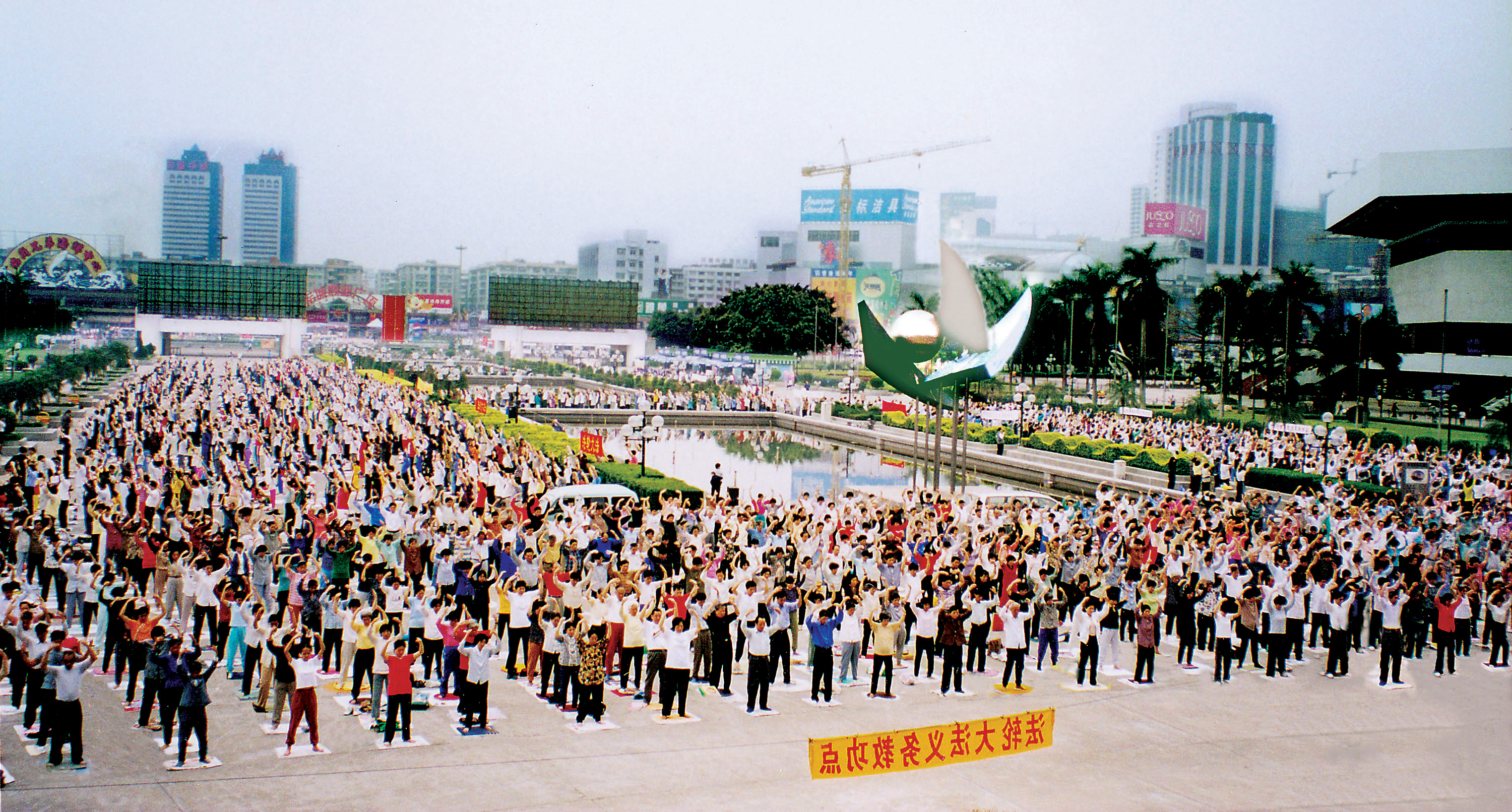 However, in China, the former Chinese Communist Party (CCP) leader Jiang Zemin launched a brutal persecution to eradicate the much-acclaimed peaceful practice on July 20, 1999. With an estimated 70 million to 100 million Falun Gong adherents in China alone, the CCP, which maintains its position as an officially atheist political party, perceived Falun Gong's presence as a threat to its authoritarian rule.
Since then, millions of people have been wrongfully detained, brainwashed, expelled, and tortured. Many have been sentenced to forced labor camps, and some have been blood-type tested so that their organs can be harvested and contributed to China's multibillion-dollar organ trade industry.
Undercover Bone-Chilling Footage
This unimaginable smuggled footage from China has been making headlines recently. The undercover footage was shot with hidden cameras by a successful Chinese entrepreneur in labor camps by bribing guards.
Ming Yu, an entrepreneur from Shenyang City, Liaoning Province, China, lost his clothing factory after the persecution of Falun Gong began. He spent 12 years in prison and labor camps and risked his life to shoot and smuggle the shocking videos. Yu fled China, crossing the border to Thailand and making his way to California on Jan. 27. He brought these secretly filmed videos overseas and shared them with the media to expose what's happening in China's labor camps.
Some footage that was filmed at the notorious Masanjia Labor Camp in the 2008 Beijing Olympics shows Falun Gong practitioners making diodes and working for extremely long hours. Ming told Fox News that the workers were given no breaks, and some were so exhausted that they slept under the tables they made the products on.
Meanwhile, another footage of a Falun Gong practitioner from the same labor camp shows him shackled to a bed and severely underweight. According to Yu, he was injured by guards at the camp.
SNEAK PEEK: In communist #China, millions have been arrested & sent to labor camps for supporting #FalunGong. Many tortured & killed. Tonight, NEVER before seen video from INSIDE those camps, given to us by a former prisoner who is now marked for death for filming it. 10pm @FOXLA pic.twitter.com/JjjJgRHJ8v

— Bill Melugin (@BillFOXLA) May 21, 2019
These horrific videos show firsthand the persecution of Falun Gong practitioners in China. Yu told Fox News: "If you're ever caught doing this kind of thing, videotaping the details of what's happening in these camps, you would lose your life."
The World Is Waking Up
Despite all that has been happening, the world is waking up to these crimes against humanity. S.Res 220 "expresses solidarity with Falun Gong practitioners and their families for the lives, freedoms, and rights they lost for adhering to their beliefs and practices," and condemns "the practice of non-consenting organ harvesting."
A resolution (pdf) published by European lawmakers on April 18 calls China to immediately release named Uighurs, Tibetan figures, and prisoners of conscience persecuted for their beliefs. It also urged China for the "immediate release of arbitrarily detained people, prisoners of conscience, including practitioners of Falun Gong."
INVESTIGATION: Undercover video reveals brutal treatment of Falun Gong prisoners inside Chinese labor camps w/@BillFOXLA: https://t.co/lNimPwrGC0 pic.twitter.com/iPkFU43rHm

— FOX 11 Los Angeles (@FOXLA) May 21, 2019
On June 17, 2019, an  independent people's tribunal found that it was "beyond doubt" that in "China forced organ harvesting from prisoners of conscience has been practiced for a substantial period of time involving a very substantial number of victims."
The Independent Tribunal Into Forced Organ Harvesting of Prisoners of Conscience in China is also known as the China Tribunal.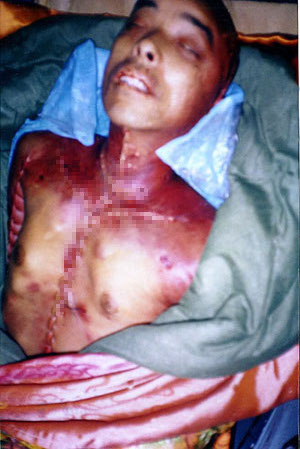 The panel of international experts concluded in their final report: "Forced organ harvesting has been committed for years throughout China on a significant scale and that Falun Gong practitioners have been one—and probably the main—source of organ supply. The concerted persecution and medical testing of the Uyghurs is more recent and it may be that evidence of forced organ harvesting of this group may emerge in due course. The Tribunal has had no evidence that the significant infrastructure associated with China's transplantation industry has been dismantled and absent a satisfactory explanation as to the source of readily available organs concludes that forced organ harvesting continues till today."