Governor General Presents Order of Canada Awards
April 9, 2010 12:37 pm Last Updated: October 1, 2015 8:25 pm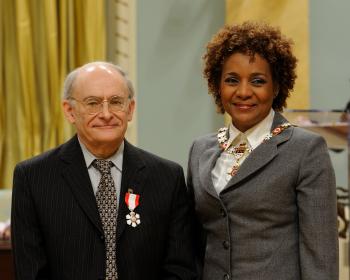 OTTAWA—Governor General Michaëlle Jean presided over an Order of Canada investiture ceremony at Rideau Hall on April 7.
The Governor General, who is Chancellor and Principal Companion of the Order, bestowed the honour on one Companion, 11 Officers, and 31 Members.
"At the heart of all the storms weathering humanity and all the uncertainty bombarding the world, there are women and men reviving hope. The people we are celebrating today are of that same calibre," said Ms. Jean.
"We are incredibly blessed to have women and men in this country who refuse to accept things the way they are and continue to believe in a better future. Women and men who follow their dreams and choose to get involved when others might turn away."
As the centrepiece of the Canadian honours systems, the award recognizes a lifetime of outstanding achievement, dedication to the community, and service to the nation.
Among the recipients on Wednesday were artists, community leaders, researchers, world leaders in medicine, lawyers, business people, athletes, politicians, and people who have dedicated their lives to public service.
Eminent jurist Michel Bastarache was named as Companion of the Order for his contributions to protecting the linguistic rights of minority communities. Among other achievements, he was recognized for his support of the development of common law in French. He was also noted for his defence of linguistic equality while he served as a justice in the Supreme Court of Canada, which marked a turning point in Canadian jurisprudence.
Winnipeg-based international human rights lawyer David Matas was awarded the rank of Member of the Order. He was recognized for his contributions to human rights legislation as well as immigration and refugee law.
Other recipients include Olympic speed skater Clara Hughes; Willie O'Ree, the first black NHL hockey player; Barry Strayer, who played a principal role in writing the Canadian Charter of Rights and Freedoms; Marc Kielburger, co-founder of both Free the Children and Me to We; and quadriplegic Gary Birch of the Neil Squire Society, for his tireless work to improve life for people with disabilities.
The Order of Canada was established by Queen Elizabeth II in 1967, Canada's centennial year. More than 5,000 people in all sectors of Canadian society have been invested into the Order. The highest level of honour is Companion of the Order, followed by Officer of the Order and Member of the Order.
"We are much indebted to the power of your imagination and your innovation, your daring, your sense of justice and commitment, your concern for others, your passion, and your desire to know and explore every dimension of the world," Ms. Jean said.
"You bring happiness, confidence and comfort to those around you, and that is why we would like to express our gratitude to you today."