California Gov. Gavin Newsom signed Senate Bill 395 into law on Oct. 4 to impose an additional excise tax on the retail cost of vaping products on top of the existing wholesale tax.
Senate Bill 395, introduced by Sen. Anna Caballero (D-Salinas) in February, aims to curb teen vaping by adding an excise tax to electronic cigarettes. The bill requires all revenues, interest, and penalties collected from the tax to be deposited into the California Electronic Cigarette Excise Tax Fund. Funds will then be distributed to youth tobacco prevention programs and health education plans.
The new law will take effect on July 1, 2022, and will require electronic cigarette purchasers to pay a 12.5 percent tax of the sales price of electronic cigarettes.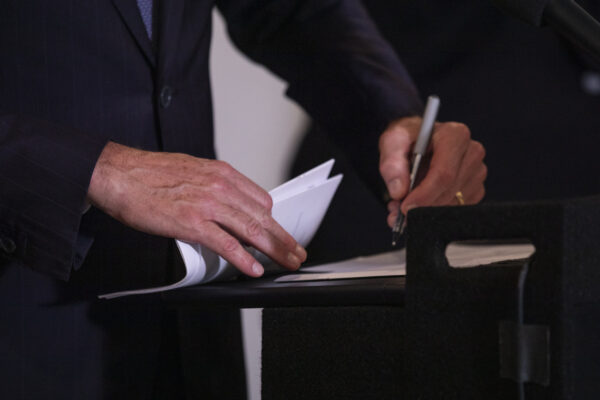 According to the Centers for Disease Control and Prevention, approximately 3.6 million youth reportedly used e-cigarettes in 2020, and the majority of them reported using flavored e-cigarettes. The number includes 82.9 percent high school e-cigarette users and 73.9 percent middle school e-cigarette users.
Eliza Tong, a practicing physician and tobacco research expert who works at the University of California–Davis, said in a hearing that vaping products are alarming because they may cause brain damage for young adults, as the brain develops until 25-years-of-age.
"So the high potency of nicotine levels and marijuana's psychoactive component THC (Tetrahydrocannabinol) in these vaping products is really alarming," she said.
"In fact, the Surgeon General has released a warning to young adults for both of these components because the developing brain is especially vulnerable through age 25.
"Nicotine itself is not harmless, with potential for cardiovascular effects of seizures, and even poisonings. It's used in pesticides."
Vapor Technology Association, a leading vapor trade association that has been actively fighting against for flavor ban posted on Twitter that "Adult smokers rely on vapor product to stay away from dangerous cigarettes. It's time to implement policies that prioritize public health over cheap political wins."
Newsom expressed his concerns over the teen use of vaping products two years ago and plans to take executive action. His executive order includes three initiatives: $20 million on a vaping awareness campaign, removal of counterfeit and illegal vaping products, and warning signage on e-cigarette advertisements.
"Now, the use and abuse of vaping products—particularly now with flavored e-liquid products [as] we estimate over 15,500 of these flavored e-liquid products are available on the market—we've seen [a] skyrocket increase in the use of these flavored products by our children and vaping products are now being seen almost ubiquitously," said Gov. Newsom in 2019.
He continued "As a father of four. This has been an issue that's been brought to the forefront of my consciousness, not because my children per se, but by family members, of their friends that are increasingly concerned and anxious about what they're seeing in schools."