Glimpses Into Burgundy
Wine, art and architecture
October 15, 2014 2:31 pm Last Updated: October 15, 2014 2:31 pm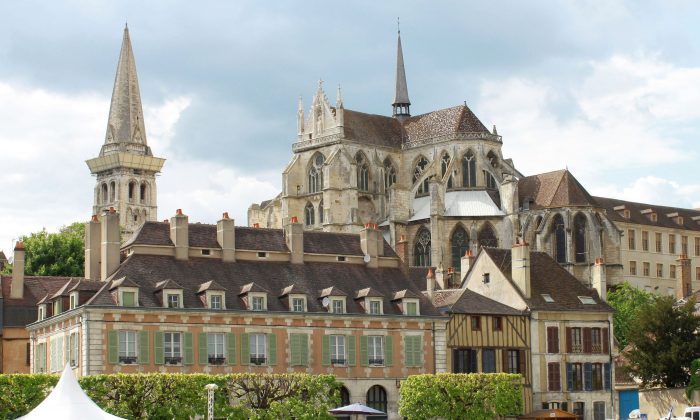 Recently, I boarded "La Renaissance," a European Waterways hotel barge that drifts up and down the most beautiful canals of Burgundy. When it slips through the various locks along the way, the rich history of the area starts to reveal itself.
Unlike sea crossings, or even cruises, where there is often nothing to see except endless waves and sky, a canal trip reveals shores alive with activity. 
Cyclists, the famous white Charolais cattle, lock keepers and their canal-side houses, hilltop castles, and miles and miles of vineyards offer an ever-changing panorama.
The Tradition of Wine 
Burgundy, like Provence, is a state of mind. Burgundians themselves find it difficult to define precise borders for this part of eastern France because it has changed hands so many times. At one time it included what is now Holland, nearly all of Belgium, Luxembourg, the old French province of Flanders, as well as other territories.
This is where some of the world's most famous wines are produced. The wines of Burgundy, known since 50 B.C.E, also foster superb dishes with tender chickens from Bresse, beef from the famed Charolais cattle, and the succulent Burgundian snails. 
Vines were first introduced to the area by the Romans after they conquered Gaul and founded the town of Autun in Burgundy in 10 B.C.E. 
There are songs and dances for each cycle of the vintage year, some reminiscent of the old days when bare feet actually stamped the juice from the grapes. In fact, the beautiful castles are usually surrounded by vineyards. 
Castles and Cathedrals
The pilgrims' route through France to Santiago de Compostela has also left its mark, especially in the plethora of churches and places such as the priories, where the pilgrims stayed. 
The architecture of the cathedrals is superb, but it is the sculpture that takes the cathedrals to the limits. Many aspects of life are covered—religious symbols, animals, flora, strange unworldly beasts, everyday folk, saints, angels, and important people, such as dukes and kings. The sculpture in the churches and cathedrals celebrates life. 
Nevers, another stop on our canal trip, is a town called a "City of Arts and Crafts." It is located at the confluence of the Loire, Nièvre, and Allier rivers and is known for its Nevers blue earthenware, a handpainted enamelled faience introduced from Italy. A small, dedicated group of master craftsmen is to be found in the town, as well as crystal engravers, wood sculptors, and saddle makers.
Castles abound, some fanciful, some austere, such as the Château de Bazoches, a 12th century feudal chateau (or fortress) where, in 1675, Marshall de Vauban, Louis X1V's great military engineer, designed more than 300 constructions and fortified sites. It is still owned by descendants of de Vauban today. 
Another castle still owned by the ones who built it is the Château de Commarin dating from 1346. This chateau houses a rare collection of tapestries from the 16th century and rare examples of period furniture and objets d`art.
Last but not least to me was the Abbey at Fontenay, founded in 1118 by St. Bernard. It functioned as a large Cistercian monastery near Montbard and is noted for its simple, rather austere style. It was damaged at the time of the French Revolution but has been carefully restored and is now the most complete medieval monastery in Burgundy. The complex includes cloisters, dormitories, outbuildings, fish basins, bakery, a mill, a forge, and even a prison.
There is so much to see and experience in Burgundy that I feel another trip is mandatory!
Should you wish to experience a canal barge trip, visit: www.gobarging.com

Susan Hallett is an award-winning writer and editor who has written for The Beaver, The Globe & Mail, Wine Tidings, and Doctor's Review, among others. She is currently the European editor of Taste & Travel International. Email: [email protected]