Georgia Gov. Brian Kemp is calling on Secretary of State Brad Raffensperger to order a signature audit of votes after the release of video footage appearing to show poll workers in Fulton County processing ballots in the middle of the night with no observers.
The Republican on Fox News' "The Ingraham Angle" on Dec. 3 said that state law gives the Secretary of State power to audit or adjust election procedures when necessary.
"I called early on for a signature audit," Kemp told Ingraham. "Obviously, the Secretary of State, per the laws and the [state] constitution would have to order that and he has not done that. I think it should be done."
Raffensperger's office did not immediately respond to a request for comment from The Epoch Times.
President Donald Trump made a similar call on Twitter, writing late Thursday that the best way to ensure a win for Sens. Kelly Loeffler (R-Ga.) and David Perdue (R-Ga.) "is to allow signature checks in the Presidential race."
Kemp's comments came hours after Trump's legal team presented surveillance footage at a Georgia state legislature hearing that appeared to show election workers telling poll observers to leave on election night before staying to continue counting what appeared to be four boxes filled with ballots.
Referencing the video footage, Kemp continued, "I think especially with what we saw today, it raises more questions. There needs to be transparency on that."
"I would again call for that and I think in the next 24 hours, hopefully, we'll see a lot more from the hearings that the legislature had today and we'll be able to look and see what the next steps are," he said.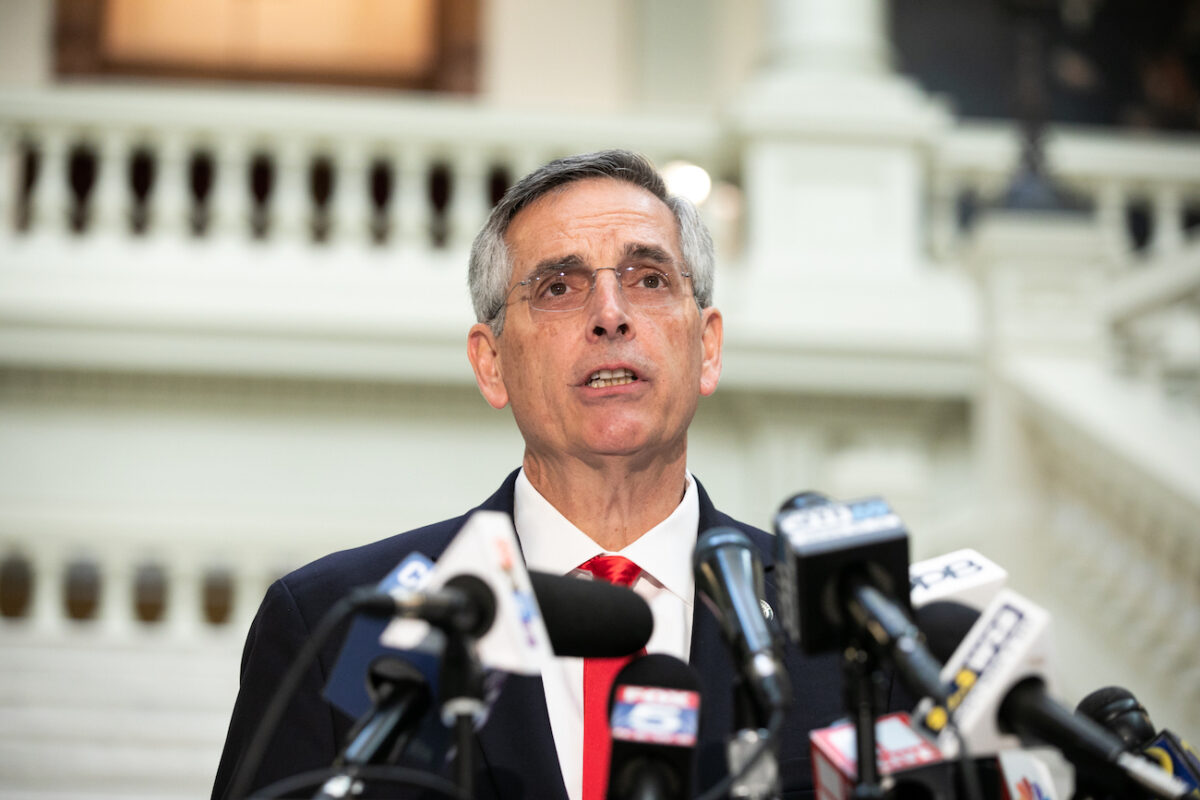 At Thursday's hearing, Jacki Pick, a lawyer who is volunteering with the campaign's legal case, said the team received video footage of the vote-tabulation room from State Farm Arena's in Fulton County, Georgia. The team said that GOP poll watchers weren't allowed to watch the counting process in the poll center.
According to Pick, at around 10 p.m. local time, a woman—described as a blonde woman with braids—told workers to stop counting and notified everyone to go home, at which point most people left, including the Republican observers and the press. But four people stayed behind to continue counting and tabulating until around 1 a.m., the footage revealed.
Pick said the video footage showed Fulton County election workers waiting at their scanning areas until GOP poll observers and reporters left the room before they started "scanning ballots," ostensibly without any observation from around 11 p.m.
Once everyone was gone, the workers are seen wheeling out the ballot boxes that were stored away under a black table cloth, Pick said. After reviewing the footage, she said that it doesn't appear to be a normal procedure, and if unobserved, was in violation of state law.
Frances Watson, the secretary of state's chief investigator, has disputed some of Pick's claims but has not provided clarity on why the ballot boxes were kept under the table and counted without observers, or where the ballots came from. Watson argued that nobody asked the poll observers to stay or leave, but Georgia GOP Chair David Shafer challenged her explanation, saying on Thursday that the footage still showed that observers were not present for ballot processing.
Shortly after the video footage was shared on Thursday, Trump, who has repeatedly alleged voter fraud in the 2020 election, said on Twitter, "People in Georgia got caught cold bringing in massive numbers of ballots and putting them in 'voting' machines. Great job @BrianKempGA!"
This was followed by a second post in which he said that the best way to ensure a victory for incumbent Republican Sens. Kelly Loeffler (R-Ga.) and David Perdue (R-Ga.), who are facing Democratic candidates Jon Ossoff and Raphael Warnock in two Jan. 5 runoff races in Georgia, is to conduct signature checks for the presidential race.
"The best way to insure [sic] a @KLoeffler and @sendavidperdue VICTORY is to allow signature checks in the Presidential race, which will insure a Georgia Presidential win (very few votes are needed, many will be found). Spirits will soar and everyone will rush out and VOTE!" the president wrote.
Jack Phillips contributed to this report.