Georgia Gov. Brian Kemp on Friday urged the state's top election official to conduct an audit of the signatures on ballot envelopes.
Kemp, a Republican, made the remarks during a press conference during which he signaled that he would sign off on the certification of the election results after the Peach State conducted a risk-limiting audit of the presidential election which showed Democratic nominee Joe Biden ahead of President Donald Trump by 12,284 votes.
"It's important to note that this audit only looked at ballots, not the signatures of the absentee applications or the signatures on the ballot envelopes," Kemp said, adding that he would encourage Secretary of State Brad Raffensperger to address concerns about the signatures.
"It seems simple enough to conduct a sample audit of signatures on the absentee ballot envelopes and compare those to the signatures on applications and on file at the secretary of state's office."
The risk-limiting audit, which has been referred to as a hand recount, turned up thousands of uncounted votes in four counties. More than a dozen witnesses of the recount signed sworn affidavits attesting to errors and potential fraud, including Trump votes which were counted for Biden and suspicious batches of pristine, uncreased, and uniformly filled absentee ballots.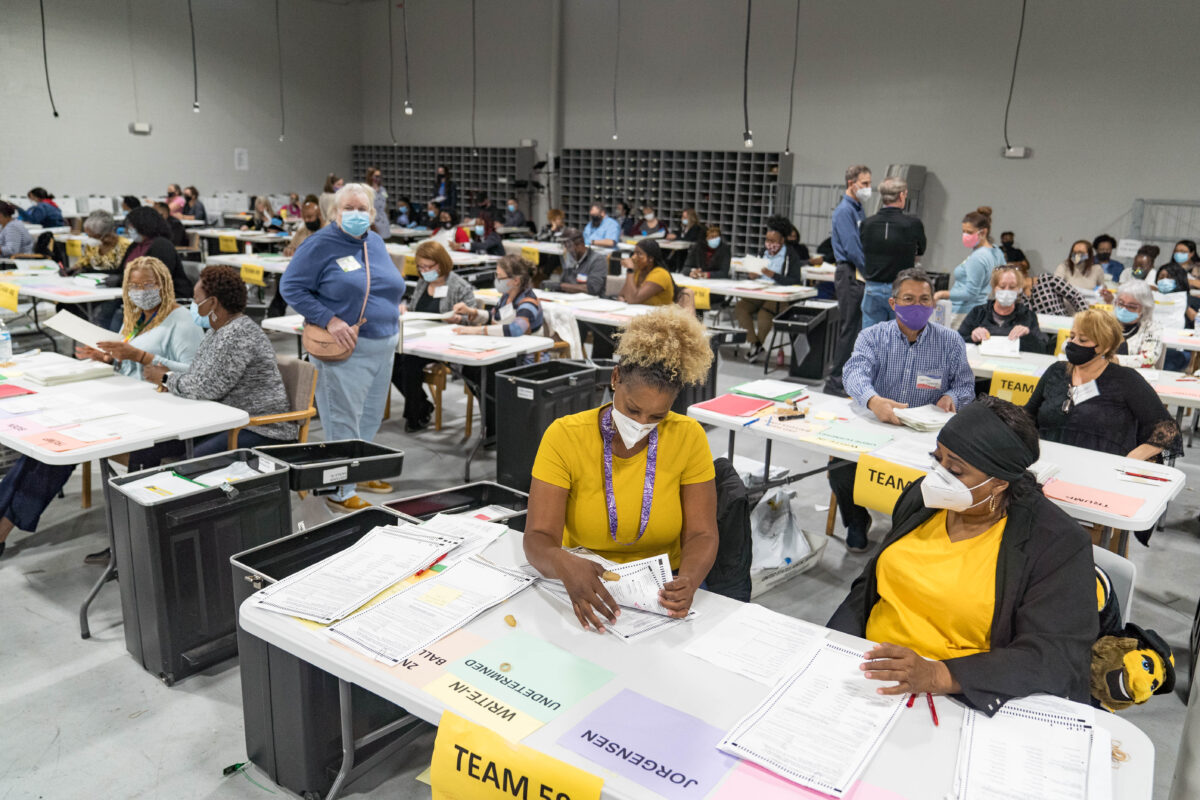 Both mail-in ballots and provisional ballots voted in person are folded before being placed into a privacy envelope, making the absence of any creases odd. The odd batches were overwhelmingly for Biden. On one occasion, more auditors counted more than 500 of the pristine ballots in a row for the former vice president.
Trump and his campaign have repeatedly complained that the risk-limiting audit was meaningless without an examination of the signatures on the ballot envelopes.
"The Governor of Georgia, and Secretary of State, refuse to let us look at signatures which would expose hundreds of thousands of illegal ballots, and give the Republican Party and me, David Perdue, and perhaps Kelly Loeffler, a BIG VICTORY," the president wrote on Twitter on Nov. 20. "Why won't they do it, and why are they so fast to certify a meaningless tally?"
During the brief announcement on Friday, Kemp said that the certification of the election results opens new paths for the Trump campaign, including a recount.
A day prior to Kemp's announcement, a Georgia federal judge denied a motion to block the certification, which was brought as part of a lawsuit by Lin Wood, an attorney with the Trump campaign. Rudy Giuliani, the head of Trump's post-election legal effort, said on Thursday that the Trump campaign planned to file a lawsuit in Georgia on Friday.
Raffensperger's office did not respond to a request for comment.
The risk-limiting audit shrunk Biden's lead in the Peach State by 496 votes. Three of the four batches of uncounted votes discovered during the audit contained more votes for Trump than Biden.