The website used by the office of Georgia's secretary of state to order blank ballots and other election supplies is hosted on Shopify, a Canadian e-commerce platform that disclosed that it was breached not long before Election Day, The Epoch Times has learned.
The unique address of the website appears on the bottom of order records from local elections offices, some of which were discarded near the secretary of state's distribution warehouse.
The shop's landing page is protected by a password.
"The Georgia Elections Supply Store is for Georgia Election Officials only. It is password protected. If you do not know the password and you would like access to the store, please contact Rachell Simmons at the Secretary of State's office," the page states, before listing the email and phone number for Simmons.
Exposing the emails and phone numbers of officials involved in disseminating the password for the website leaves them vulnerable to phishing attempts.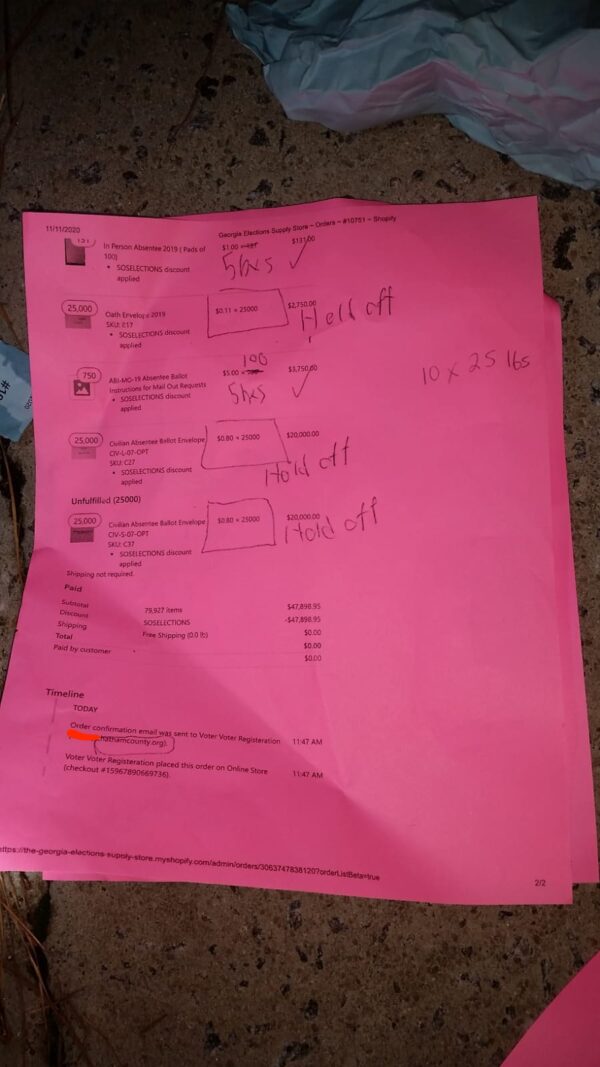 Local election officials use the website to order blank absentee ballots, ballot envelopes, oath envelopes, applications for voter registration, signs for ballot drop boxes, and other items. The Epoch Times can confirm that boxes appearing to contain these and other supplies were being loaded from the warehouse into a UPS truck. The package delivery company didn't immediately respond to a request by The Epoch Times for comment.
Shopify announced on Sept. 22 that two rogue members of its support team had breached the data of some 200 members. The company said at the time that it had referred the matter to the FBI.
"This incident was not the result of a technical vulnerability in our platform, and the vast majority of merchants using Shopify are not affected. However, those whose stores were illegitimately accessed may have had customer data exposed. This data includes basic contact information, such as email, name, and address, as well as order details, like products and services purchased," Shopify stated in a blog post.
Shopify didn't immediately answer an emailed inquiry about whether the Georgia Elections Supply Store was one of the accounts breached. The company had previously said that it contacted the victims.
The office of Georgia's secretary of state didn't immediately return a request for comment.
Shopify is the second Canadian company with involvement in the U.S. election. Toronto-based Dominion Voting Systems is facing accusations that its elections systems, in use in key states such as Georgia and Michigan, were maliciously manipulated to change the outcome of the 2020 election; Dominion has vehemently denied the allegations.