Gao Zhisheng Hopes to Travel to America to Accept Award
May 16, 2007 12:00 am Last Updated: May 16, 2007 12:00 am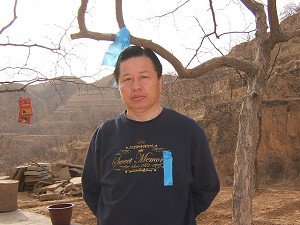 News of the groundbreaking work of Chinese human rights attorney Gao Zhisheng has begun to reach the outside world.
Recently, Chinese human rights activist Hu Jia met with Gao, and shared the experience on Sound of Hope Radio. The following is a transcript of that broadcast:
I went to Gao's home on the evening of May 7. His whole family had just returned home. I first met Gao's wife, Geng He; an hour later, Gao came home with his son, Tianyu. I immediately felt close to him. Thinking about all the tribulations he has endured over the last eight months—undoubtedly the darkest period in his lifetime—my heart ached for him.
He was in relatively good spirits, happily holding his son. I noticed that his family brought him comfort. Although much thinner than before, Gao has recovered noticeably since he was last seen by volunteers. His complexion has improved, but he has grayed considerably at his temples—he didn't have any gray hair before. He has suffered tremendously both mentally and physically during those grueling eight months.
Only after being illegally arrested did Gao truly understand how ruthless and shameless the Chinese communist regime can be. They even applied pressure to his family members to manipulate him. For example, when Gao was first arrested, he began a hunger strike, only to give up a day and a half later. This wasn't due to a lack of discipline, but because a prison guard said, "If you're a hunger strike, then go ahead. But for every hour that you're on it, your family members will be denied food as well."
His children are so young, but this does not move the Chinese communist regime; they have no problem using his children and wife to threaten him. This regime is malicious to an extreme. When I asked Gao about his past experience and lingering concerns, he said that what worries him the most is still his family.
It is not that Gao is unwilling to step forward to communicate with the outside world, nor is he personally unwilling to work on controversial lawsuits. However, the Chinese regime uses a very manipulative method to stop him: if you continue with your work, then your daughter will be beaten and cursed by many policemen; she will be badly injured both mentally and physically.
As a father, Gao has been forced to make a painful compromise. All of his relatives, including his brothers, sisters, nieces and nephews have been harassed because of Gao's case regardless whether they are farmers, or public employees. His sister and her children have been kept under strict surveillance. His elder brother's family in Shannxi Province has also been harassed.
Plagued by this constant torment, the elder brother nearly took his own life and drove off a cliff, preferring to die rather than contend with the policemen who pestered him. As a result, officers from state security agency became troubled that they had pushed him to such an extreme. One officer confessed, "We didn't know we had forced you to such an extent." Another said to the brother," We know what we have done is very ugly. I won't do it any more."
Even the policemen knew that what they were doing was wrong. In fact, Gao's elder brother is a very mild-mannered farmer who has worked his whole life on the farm. He has led an extremely cautious and careful existence; but with continued police harassment, this timid farmer has been driven to react in such a miserable way to defend his brother's dignity.
Gao Wins Courageous Advocacy Award in America
Gao learned that he had been granted the Courageous Advocacy Award by the American Board of Trial Advocates and I filled him in on the details. Gao was very happy when he heard the news. Because he had been isolated from the outside world for so long, he has only heard endless threats from policemen. With news of this award, Gao was comforted by the concern and care that has come from oversees.
The award, granted by legal professionals, speaks to Gao's continued commitment to the rule of law. He speaks for those being persecuted using the rule of law such as Falun Gong practitioners and socially vulnerable groups in China's northern Shaanxi. To my knowledge, not only has he provided legal counsel, but also financial assistance to these disadvantaged groups. Personally, I am familiar with his helping more than three or four of such groups.
This spirit of furthering China's societal development by observing the rule of law is now being honored internationally. The American legal organization that granted him the award is a highly professional association with a good reputation. Gao felt very gratified.
Gao also expressed this wish: if it is at all possible, even if there is only one percent of a chance, he hopes to attend the ceremony to accept this award in person. He looks forward to sharing with his colleagues in the American legal field.
This honor will encourage Gao to move forward on promoting the rule of law together with the protection of human rights—a fundamental factor in facilitating the democratization and legalization process of China.
Whether Gao can make it this time, no matter how slim the chance is for him to tell his story to more people in the free world, we will continue to pay close attention to this matter.