Gallup Poll: Trump, Clinton Finish with 'Historically' Poor Images
November 8, 2016 9:57 am Last Updated: November 8, 2016 10:09 am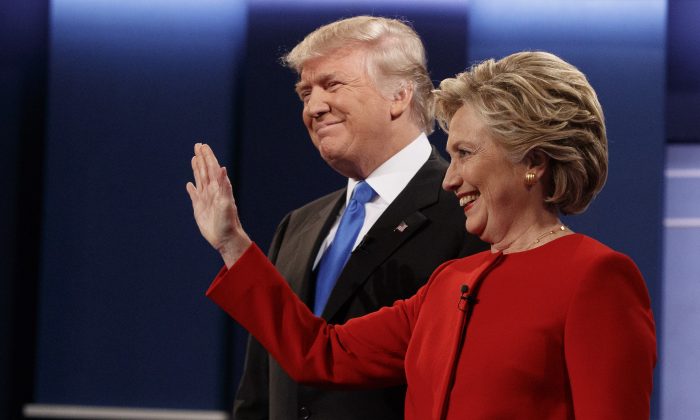 A poll from Gallup shows that Hillary Clinton and Donald Trump have the worst election-eve impressions of any presidential candidates since 1956.
About 61 percent of Americans view Trump unfavorably, which Gallup says is the worst score observed in its polling history. About 52 percent view Clinton unfavorably—and Gallup says it's the second-worst score.
"In sum, this contest of historically unpopular candidates concludes with Clinton the apparent "lesser of two evils," and that could be what decides the election," Gallup concluded in its writeup of the poll.
Barry Goldwater, polled by Gallup in 1964, had the third-worst score at 47 percent.
The Gallup poll surveyed 1,033 adults between Nov. 2 and Nov. 4. It has a margin of error of 4 percentage points.
"Majorities of Americans now view each of them unfavorably on a 10-point favorability scale, a first for any presidential standard-bearer on this long-term Gallup trend," Gallup wrote.
It added: "Americans' fundamental reactions to their 2016 presidential candidates are at least as negative today as when Clinton and Trump emerged as their respective parties' presumptive nominees in June. The subsequent ups and downs of the campaign have resulted in no meaningful change to Trump's image, and have had a modest negative effect on Clinton's, with her highly unfavorable rating inching up to match Trump's."