The front of a building in Glasgow, Scotland, has been torn off by ex-Hurricane Ophelia as the country was battered by winds of up to 70 mph.
The building in south Glasgow was unoccupied and slated for partial demolition. The storm hit the building at around 4 a.m.
Emergency services on the scene said no one had been injured.
A spokesman for the Scottish Fire and Rescue Service told the Daily Record, "The Scottish Fire and Rescue Service was alerted to reports of debris falling from an unoccupied tenement building."
"A total of seven appliances were immediately mobilised to the scene and firefighters found part of the front face of the building to have collapsed."
"There were no casualties and crews left the scene after ensuring the area was made safe."
The front of a block of flats has been brought down in high winds as Storm Ophelia sweeps across Scotland https://t.co/qFDO4TObac

— Heart Scotland News (@HeartScotNews) October 17, 2017
A Police Scotland spokesman said, "It was around 3:55 a.m. this morning, police were called to a report of an unoccupied building having partially collapsed. Nobody was injured."
According to Glasgow City Council the building had been unoccupied for over a year.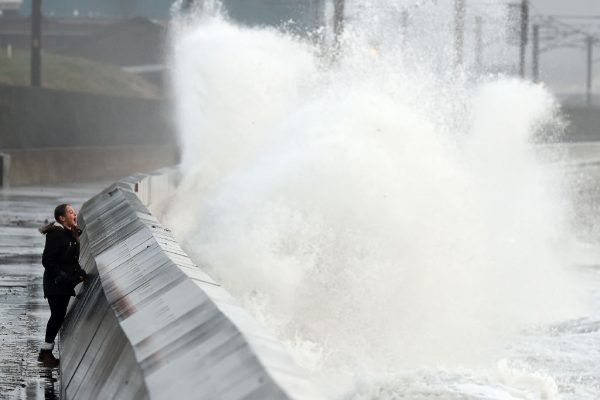 Ireland bore the brunt of the storm, with three people killed in separate incidents.
About 120,000 homes and businesses were without electricity and 170 flights were cancelled out of Dublin Airport. Schools, hospitals, and public transport services were closed and the armed forces were dispatched to bolster flood defences.
The Irish Meteorological Service advised people to stay indoors on Monday, Oct. 16, and to remove any loose items, like patio furniture or rubbish bins, for fear that they could turn into "wind missiles."