One chilly January morning, Sacramento County student Kinsey decided to walk into school without a face mask. She would later say the simple act took "all the courage [she] had" in the face of the state's indoor mask mandate for schools.
Kinsey, a high school junior at Bella Vista High School, said she used to love school, but has experienced growing feelings of isolation and anxiety due to the masks, as well as growing feelings of frustration toward state and school officials who insist on the mandate despite reports that children have the lowest rates of COVID-19 transmission.
After being forced to sit outside her classrooms the first two periods, Bella Vista's vice principal finally sent Kinsey home.
Eventually, Kinsey learned she was not alone. A week later she took to social media, asking her fellow students classmates to join her in exercising their First Amendment rights.
"I want this to show high school students that they can stand up for themselves," Kinsey said. "I want high school students and kids to know that they have a voice, regardless of adults who tell them that they don't."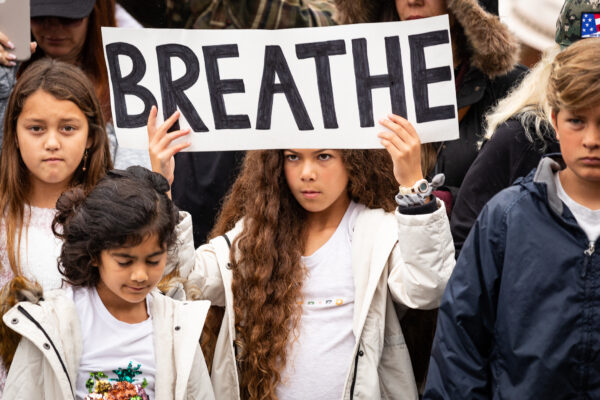 On Feb. 4, about 20 students from Bella Vista were sent to the principal's office for not wearing a mask. There, they were given the choice to either mask up, isolate in a room on campus, or go home. Most chose the latter.
Down the street, a handful of students at Andrew Carnegie Middle School, part of San Juan Unified School District, said school officials told them on Feb. 4 to sit on a street curb after they were sent to the principal's office for refusing to wear a mask.
Students said in a video posted on Twitter they were told by school officials that if they had any "stranger danger" while sitting on the curb off campus, they should "run back into the school."
Parents later showed up later to supervise the students, according to additional posts on social media.
Other California students are organizing similar protests.
This week, more than 500 total students from six K–12 schools in the Oakdale Unified School District, in the Modesto area of Northern California, showed up without masks for three consecutive days, according to Let Them Breathe, a parent advocacy group that provides legal support to parents challenging school pandemic mandates.
Another photo taken by a student that was posted on Twitter shows folding tables propped up in front of the gym's doors in an attempt to barricade the maskless students inside.
"Learning [has been] disrupted, absolutely," said Oakdale Superintendent Dr. David Kline.
Let Them Breathe founder Sharon McKeeman told The Epoch Times that the organization is—and will continue— supporting students who no longer want to or can't wear masks.
"This week, California students followed Kinsey's example and peacefully unmasked en masse," McKeeman said. "In Oakdale, over 500 students shared their smiles and were segregated in gyms. At a San Juan middle school, students were literally kicked to the curb when forced to leave class and sit next to the road off-campus without supervision. [We will support] unmasked students throughout the state by sending legal letters and taking legal action to support their right to an in-person education."
On Feb. 4, state Assemblyman Kevin Kiley announced on Twitter that he sent a letter to every legislator signed by 124 board members throughout the state demanding an "end to all masking, testing and vaccination mandates" and a "return to normal school activities."
Officials from Bella Vista High School and Carnegie middle school, both in the San Juan Unified School District, didn't respond to requests for comment.