A new COVID-19 vaccine pass will go into effect in France on Jan. 24 as planned, severely restricting the public lives of people who have not decided to be vaccinated against the CCP virus. At the same time, some restrictions will loosen.
French Prime Minister Jean Castex said Thursday that from Feb. 2, working from home at least three days per week will no longer be mandated, and there will be no more outdoor mask mandate. On the same day, caps on patrons at sports and entertainment venues will be lifted.
The government will allow nightclubs to open starting Feb. 16. Also, people will be allowed to eat popcorn and other snacks in cinemas.
Castex said France's fifth wave of the CCP (Chinese Communist Party) virus, also known as the novel coronavirus, is showing signs of waning but pressure on hospitals remains high, which is why the government wants to keep current restrictions in place for 12 more days.
Meanwhile, a vaccine pass will go into effect on Jan. 24, severely restricting the public movements of people who are over 16 and unvaccinated—they will be barred from domestic flights and interregional trains, restaurants and bars, sports events, cinemas, theaters, and other venues.
Currently, unvaccinated people can enter these venues if they show results of a recent negative COVID-19 test. That will no longer be the case.
The French parliament gave approval to the new vaccine pass measure on Jan. 16 after weeks of contentious debate. It still needs final approval by the Constitutional Court, which will release its assessment on Jan. 21.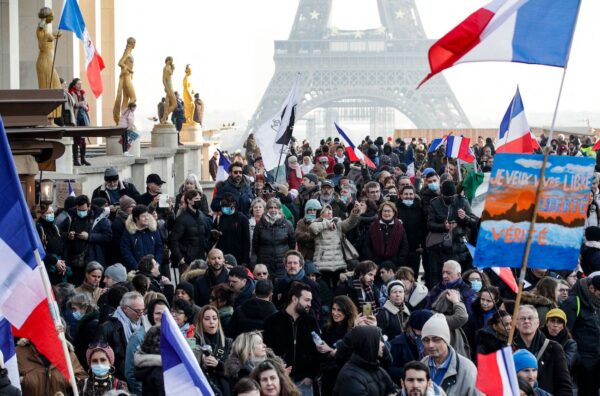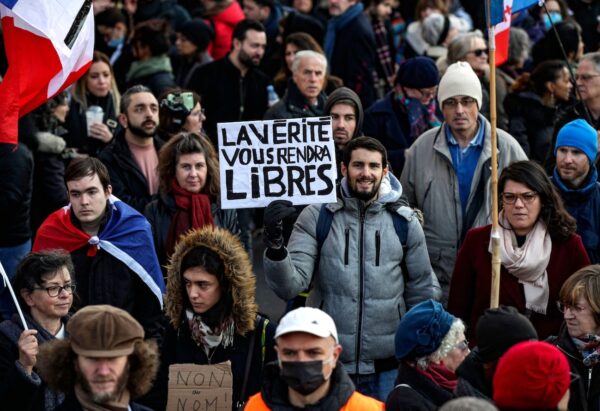 The new measure comes after President Emmanuel Macron told Le Parisien paper earlier this month that he wanted to "piss off" unvaccinated people by "limiting as much as possible their access to activities in social life."
Since Dec. 1, 2021, when the vaccine pass was announced, protesters have regularly hit the streets to rally against the mandate. Anti-vaccine mandate protesters in Paris responded to Macron by chanting, "We'll piss you off."
Some exceptions to the vaccine pass are being planned for people who have recently recovered from COVID-19, the government said.
Castex said Thursday the COVID-19 vaccine pass "is necessary if we want to preserve and increase our vaccination coverage in the event of new variants." He acknowledged the new measure "clearly puts constraints on the unvaccinated."
The prime minister also noted that starting Feb. 2, children aged 12–17 will be eligible for a booster COVID-19 shot.
He also encouraged parents to have children aged 5–11 get vaccinated. Vaccines were made available to ages 5–11 in France on Dec. 22, 2021. This group is not eligible for a third dose.
To be considered "fully vaccinated" under the vaccine pass, children in the 12–17 age bracket will not be required to take the booster, but adults will need to take it.
Castex said the vaccine pass is needed to stop the Omicron variant from spreading but that the pass could potentially be suspended "if the number of infections sharply drops and the burden on hospitals becomes significantly lighter."
Health Minister Olivier Veran said that would depend on how much pressure hospitals are under.
According to database company Statista, as of Jan. 18 in France, 52.3 million people have received two doses while 32 million people received a booster shot. There are 53.6 million people in France who have had at least one dose.
The Associated Press and Reuters contributed to this report.