France Downs Croatia to Win Second World Cup
In an era of 'Les Bleus' domination
July 15, 2018 Last Updated: July 15, 2018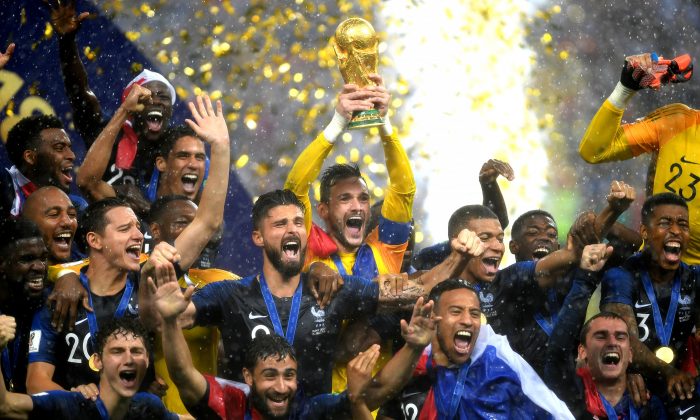 Commentary
France triumphed over Croatia 4–2 in a wild final on July 15 that epitomized what a crazy good World Cup Russia 2018 has been. "Les Bleus" won their second World Cup and erased memories of defeat in the Euro 2016 final on home soil.
It was a valiant effort from the tiny nation of Croatia to reach the final. They can feel aggrieved with a couple of dubious decisions in the first half, leading to two French goals. But France turned on the style in the second half and left no doubt about the final result.
"What we had in terms of luck over the tournament, we lacked that today," Croatian coach Zlatko Dalic said during his postmatch press conference. He said the penalty kick awarded after video review that led to France's second goal was one that should not be given in a World Cup final. But in no way did it diminish France's win, he added.

In the bigger picture, France is developing a golden generation; it had one of the youngest squads in Russia. It could also be the dawn of an era of French domination, much like when Spain won three major championships from 2008 to 2012, or when France previously won the World Cup in 1998 and followed that up with a Euro 2000 win.
Of the young team, France coach Didier Deschamps said, "Fourteen of them were on a discovery journey in the World Cup. … My greatest source of pride is that they managed the right state of mind for such a tournament."
This iteration of France began picking up steam by reaching the quarterfinals of the 2014 World Cup in Brazil. Les Bleus felt Euro 2016 was theirs for the taking after beating world champion Germany in the semifinal. The loss to Portugal stung, but it was clear they could aspire to winning major tournaments. And now they have.
Losing the Euro 2016 final "was so painful that we really want to taste the victory [in Russia]," Deschamps said after advancing to the Russia 2018 final. Deschamps became only the third person to win a World Cup as a player and as a coach.
"Some new players arrived and that was really good for us," said France striker Antoine Griezmann after the final. "They brought added value to the team." France started six players who played in the Euro 2016 final in the World Cup final in Moscow.
Deschamps, the midfield general of that 1998 winning team, said his team's young players are going to be even stronger in two and four years' time.
"With our state of mind, we can climb mountains. And that is what we've done so far," Deschamps said.
Russia 2018 has been a coming out party for France's 19-year-old phenom Kylian Mbappé, who was not even born when Les Bleus won the World Cup in 1998. The youngster scored four goals in Russia, including the fourth for France in the final.
Anatomy of a Champion
France has the ability to win a match in a number of different ways. It starts with a strong spine in the team. While goalkeeper Hugo Lloris allowed a bad goal to Mario Mandzukic in the final, he had a stellar tournament.
When a dream becomes a reality.

Take a bow, @KMbappe!

📺 Highlights 👉 https://t.co/LOdKDX2Cwn @FrenchTeam // @equipedefrance // #WorldCup pic.twitter.com/yzFrRXR6VE

— FIFA World Cup (@FIFAWorldCup) July 15, 2018
The central defense pairing of Raphaël Varane and Samuel Umtiti showed strength and skill. And then there's the magical midfield duo of N'Golo Kanté and Paul Pogba. Up top is Griezmann, France's set-piece maestro who also finished the tournament with four goals.
France won games with a stout defense, shutting out Uruguay 2–0 and Belgium 1–0, and a high-powered attack against Argentina in the second half, finishing 4–3.
Among the top favorites for the tournament—including Spain, Germany, and Brazil—France was the only one to win their first match, a controversial 2–1 win over Australia.
But from there, France gathered steam.
It should be mentioned—if only for the oddity of it—that France also played in the tournament's only scoreless draw.
Croatian Contribution
In a tournament of surprises, it's only fitting that Croatia became the 13th nation to play a World Cup final.
Croatia is a proud nation whose football team was born in 1990 when it gained independence from the former Yugoslavia.
The Balkan nation with a population of 4.1 million is the smallest country to reach a World Cup final since Uruguay in 1950. It is also the lowest-ranked nation, at No. 20, to reach the final.
🔥 #Vatreni, you have made your families, your friends, your fans, and your country proud! 🔥#BeProud💪#Croatia🇭🇷 #WorldCupFinal pic.twitter.com/SuvOvqUXWp

— HNS | CFF (@HNS_CFF) July 15, 2018
Fighting spirit is what the Croatians are all about. They fell behind in every knockout phase match but came back to win their first three to reach the final.
Croatia finished third in 1998—their first World Cup participation. It was France who knocked them out in the semifinals. Dalic was in France as a supporter back then.
"Everyone in Croatia remembers that game when [Lilian] Thuram scored and we lost 2–1," he said after his team overcame England on July 11.
But both managers were keen on keeping the past in the past, and this Russia 2018 final was not about revenge.
Tournament to Remember
The final at Luzhniki Stadium was one of the most exciting in World Cup history. The six goals scored equaled the total of the prior four finals.
In a tournament full of unexpected surprises, ultimately, the best team over the course of a month won, even if it did not put forth a complete performance in the final.
"I have never seen and lived through such a World Cup," Deschamps said. "The small teams on paper arrived really well prepared athletically, with defensive systems that are easy to implement."
Deschamps said teams with the highest level of possession and control were punished by fast forwards.
Russia 2018 will be a World Cup to be savored for a long time to come. There were only four red cards—the fewest for a tournament played with 24 or 32 teams. All 32 teams that participated scored at least twice.
The tournament featured upsets, late goals, fantastic goals—it had it all.
The Video Assistant Referee (VAR) made its debut—not without controversy, but unquestionably repairing more mistakes than not. It was a valuable addition, bringing more integrity to the world's most popular sport.
But in the end, after all the craziness and unpredictability, a team that deserved to become a two-time winner ultimately succeeded. France rode their luck at times, but also proved their quality.
July 14 was Bastille Day in France, but July 15 and 16 will likely see even larger celebrations all over the country of 67 million.
Follow Rahul on Twitter @RV_ETSports