Fragrant Lavender Buds and Shortbread Cookies
March 27, 2013 9:50 pm Last Updated: March 27, 2013 9:50 pm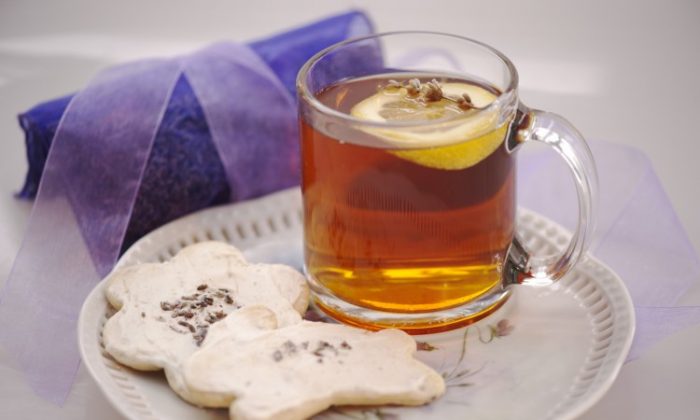 Lavender is breaking out of its old-fashioned, narrow fragrance image—perfumes, sachets, air fresheners, and linen spray.
Its antimicrobial properties make it an attractive key ingredient in commercial and homemade cleaning and bathing products, body lotions, and first aid remedies. In addition, lavender's taste and distinctive fragrance are definitely inspiring cooks, gardeners, crafters, and small-scale farmers alike.
Why lavender buds in cookies?
Because it is "simply delicious," says author and lavender grower Sarah Berringer Bader. She explains in her new book "The Lavender Lovers Handbook" that "lavender-infused desserts are becoming popular."
By sharing her recipes, Bader hopes others will try using lavender buds in their own recipes. Count me in after trying her lavender shortbread cookie recipe, the one selected for this article.
Bader expands our imagination when it comes to the many possible uses for lavender. Lavender-infused sugar, syrup, jam, vinegar, spice mixtures, and cooking oils from simple recipes are some inviting blends to attempt at home.
"There are 100 beautiful and fragrant lavender varieties," Bader writes. Some varieties are recommended for culinary or crafting uses, others to provide a curbside appeal hedgerow, while others can be planted in containers.
According to Bader's book, the best lavender for taste is the L. angustifolia variety, which includes Folgate, Hidcote Pink, Melissa, and Royal Velvet.
Lavender plant varieties can also be selected for growing by bloom colour, plant size, blooming times (early or all season), and craft or culinary uses. Lavender is ideal planted with other drought-resistant plants and in well-drained and sunny areas.

Lavender as a culinary herb for flavouring, and the added benefit of its wonderful fragrance, may even take over the popular trend of rosemary in cooking, as more and more lavender farms spring up outside of France, such as Bader's farm in West Linn, Oregon.
Check the spice sections of health food stores and major grocery chains, and even your own garden, for lavender buds. Lavender plants are sold in nurseries, seasonal plant stands, and through mail order from retail lavender growers.
Maybe Bader's shortbread lavender cookie recipe will entice you to try lavender in your own recipes. A few of these homemade treats bundled up in decorative cellophane wrap tied with a coloured ribbon make for tasty and appreciated homemade gifts, and go good with milk, tea, or coffee.
Lavender Shortbread Cookies With Lemon Butter Cream Frosting
Makes 2 dozen cookies
375 mL (1 1/2 cups ) butter (not margarine), room temperature
150 mL (2/3 cup) sugar
10 mL (2 tsp) dried culinary lavender buds, chopped
575 m L (2 1/3 cup) flour
125 mL (1/2 cup) cornstarch
1 mL (1/4 tsp) salt
Preheat the oven to 160º C (325º F). Cover two baking sheets with parchment or brown paper.
In a large bowl and using an electric mixer, cream together the butter, sugar, and lavender until light and fluffy, about 3 minutes. Add the flour, cornstarch, and salt and beat until combined.
Divide the dough in half. Flatten it into squares no less than 1 cm (3/8-inch) thickness and cover in plastic wrap. Chill in the refrigerator until firm, approximately 1 hour.
On a floured board, roll or pat out each square to a thickness of 1 cm (3/8-inch). Cut the dough into 12 – 5 cm (2-inch) rounds or into a shape of your choice with a cookie cutter.
Transfer the cookies to the prepared baking sheets, spacing them about 2.5 cm (1-inch) apart. Prick each cookie several times with a fork. Bake 20 to 25 minutes until pale golden (do not brown). Cool slightly, and then transfer to a rack. Allow the cookies to cool.
Frosting
 
75 mL (1/3 cup) softened butter
2 mL (1/2 tsp) lemon zest
750 mL (3 cups) confectioners' sugar, sifted
25 mL (2 tbsp) lemon juice
Cream together the softened butter and the lemon zest. Begin adding small amounts of confectioners' sugar and the lemon juice, mixing well before adding more.
Use a knife to spread the frosting on the cooled cookies. Before the frosting hardens, sprinkle lavender buds on top of each cookie.
Note: I recommend trying just a little less confectioners' sugar than called for if a slight butter-coloured frosting is desired, otherwise the frosting may turn white.
The Epoch Times publishes in 35 countries and in 21 languages. Subscribe to our e-newsletter.