Foxconn Workers Strike, Saying iPhone 5 Demands Too High
October 7, 2012 1:48 pm Last Updated: October 1, 2015 12:10 pm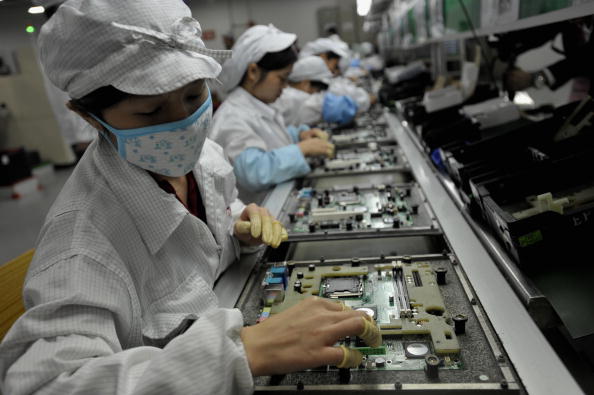 Thousands of workers at a Foxconn factory in northern China that makes components for Apple's iPhone 5 have gone on strike, with many saying that the quality demands are simply too high, a labor rights group has said.
In recent years, there have been large-scale protests and riots at Foxconn facilities, including one that involved thousands of workers at a plant in Taiyuan. There have also been numerous suicides. There were also explosions at two plants.
New York-based China Labor Watch (CLW) said the strike at the plant in Zhengzhou, located in north-central Henan Province, began Friday and 3,000 to 4,000 Foxconn workers took part.
"This strike is a result of the fact that these workers just have too much pressure," CLW head Li Qiang said in a statement.
The workers told CLW that a number of iPhone 5 production lines in various factories were shut down all day Friday.
The workers told the labor group that Foxconn demanded they work during the holiday and raised overly strict demands on product quality without offering any training for the skills needed to complete the job. This lead workers to produce products that were not up to par, and placing them under more pressure. The group said that both factory management and Apple placed the quality demands on the workers.
"With such demands, employees could not even turn out iPhones that met the standard," CLW said. Foxconn's "quality control inspectors fell into conflicts with workers and were beat up multiple times by workers," it said. "Factory management turned a deaf ear to complaints about these conflicts and took no corrective measures."
There was also a fight between workers and quality control inspectors that caused damage in one of the factory's inspection rooms and led to a number of hospitalizations, the group said. Last week, inspectors received threats and when these problems were reported to management, they ignored them and did nothing about it.
The production problems along with being forced to work through the holiday triggered a large-scale work stoppage on the factory floor, with both workers and inspectors taking part.
Foxconn denied any strike took place in Zhengzhou, saying the disturbances that took place earlier in the week, were small, and were immediately quashed.
"Any reports that there has been an employee strike are inaccurate," Foxconn told Reuters via email. It added that "there has been no workplace stoppage in that facility or any other Foxconn facility and production has continued on schedule."
According to the CNET website, the Zhengzhou facility employs around 190,000 people.
"The employees always say the people outside want a job," an employee with Foxconn told CNET, "and the people inside want to quit."
The Epoch Times publishes in 35 countries and in 19 languages. Subscribe to our e-newsletter.
Click www.ept.ms/ccp-crisis to read about the most recent developments in the ongoing crisis within the Chinese communist regime. In this special topic, we provide readers with the necessary context to understand the situation. Get the RSS feed. Who are the Major Players?