Wounded Fox News reporter Benjamin Hall revealed that he suffered severe injuries during a deadly attack in Ukraine last month that left two other Fox colleagues dead.
"To sum it up, I've lost half a leg on one side and a foot on the other," Hall wrote on Twitter before deleting the post. "One hand is being put together, one eye is no longer working, and my hearing is blown."
Hall added that he felt "pretty damn lucky to be here" and said those who helped him get out of Ukraine are "amazing." It's not clear why Hall deleted the Twitter post, which also included a photo of him in a hospital bed.
A vehicle that Hall was traveling in was hit by gunfire near Kyiv in March, officials previously said. Longtime Fox photojournalist and cameraman Pierre Zakrzewski and Oleksandra "Sasha" Kuvshynova, a 24-year-old Ukrainian journalist who was working for the network, were killed in the incident.
Details about the attack are not clear, but Ukrainian officials have alleged that Russian forces were behind the assault. Moscow has not publicly commented on the matter.
"It's been over three weeks since the attack in Ukraine and I wanted to start sharing it all. But first I need to pay tribute to my colleagues Pierre and Sasha who didn't make it that day," Hall also wrote on Wednesday in another Twitter post, which was also deleted. "Pierre and I traveled the world together, working was his joy and his joy was infectious. RIP."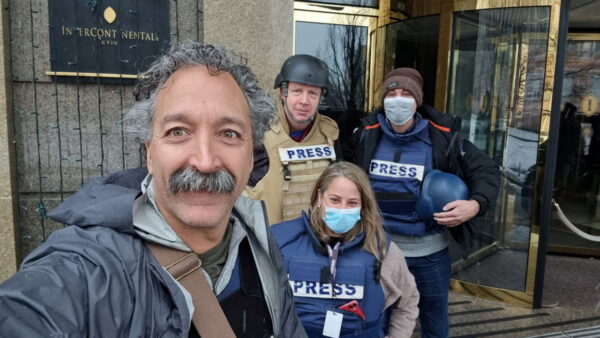 Fox News CEO Suzanne Scott confirmed that Zakrzewski and Kuvshynova were both slain in the incident.
At the time of Zakrzewski's death, Scott released a statement: "Today is a heartbreaking day for Fox News Media and for all journalists risking their lives to deliver the news. He was profoundly committed to telling the story and his bravery, professionalism and work ethic were renowned among journalists at every media outlet."
Scott confirmed several weeks ago that Hall was extricated from the war-torn country and was transported to a military hospital in Texas.
"Ben is alert and in good spirits," she revealed at the time. "He is being treated with the best possible care in the world and we are in close contact with his wife and family. Please continue to keep him in your prayers."
Other members of the media have been killed or injured during the Russia–Ukraine conflict, which started on Feb. 24.
Among them, former New York Times reporter Brent Renaud was shot and killed after someone opened fire on a vehicle transporting foreign journalists, according to Ukraine's government. Juan Arredondo, Renaud's companion, was injured during the incident.