It's not every day that someone asks you if they can mow your lawn for free.
But four teens in Louisville, Kentucky, are doing just that—and receiving a groundswell of support while they're at it. 
Travis, 14, Demontae, 15, Thomas, 16, and Alan, 15, mow lawns, rake leaves, and pick up trash—all free of charge—hoping to make a difference in their community.
The boys have a Facebook page called "It Takes a Village, Together We Stand Strong," where they share photos of their work. 
"We'd all like to live in a place where people care about others, where people pitch in to help when things get rough, where it's safe to let our kids play around outside," reads a description on the page.
However, those days are long gone, the page states. "Instead of community, we find alienation; looking for safety, we are attacked by crime; hoping for a better life for our kids, we encounter gangs and drugs and the lies of television."
It all started when Travis got into trouble. His mom, Barbara Wilson, said Travis was being a "smarty pants."
"So I told him go cut the neighbor's yard. Being a bigger smarty pants, he cut eight yards that day," she said.
"We made the other boys help him because they claimed to be bored." 
Travis and Demontae are brothers, Alan is their cousin, and Thomas is a friend.
Wilson said the boys are all best friends, describing them as "humble, well-mannered, and respectful."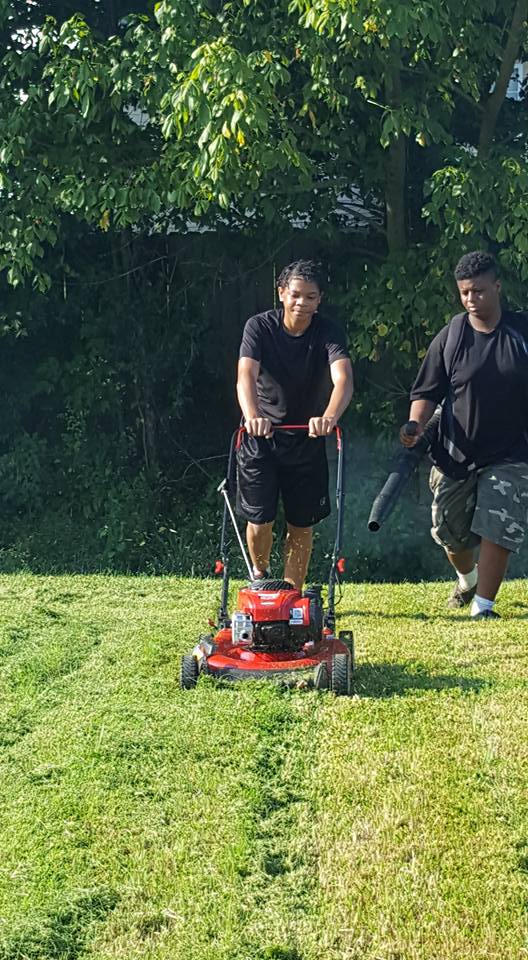 The more the boys started going around their neighborhood, the more they noticed some of their neighbors were unable to maintain their yards—some were elderly or ill, some had no money for the proper equipment. Or homes were abandoned and vandalized, especially in the West End.
So, the boys created a mission to help fix up a community exposed to a perpetual cycle of poverty.
Wilson said the boys are "irritated with the ruins of west Louisville," but it only makes them much more willing to do their good deeds.
However, she said, "It's not as easy as people make it seem to get all of them motivated."
And the business is bringing the community together.
"Life is a lot easier when you are part of a network of friends and family, a community, a neighborhood," the Facebook page states.

Wilson said that oftentimes people are scared to open their doors because they are afraid of her boys. 
"They knock on doors. Say who they are and what they offer. Some don't open the door, cut them off, shoo them away, and they watch to make sure they leave," Wilson said.
Yet, the boys are able to laugh it off and continue to provide their services to those who need them. "We joked about it, prayed for them, and kept it moving!" the proud mom said.

Wilson said the boys mow lawns at least four days a week, but if there is a chance of rain, "We don't even allow them to load up," she said. 
When asked if they ever get tired, especially in the hot, rising temperatures, Wilson said, "No, never!"
"I always have to ask them how they feel and if they are ready to shut down. I am the one that makes them stop. When we are with them, we keep the air conditioner running and keep plenty of water and Gatorade. I get tired before they do."
Although the boys don't charge anything or want anything in return, they leave a card behind detailing the services they've performed.
They also include their GoFundMe page, which was created on July 1 and accepts donations to purchase equipment.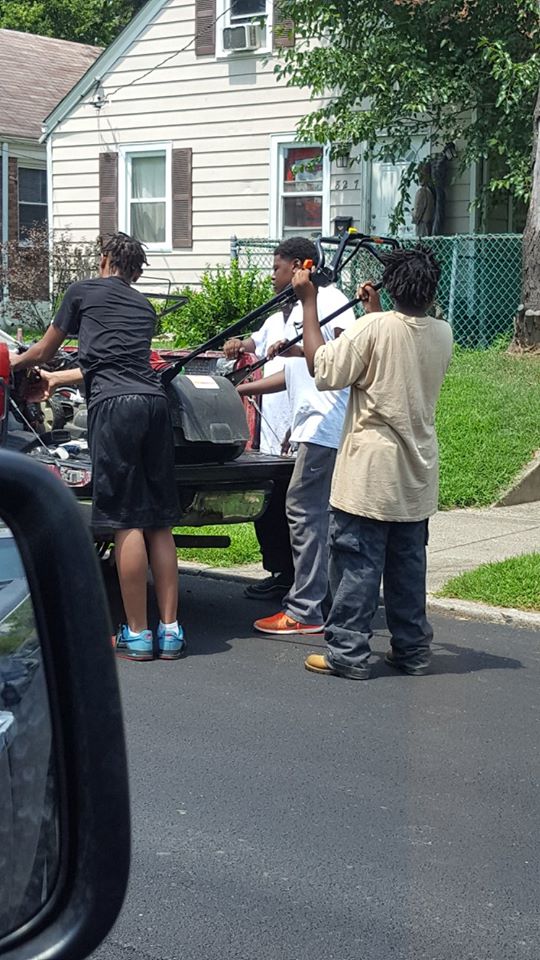 By July 27, they'd received more than $75,000, beating their $6,000 goal in a matter of 25 days.
Wilson said she will use some of the money to take a trip to Disney World, for the boys and other kids in the community.
The goal is to show that "there is a world out here so much bigger than 'our hood'!" Wilson said. The trip is a way to keep the boys' devotion to the community "interesting, motivational, and exciting."
People on the fundraising page want to donate more than just money. One person offered to tutor them.
"I am willing to tutor any of you kids for free over Skype/facetime/email," Shailesh Saigal said. 
Eric Pope wants to send them safety goggles: "I'd like to send them a box of safety glasses to use when they're using those string trimmers."
Stephen A. Brown Sr. even offered them his trailer that's in "good shape." 
"I have a trailer that could help you guys carry your equipment. If you don't already have one and you are interested in it, then you can give me a call … and you can have it free!!!" he said. 

Wilson has received many accolades for her parenting skills and wants to pass on a message to parents:
"Let's build a work ethic in our kids, create morals for them to help people only from the kindness of their hearts, teach them values that their life and freedom should not have a cost, give respect to all mankind without judgement because we don't know a person's journey."