Former Ballet Teacher Finds Shen Yun 'Fascinating'
April 1, 2014 3:18 am Last Updated: April 2, 2014 11:27 pm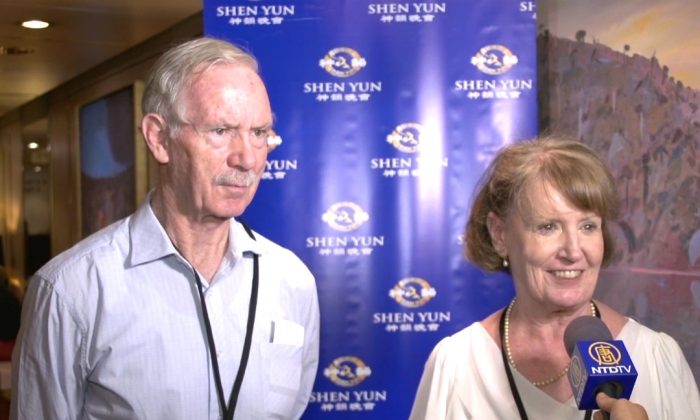 MELBOURNE, Australia—"It's fascinating," said Nina Dungan when she saw the Shen Yun Performing Arts at Melbourne's prestigious State Theatre, Arts Centre Melbourne, on Sunday March 30.
Mrs. Dungan learned classical ballet and taught for many years but now works in administration for the Cecchetti Ballet Society of Victoria. She was accompanied by her husband Paul who worked in real-estate for over 40 years and is now retired.
Mrs. Dungan was impressed by the quality of the dancers.
"Just so very very smooth! It just glides along!" she said.
Classical Chinese dance is the heart of what Shen Yun does. The website explains, "Classical Chinese dance has a long history of thousands of years, passed down continuously within the imperial palace and ancient Chinese theater and opera. Soaking up profound wisdom from every era and dynasty, it has become a complete system of dance embodying traditional aesthetic principles with its unique dance movements, rhythms, and inner meaning."
"Certainly worth coming to see because it's so totally different from what we normally see here," she said.
"The colours were just beautiful. And the graphics!" Mrs. Dungan gasped referring to the handmade, originally designed ornate costumes and the state-of-the-art digital backdrops.
Shen Yun is based in New York and according to its website, "With state-of-the-art graphics technology, Shen Yun's digital-backdrop team creates vividly animated settings, extending the stage and transporting the audience to a world where heaven and earth are one."
"Having those graphics, it really just brings the story to the stage," she said.
Mr. Dungan was also enthralled by the interaction of the performers on stage and the digital backdrop.
"I think it's been remarkably done, quite frankly (on combining technology and traditional Chinese culture). The way the actors can jump off the stage and fly off to heaven or wherever they're going to," he said.
"Shen Yun's mini-drama pieces draw upon stories and legends that span China's history from the Yellow Emperor and through the Tang and Song dynasties and all the way to the modern day," the Shen Yun website explains.
"I was interested that it covers the culture of China … I'm looking at the culture across millennia and also the different cultures in the various eras of China and I found that fascinating."
"The highlight was the little boy and the coordination when he fought the dragon, the sea changing and all of that aspect was absolutely phenomenal," he said referring to the mini-drama Ne Zha Churns The Sea.
Shen Yun tours with an orchestra of traditional Chinese and classical Western instruments, a unique feature many find captivating.
"Vibrant, colourful, the music is very very interesting," Mr. Dungan said.

Reporting by NTD Television and Leigh Smith
New York-based Shen Yun Performing Arts has four touring companies that perform simultaneously around the world. For more information, visit Shen Yun Performing Arts.
The Epoch Times considers Shen Yun Performing Arts the significant cultural event of our time. We have proudly covered audience reactions since Shen Yun's inception in 2006