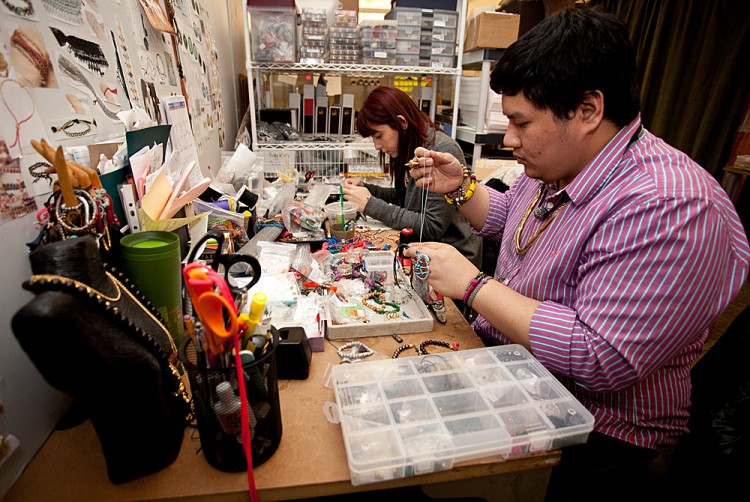 NEW YORK—When the biggest fashion labels and designers come together every half year to present their latest collections at Fashion Week, the city glows with appeal for emerging designers hoping to launch their own businesses.
Fashion Week is only one of several reasons that the city might appeal to fashion entrepreneurs, according to Christine Helm, the director of Fashion Institute of Technology's (FIT) Enterprise Center.
"All the [supporting] businesses are here. Everything from getting the trim you need to the press coverage you need," said Helm. "I'm not saying it's impossible to start fashion companies elsewhere. … But this is where you get the most support."
While the city has been home to many famous designers, the road to success can be a narrow one. Tara St. James, the designer behind high-end fashion brand Study and a visiting professor at Pratt Institute said that it can be a challenge to start a business in the city. The two main issues that face most emerging designers are financial challenges and competition.
"It's always challenging especially because you have to straddle the creative and financial aspects … and there's so many people doing similar things in the city that it's hard to make that name for yourself to stand out," said St. James, whose collections have graced the runways of Fashion Week.
David Gensler, CEO of Keystone Design Union (KDU) a design and marketing consultancy based in Brooklyn, also points out that the expense of living in New York can hinder the process of starting a fashion career.
"The cost of living and doing business is simply prohibitive to growth for most small businesses," said Gensler. "There is an enormous amount of talent here, and I am proud to be a New Yorker, but the fact still remains, this city is simply too expensive for most young designers to exist, much less thrive."
Public and private support systems in the city help emerging fashion designers and entrepreneurs to succeed.
Elizabeth NeSmith and Daisy Hartmann, two recent graduates from FIT, started their own lingerie line daisy & elizabeth during their senior year and recently showcased their latest collection at The Shop Brooklyn.
NeSmith and Hartmann are from Maryland and Georgia respectively, and had chosen to base their brand in Brooklyn because of the many manufacturing businesses that are located in the city. The KDU invested in their company and provides workspace.
"The fashion incubators are definitely a huge help, because you find that there's a lot of different areas that you can't really tackle on your own," said NeSmith. "Having a design background, having ideas only get you so far, but then you have to really take a step back and think about how you're going to build a business, and that isn't something they necessarily teach you in school. So, it's good to have resources from people who have worked in the industry to help guide you in the business direction."
On Monday Mayor Bloomberg launched Design Entrepreneurs NYC, an intensive mini-MBA course created in partnership with the FIT, which is one of the six initiatives part of the city's Fashion 2020 study. The city has also established fashion incubators that provide designers with cheaper work spaces, among other projects led by the Council of Fashion Designers of America (CFDA), a nonprofit trade association.
Even with the extensive support programs, what the city provides may not be enough.
"There is a lot of innovation that could be applied to stimulating emerging talent and new business ventures," said Gensler, who decided to establish private fashion incubators when he saw the lack of funding in the city sponsored fashion programs. "I think the city means well, but often misses the mark on developing programs that actually make a difference—this reality is amplified when it comes to the fashion and design industries."
Gensler also owns a fashion line called Serum Venom. Unlike many designers who struggled for funding to start a business, Gensler was able to self-fund his business after achieving success in other industries.
"The reality is there are few programs and incentives that make this city a feasible start up base for fashion businesses. What makes this city unique is, sadly, the lack of government support, including tax breaks, grants, and continued education and training for companies or individuals that show high potential."