PUNTA GORDA, Fla.—More than 90,000 people in Florida have now received monoclonal antibody treatments across 25 state-sponsored sites. However, a disruption in services is looming due to the Biden administration giving control of distribution to the U.S. Department of Health and Human Services.
Florida's supply will be cut in half, Gov. Ron DeSantis announced on Sept. 16.
The governor said he was surprised at the HHS's "abrupt and sudden" announcement that it would be taking control of distribution. He said this took him by surprise because a week prior, on Sept. 9, the Biden administration said they were increasing monoclonal antibody distribution by 50 percent.
Now the HHS, as of Sept. 13, "seized control" of the treatments, the governor said, adding that earlier in the week he received official word that Florida's shipments of the monoclonals would be reduced by 50 percent.
Before, providers and infusion centers, as well as the state of Florida, would simply call AmerisourceBergen, a third-party affiliate of Regeneron, which makes the monoclonal antibodies treatment, and request whatever amount was needed. DeSantis said this new method will make it "doubly difficult" for hospitals and other providers because they will now have to go through the state to get their treatments.
"They sprung this on us," DeSantis said at the Sept. 16 press conference. "They pulled the rug out from under us."
The new ordering process, DeSantis said, would be a disruption for in-patient services, and he worries that patients will needlessly suffer. But he vowed that the state would "overcome any obstacles that HHS and the Biden administration put on them."
"We will fight like hell to get these patients the treatment they need," he said. "We have a responsibility to be there for them, and that's what we are going to do."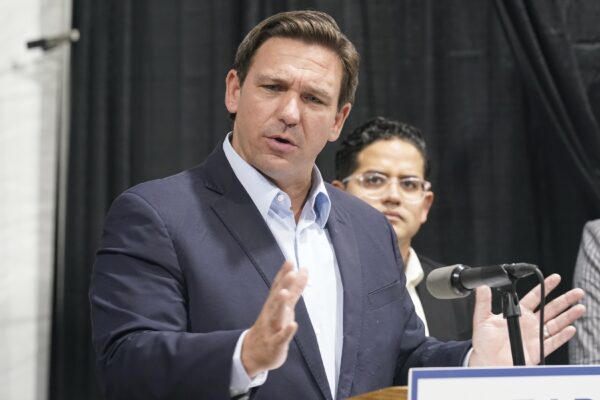 HHS two weeks ago stealthily changed its website and began making it more difficult for states like Florida, which has used the monoclonal antibodies treatments as a way to reduce hospital admissions from COVID-19. A Texas doctor sounded the alarm that HHS was taking over the distribution of the monoclonals, as was reported by The Epoch Times on Sept. 8. The system was changed on Sept. 13 from direct ordering to an allocation model.
"I'm very concerned about the Biden administration," DeSantis said at the press conference, adding that the new ordering protocol will result in a "huge disruption to services."
An HHS spokesperson told The Epoch Times in an email that the transition to a model that was in place from November 2020 to February "gives health departments maximum flexibility to get mAbs where they are needed most."
"HHS will now determine the weekly amount of mAb products each state and territory receives based on criteria applied equally across all jurisdictions. This criteria includes COVID-19 case burden and mAb utilization. State and territorial health departments will subsequently identify which sites in their respective jurisdictions receive product as well as the amount each site receives," the spokesperson said.
DeSantis said he is being proactive and has been in communication with GlaxoSmithKline, another maker of monoclonal antibodies treatment. He said he was looking into expanding beyond Regeneron and contracting with another supplier in order to make up for any shortage that could occur under the new HHS distribution plan.
He said the results of the monoclonal antibodies are positive and that there have been 24 consecutive days in the decline of the COVID hospital census statewide.
The governor said he's pleased with the trends that are occurring and credits the vaccine and the monoclonals for the reduction in hospitalization rates. Florida hospital admission rates have decreased by 50 percent.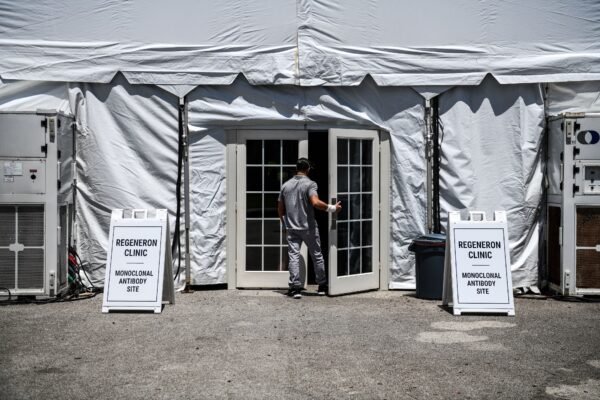 However, Sen. Marco Rubio took to Twitter and blasted the Biden administration for the new policy. Rubio thinks the cut in monoclonal antibodies to Florida is because the state is not "handling vaccines and not forcing people to do it."
"This is ridiculous. This is outrageous," Rubio said in a video on Twitter. "People see it for what it is. These people are completely out of control. This stuff needs to stop. These people are bordering on tyranny."
On Sept. 16, Christina Pushaw, press secretary for DeSantis, said that Florida clinics and private providers have been ordering about 72,000 doses of monoclonal antibody treatment per week; about 36,000 doses are required weekly to supply the 25 state-sponsored sites.
The HHS website calculated that, nationally, a little over 158,500 doses were available this week. HHS reports that nearly 31,000 are allocated to Florida.
Rubio said he thinks the Biden administration is creating a shortage for the purposes of rationing the drug.
"There is not a shortage," Rubio said on Twitter. "But they've decided they're going to start rationing it."
Zachary Stieber contributed to this report.