Florida Gov. Ron DeSantis proposed legislation on Dec. 15 that would allow parents and teachers to sue schools, and employees to sue employers who make them participate in policies or teaching involving the principles of critical race theory (CRT).
The Republican governor has already banned the teaching of CRT in public schools.
The proposed Stop Wrongs to Our Kids and Employees (Stop WOKE) Act would be the first legislation of its kind in the nation, his office said, and would take on corporate "wokeness" and CRT in schools in a way that would allow employees and parents to push back.
CRT stems from Marxist teachings of critical theory, and paints most of what goes on in society as dominated by a power struggle between the race of the oppressor and that of the oppressed.
It's the theory that propels Black Lives Matter and demonizes the country's Founding Fathers.
Woke is a term used to suggest that someone has been "awakened to the fact" that people are oppressed for characteristics such as race, sex, class, or gender identity.
"Nobody wants this!" DeSantis said during the announcement at a recreation center in the middle of the state. "You're not doing that here in the state of Florida."
The Stop WOKE Act would deem CRT training to be an unlawful employment practice.
The legislation would make clear that corporations and public sector employers violate the Florida Civil Rights Act when they subject their employees to training that espouses stereotypes based on race or sex.
It would also recognize CRT training, under the "guise of professional development," to be a discriminatory practice in education—in K-12 schools as well as colleges and universities—and would require districts and schools to adhere to professional development frameworks "consistent with Florida's lawful and publicly adopted state standards."
"No taxpayer dollars should be used to teach our kids to hate our country, or to hate each other," DeSantis said.
The legislation would give parents the ability to file lawsuits "to enforce the prohibition on CRT, and they get to recover attorney's fees when they prevail, which is very important," he said.
School districts fear lawsuits more than fines from the state, the governor said, because the lawsuit process of discovery brings out the truth of what's really going on.
"It really is an uncomfortable position for them," DeSantis said. "So I think that gives parents the ability to go in and ensure that our state standards are being followed."

Instead of CRT, DeSantis wants students to be taught about the country's founding documents and principles, so he's introducing a plan for high school students to prepare for and take an exam, "like the citizenship exam that naturalized immigrants have to take."
"Because at the end of the day, everybody that comes through our school system will go into a variety of different fields, but everyone's going to be an American citizen, and they're going to have duties and responsibilities. And they need to understand what that means. And they need to understand the principles that our country was founded upon."
As part of his push to reinvigorate civics education in Florida schools, DeSantis had already announced a plan in his proposed budget to award $3,000 bonuses to teachers who earn a certification that shows they're prepared to teach American civics with excellence.
"What were some of the key ideas that made us different?" DeSantis said at the announcement.
"Our Founding Fathers said that we are endowed by our Creator with inalienable rights. The rights do not come from government. So these are natural rights. And we created a constitutional system, not to give us rights, but to protect the rights we already have."
Providing CRT training for schools and companies around the country has become a big money-making industry that teaches about "equity," DeSantis said.
"When you hear 'equity' used, that's just an ability for people to smuggle in their ideology," DeSantis said.
"We have a society based on equality, where you're treated equally. Regardless of your upbringing, regardless of your race, you have the same rights and privileges as anybody else. 'Equity' is used to put that thumb on the scale in favor of their ideology, and that's where you get things like CRT policies."
He said teachers at San Diego Public Schools underwent training that "accused white teachers of being colonizers on stolen land, and told them 'You are racist and you are upholding racist ideas, structures, and policies,' and they recommended that the teachers undergo 'anti-racist' therapy.
"This is wrong. It's done to our kids. But it's also wrong to force employees to have to go through that."
The legislation would stretch the CRT ban beyond schools and into private workplaces. DeSantis said it would give "employees a clearer path to a private cause of action against discrimination in the workplace."

He said Bank of America has been training employees that the U.S. is a system of white supremacy and encourages employees to become "woke" at work, while Verizon, he said, teaches employees that America is fundamentally racist, and the company promoted defunding the police.
Google, he said, tells its employees that all Americans are raised to be racist.
"How is it not a hostile work environment to be attacking people based on their race, or telling them that they're privileged, or that they're part of oppressive systems, when all they're trying to do is show up for work and trying to earn a living?" DeSantis asked.
"We believe that this is corporate CRT, it's basically corporate-sanctioned racism, and they're trying to shove it down these employees' throats. We believe that violates Florida civil rights laws."
Joining DeSantis for the announcement was Christopher Rufo, a senior fellow at the Manhattan Institute. His investigative reporting led former President Donald Trump to issue an executive order banning CRT training and policies from the federal government.
Shortly after taking office, President Joe Biden signed an executive order to bring CRT training back into federal workplaces.
"There is a new group of people emerging and asserting the authority of the American people, these are American parents," Rufo said, calling attention to a recent trend of parents speaking out at school board meetings around the country.
"While many of us were feeling a bit demoralized by the state of our country and by the pervasiveness of critical race theory, parents stood up and took action."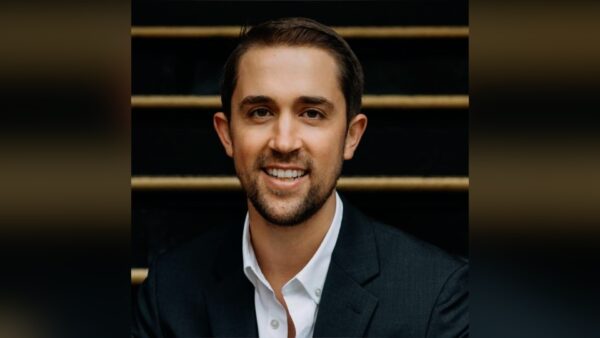 The part of the proposed legislation that allows parents to recover attorney fees if they prevail in court against schools, will make it possible for parents to "help keep Florida's schools safe for all kids," said Jeff Childers, an attorney in Central Florida.
Childers was one of the first to challenge mask and vaccine mandates.
"As a lawyer who fields calls from anxious parents all the time, I feel blessed to have such a forward-thinking governor. Solving the CRT problem is going to take all hands on deck, and that's just what Gov. DeSantis is proposing."
He said that it "will help lawyers like me stand up for parents throughout the state who otherwise couldn't afford to take on big, well-funded school districts."

Seeing CRT policies emerging in schools and companies concerns DeSantis, and evidence of the movement's spread is illustrated by the removal of statues of Founding Fathers across the country, "an attempt to erase history," he said.
"What you see now with the rise of this woke ideology is an attempt to really delegitimize our history and delegitimize our institutions—a form of cultural Marxism," he said.
"They really want to tear at the fabric of our society, and our culture, and things … we've taken for granted, like the ability of parents to direct the upbringing of their kids."
DeSantis said those proposing CRT wanted to introduce "a very militant form of leftism that would absolutely destroy this country if that ever took hold."
"And so we have a responsibility to stand for the truth and to stand for what's right," he said.
"We also have to protect people and protect our kids from some very pernicious ideologies that are trying to be forced upon them all across the country."
DeSantis said that many examples have been covered up by the media, such as an Arizona Department of Education's "equity toolkit" that teaches that babies show the first sign of racist thinking at 3 months old, and white children become fully racist, and strongly biased in favor of whiteness, by age 5.
He said the Santa Clara County Office of Education has denounced the United States as a "parasitic system based on the invasion of white male settlers" and it encourages teachers to cash in on kids' inherent empathy in order to recruit them into political activism.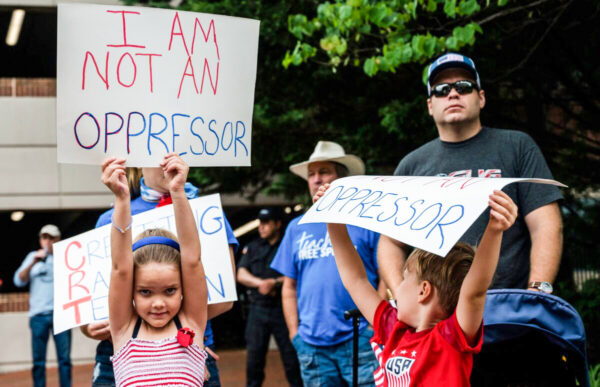 The governor mentioned a Philadelphia elementary school that he said forced fifth-graders to celebrate black communism and simulate a Black Power rally. At that school, he said, 87 percent of students fail to achieve basic literacy.
"This is something that you see all across the country, and we have a responsibility in Florida to say we're not going to scapegoat someone based on their race, to say they're inherently racist, to say that they're an oppressor, oppressed, or any of that," DeSantis said.
"It is happening and we have an ability to just draw a line in the sand and say that's not the type of society that we want here in the state of Florida."
The Stop WOKE Act proposal will be considered for adoption by state lawmakers when they gather in Tallahassee for their regular legislative session in January.
DeSantis left the stage by flinging baseball hats, part of his reelection merchandise, into the crowd. He recently announced his bid to keep his job as the state's top executive. A large group of challengers, including one Republican, has registered with the state to run against him.