For months, Florida Gov. Ron DeSantis has spoken publicly about his hope lawmakers in his state would create a law protecting doctors who want to prescribe what they think is best for patients, even if it goes against current CDC and NIH guidelines for the treatment of COVID-19.
Action he took on Feb. 24 offers protection from lawsuits under new Florida Department of Health guidelines giving health care providers "flexibility to treat patients with off-label prescriptions if they determine it could help the patient, and it is something the patient would like to try."
But days after that announcement, it seemed there was no hope for the passage of related bills DeSantis had urged lawmakers to pass to protect doctors' freedom of speech.
The now-stalled bills would have protected doctors from penalties for speaking with patients, or publicly, about treatments that go against the official recommendations of government authorities.
Many doctors told The Epoch Times the measure was needed because throughout the pandemic they've faced backlash—including investigations leading to the possible stripping of their medical licenses—for sharing opinions on vaccines, the wearing of masks, or for advocating for off-label use of medications, such as ivermectin and hydroxychloroquine.
Though the regular legislative session comes to an end on March 11, DeSantis still appeared hopeful as late as Feb. 25, when he tweeted a thank you to bill sponsors "for protecting the free speech of doctors and bucking the politicized medical establishment. Looking forward to these bills hitting my desk."
Yet, after considering them in committees, lawmakers in both the Florida House and Senate let the measures die without coming up for a full vote.
Insiders familiar with the process say that it's too late now to get the bills passed because committee work at the Florida Capitol is over.

Dr. Eduardo Balbona, of Jacksonville, had hoped desperately that the legislation would pass, and that DeSantis would be able to sign it into law.
Balbona faced a barrage of relentless insults and threatening calls after testifying in court that a covid-19 patient on a ventilator in Mayo Clinic Florida still could survive if treated with ivermectin and other components of a protocol widely used by independent doctors to treat the disease.
The patient's family had begged the court to force Mayo Clinic to allow the treatment as a last-ditch effort to save their loved one, Dan Pisano.
They were denied, then denied again on appeal, and Pisano died shortly thereafter.
After that, some of Balbona's recovered patients shared their stories of recovery from serious COVID-19 with The Epoch Times. That drew more ire against him.
Since then, Balbona says he has received probing communications from insurance companies and suggestions his medical license could be at stake.
"I have spent my entire adult life working to become a good physician," Balbona said. "The possibility of this being taken away is terrifying to myself, my wife, and family.
"The fact that my medical license could be taken away by a simple accusation, by those who would dictate all opinions in this pandemic, is simply wrong.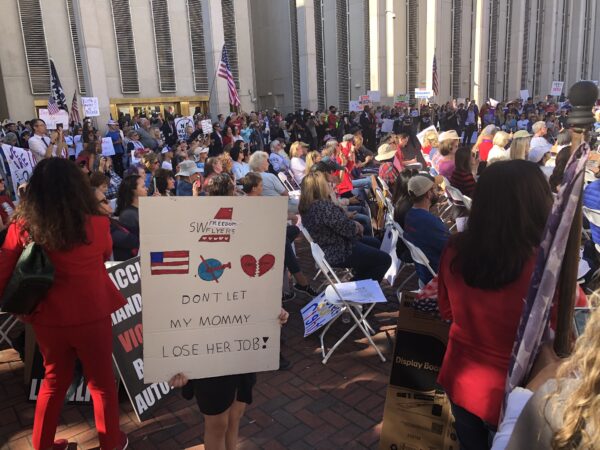 "There are cases of physicians losing their medical license over legitimate disagreements regarding Covid treatment," he said.
"The rules in this conflict are patently unfair with no risks or consequences for the accusers, while the consequences for the physician accused of any infraction are devastating.
"The public has a vested interest in protecting the independence, integrity, and honesty of their physicians. Freedom of speech is essential to our good health.
"I still have faith in truth and intellectual integrity, even if I've lost faith in our health care institutions during this pandemic."
Florida osteopath Anthony Ruffa, who is board-certified in family medicine, had high hopes the legislation would allow him to practice in his new state without worry.
In Pennsylvania, where he maintains a residence and saw patients for 30 years, he was investigated by licensing authorities and later cleared. But he's still not sure why they acted in the first place.
He says he suspects it had something to do with the fact that he had shared and commented on more than 100 articles from The Epoch Times on his social media pages, including Linkedin.
Investigators wouldn't give him any details.
"They just queried whether I went against the CDC guidelines," Ruffa said.

In February, he received a chilling letter, signed by Adam J. Williams, prosecuting attorney for the Commonwealth of Pennsylvania.
"The Prosecution Division of the Department of State's Office of Chief Counsel, on behalf of the Bureau of Professional and Occupational Affairs, has completed its inquiry into a complaint alleging that you provided false or misleading information regarding the COVID-19 pandemic," the letter to Ruffa stated. "Following review, this office has decided not to prosecute the case."
The letter went on: "Investigations by this office are confidential and privileged. Therefore, this office cannot provide you with a more detailed explanation of the evidence gathered during the investigation or the specific reasoning that led to this office's decision.
"As in all cases, we reserve the right to reopen this case at our discretion. You should continue to follow all orders issued by the Governor's office, the Department of Health, and the Centers for Disease Control (sic) regarding the COVID-19 pandemic. Thank you for your cooperation in this matter."
Even though Ruffa was cleared of any wrongdoing, "the problem now is, every time I renew my four state licenses, apply for malpractice [insurance] or apply for a new job, I have to report that I was investigated, and that becomes a real problem."
After the investigation, "I took down my Linkedin articles. I had over 2000 followers, but I was intimidated enough to do so. I was only trying to educate those who were being influenced by other medical opinions.
"It is odd that other physicians can speak out for abortion—my body, my choice—and be socially and professionally lauded, but when we try to give informed consent regarding the vaccine or early treatment, we are squelched.
"I am not an anti-vaxer. But I think was accused of spreading misinformation regarding early treatment, masks and/or the vaccine."
Before the investigation, he had reached out to a Pennsylvania private school and encouraged administrators to stop requiring students to wear masks.
Ruffa persuaded a dance company to stop forcing unvaccinated dancers who'd recovered from the virus to wear masks. He said he had also questioned Mayo Clinic when that health organization would not allow him to attend a medical conference without being vaccinated, despite having had the virus and being "naturally immune."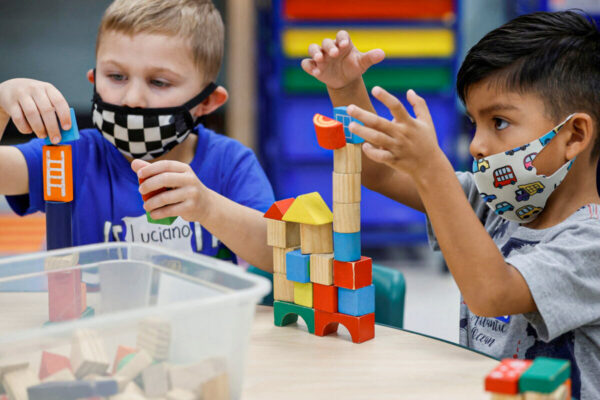 "During this pandemic, I pushed back every time I could with articles on the Internet, Facebook, Linkedin, and I encouraged for early treatments. The investigator concurred that as long as I had an opinion on the articles, and not formed opinions without back-up research, I would be fine."
The "ignorance" of fellow doctors and the chilling effect of fear on their ability to do their job alarmed him, he said.
Based on communications he's had, Ruffa said he believes physicians are failing to report reactions to the COVID-19 vaccine "for fear of intimidation."
The Senate bill officially still under consideration in Florida, but unlikely now to move forward, was a measure prohibiting certain authorities "from reprimanding, sanctioning or revoking, or threatening to revoke a license, certificate, or registration, of a health care practitioner for the specified use of his or her right of free speech," unless that speech was found to have "led to the direct physical harm" of a patient.
After passing favorably through the Judiciary Committee and the Health Policy Committee, it has been stuck since Feb. 8 in the Florida Senate's Appropriations Committee.
And in the House, a similarly worded bill hadn't moved beyond the Health and Human Services Committee.
In an analysis created for lawmakers, House staffers had warned the bill would cause an increased workload in the state health department due to a requirement in the legislation to notify doctors of any complaints within seven days.
The department estimated that 12 full-time employees would be required at a total cost of about $805,000 per year.
Both bills had provisions allowing for doctors to face penalties if it could be proven that patients were harmed by opinions they'd shared.
On Feb. 24, DeSantis and newly appointed state Surgeon General Dr. Joseph Ladapo took action to address other COVID-19 practices that have been topics of intense debate in Florida and around the country.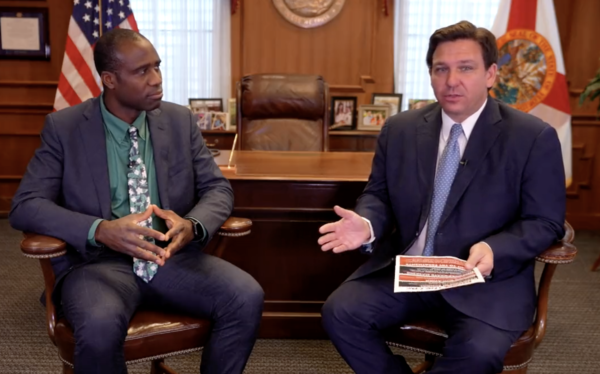 In a video announcement, they said they had updated state health guidelines urging that children should be kept out of school or childcare no more than five days after a diagnosis of COVID-19, and adults shouldn't be required to stay home from work longer than five days after testing positive.
Science shows people infected with COVID-19 don't spread the virus after five days of the infection, Ladapo told The Epoch Times.
And DeSantis announced, "for all the businesses, we are recommending officially against forced masking policies."
Requiring workers to wear masks when their customers don't create a "two-tiered society that is harmful," he said.
He added it is not a reasonable thing to do at this point, especially for workers in retail, hospitality, and the services industry.