Fireworks Explosions Kill 17, Injure Dozens Near Mexico City
July 5, 2018 Last Updated: July 5, 2018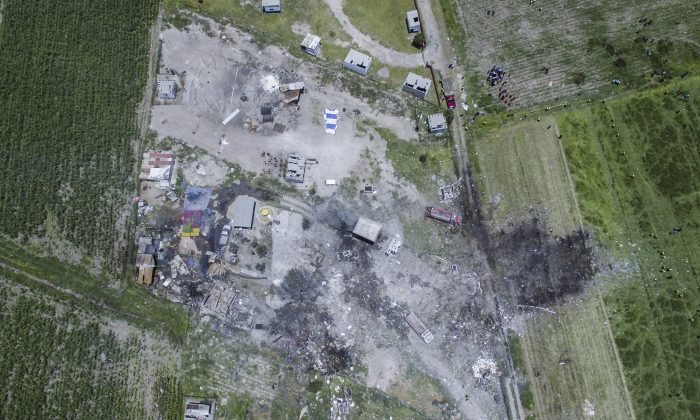 A series of fireworks explosions near Mexico City has killed at least 17 and injured dozens more, according to officials.
A statement from Mexico State officials on Twitter confirmed that 17 people died, while The Associated Press reported that 19 people died, including four firefighters and two police officers.
"The Secretaries of Government, Health and Safety are already in Tultepec coordinating" the recovery efforts, said Mexico State Gov. Alfredo Del Mazo on Twitter, according to a translation. "I instructed them to give all necessary assistance to victims and relatives of the 17 people who sadly lost their lives."
The state government said that those who were injured have been transported to different hospitals in the area.
Video footage showed a large plume of smoke rising up from the area of the explosions in Tultepec.
Luis Felipe Puente, head of Mexico's civil defense agency, said that there were four explosions in all and that they took place at an unauthorized, clandestine workshop.
"The problem was that after the first explosion, people went running to help, and when the second explosion occurred, these people who ran to help were killed," Puente was quoted by AP as saying. The news agency noted that many residents in the area make a living by manufacturing homemade fireworks.
"We cannot continue to allow this kind of situation," Puente said, adding that the sale of fireworks in the area would be suspended and the permits of manufacturers would be reviewed, Reuters reported.
Last month, a blast killed seven people and injured eight in Tultepec. In December 2016, a fire at a fireworks market killed several dozen people. In 2013, a rocket hit a truck loaded with fireworks in the state of Tlaxcala, killing 17, AP noted. In 2002, an explosion in Veracruz killed 29. In 1999, 63 people died when illegal fireworks exploded in Celaya, and 11 years before that, a fireworks explosion in a Mexico City market killed 68.
Outgoing President Enrique Peña Nieto wrote: "I deeply regret the loss of life in the explosion that occurred in #Tultepec . I send my condolences to the families of the deceased, and I wish a quick recovery to those who were injured," according to a translation.
Lamento profundamente la pérdida de vidas en la explosión ocurrida en #Tultepec. Envío mis condolencias a las familias de los fallecidos y deseo pronta recuperación a quienes resultaron lesionados. @PcSegob y @SEDENAmx apoyan al @edomex en la atención de la emergencia.

— Enrique Peña Nieto (@EPN) July 5, 2018
Secretario General de Gobierno del Estado de México, Alejandro Ozuna Rivero y @LUISFELIPE_P, se encuentran con autoridades Estatales y Federales en la zona de explosión de #Tultepec para hacer balance del siniestro. pic.twitter.com/7cz6svUXVe

— Seguridad #Edoméx (@SS_Edomex) July 5, 2018