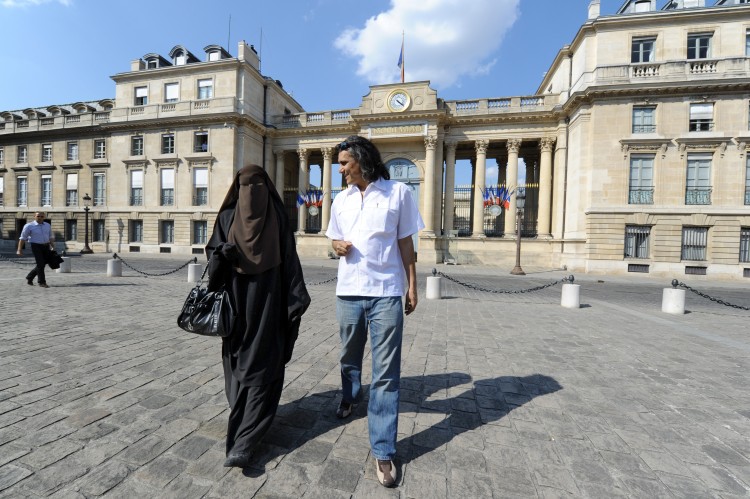 Two French women on Thursday were fined for wearing niqabs, or Islamic veils which cover the entire face, in the first two cases of this fine being given since the ban on face veils entered into effect five months ago.
The women were fined 120 euros and 80 euros (about $160 and $108), respectively. The fines, however, were paid by Rachid Nekkaz, a French entrepreneur and activist who has vowed to pay the fines of all women penalized in Europe for wearing the niqab or burqa in public.
A niqab covers the whole face except for the area around the eyes, while a burka covers the entire body and leaves only a mesh over the eyes to see through.
"I paid their fines this morning," Nekkaz said in an e-mail
Nekkaz, the son of Algerian immigrants, said he has set up a citizens' fund worth 1 million euros ($1.35 million) to cover the fines.
"Personally, I'm against the niqab, but I defend the principle of liberty of movement of European citizens in the streets," Nekkaz said.
Currently a ban on the full-face veil is in place in France and Belgium, with the Netherlands announcing last week that it will put a ban in place.
The two women fined in France said they will appeal to the European Court of Human Rights to have the charge overturned.
"The all-enveloping veil represents, in an extraordinary way, everything that France instinctively rejects. This is the symbol of the enslavement of women and the banner," President of the National Assembly, Bernard Accoyer, said in an address to France's lower house last year when discussing the ban.
The Islamic community and human rights organizations in France have described the ban as a violation of women's rights. An estimated 2,000 French women wear the full-face veil.