PG-13 | 2h 7min | Action, Drama, Comedy, Fantasy | 30 July 2021 (USA)
Before hitting the mother lode with the "Pirates of the Caribbean" franchise, Disney adapted two other theme park attractions into feature films and both failed miserably. "Mission to Mars" (2000) and "The Country Bears" (2002) were loathed by critics and barely dented the box office. Released mere months after the first "Pirates" installment in 2003, "The Haunted Mansion" made decent coin but was despised by the reviewing press and a sequel for it was never considered.
In the works in some form or fashion since 2004, "Jungle Cruise" finally arrives in theaters after multiple date changes (due mostly to COVID-19) and its immediate and long-term success appears iffy at best. The third high-profile title released on the same weekend ("The Green Knight" and "Stillwater" being the others), "Jungle Cruise" does have the advantage of featuring current number one global draw Dwayne Johnson and the sublime Emily Blunt as the leads. Their chemistry is considerable and immediate yet is not quite enough to make up for a story that is anything close to original, focused, or indelible.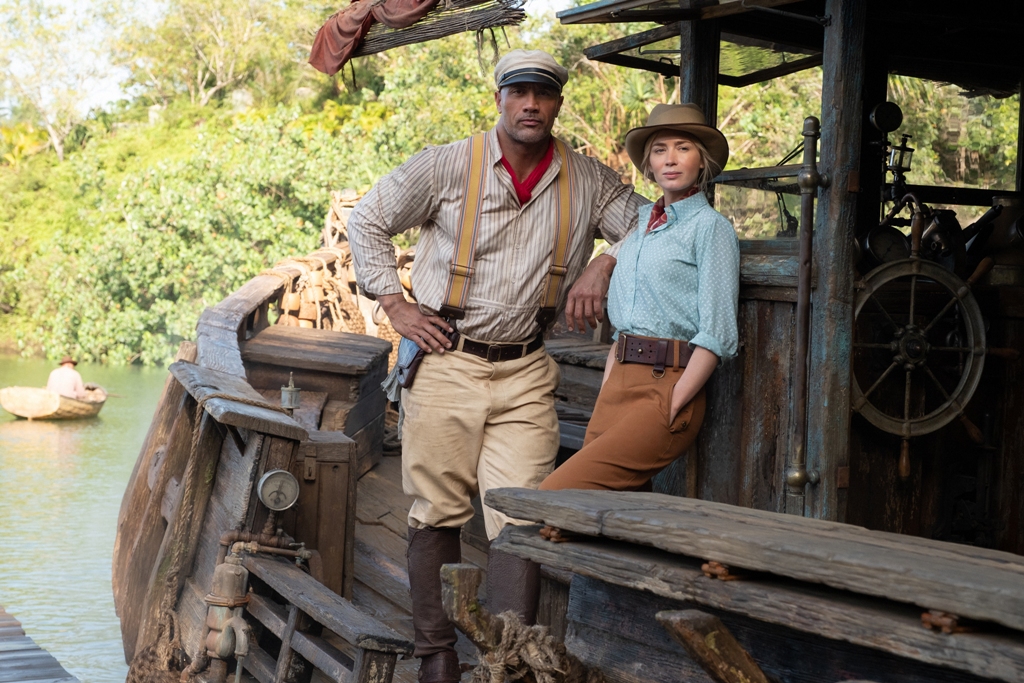 Set just before World War I, "Jungle Cruise" plays out as a shameless retread of "The African Queen" (1951) by way of "Raiders of the Lost Ark" (1981), "Romancing the Stone" (1984), and "The Mummy" (2017). Helmed by the largely unknown horror director Jaume Collet-Serra and penned by five (yes, five) screenwriters, the movie is a bubbling stew of formula and impossibly choreographed set pieces which are impressive on a technical level but are largely devoid of emotion and so adds little to the spotty narrative.
A Cure-All Exotic Flower in the Amazonian Rainforest
Channeling Katharine Hepburn in "The African Queen," Blunt plays Dr. Lily Houghton, a headstrong and driven botanist continuing the work started by her late father. We know she's "plucky" because she wears pants, a character trait revisited ad nauseam and played out as comedy rather than sexist.
In tow with her younger, fussy, fish-out-of-water dandy brother MacGregor (Jack Whitehall), Lily heads to Brazil to retrieve an elusive and magical flower growing only in moonlight on the Tree of Life located deep in the bowels of the Amazon rainforest. Supposedly, the extract from this blossom can cure all of life's maladies, or at least that's the lore. No one has ever seen this mystical tree and lived to tell about it.
Wearing the same style of hat as Humphrey Bogart in "The African Queen," Johnson (as Captain Frank Wolff) attempts without much success to replicate Bogey's irascible gruff and scowl but has better luck delivering an endless string of unfunny "dad jokes."
The hard-working Johnson has achieved his superstar status by playing characters with humor and charm, basically turning in different riffs on his easy-going personality. He's not a great actor but chooses his roles well. The filmmakers and producers should have allowed Johnson to play to his innate strengths —instead of asking him to be alternately ornery and corny.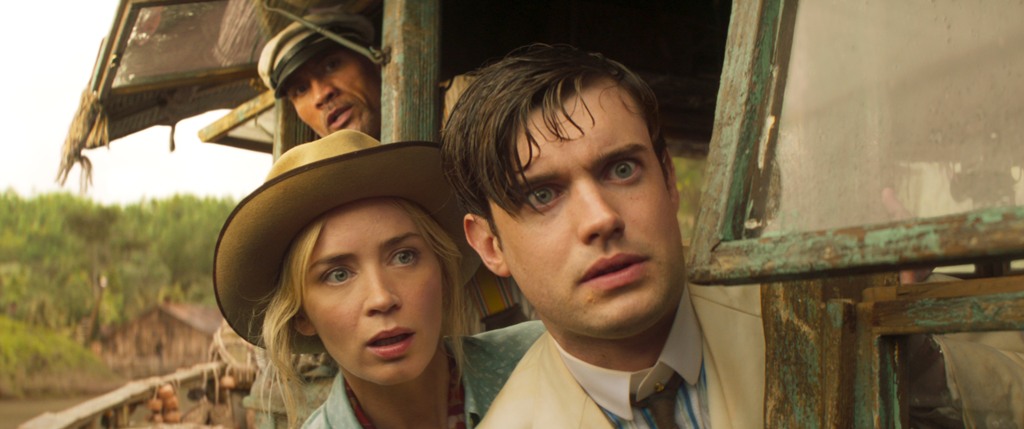 A Low Bar: Perhaps the Best Disney Theme-Park Adaptation
Showing up at the beginning and the end in what is an extended, glorified cameo is the criminally underused Paul Giamatti as Nilo, an Italian-born Brazilian dock owner to whom Frank is deeply in debt. Making the most of the brief screen time, Giamatti dips his toe into lampoon with Nilo acting as the unwitting catalyst bringing Frank and Lily together for their full-time, oil-and-water relationship.
Once the extended meet-cute between Frank, Lily, and MacGregor is taken care of, the boat trip to the life-saving tree commences in earnest and consists entirely of set-up, danger, and escape scenarios which are admittedly great eye candy. It is during the second half of the movie where the PG-13 rated content becomes problematic for the targeted family demographic.
The PG-13 rating is entirely justified and although much of the violence is "cartoon" in nature, some of it isn't. While there is little actual blood and gore, there is a considerable dead body count. In a nod to "Raiders," the always excellent Jesse Plemons appears throughout as the affected and prickly Prince Joachim. He's a German operative looking to snare the magical flower for undisclosed evil purposes and, partially in tandem with three imposing apparitions from the far past, is completely comfortable killing anyone getting in the way of his mission. It's something for parents of preteens to consider.
Aiming for a John Williams-ish, "Indiana Jones" score, veteran composer James Newton Howard never lets 10 seconds go by without filling the interim with music that serves as less background filler than cloying and prodding emotional cues. In one of the most bizarre (but successful) collaborations in Disney-movie music history, Howard and Metallica's reworking of an instrumental version of the former's power ballad "Nothing Else Matters" results in an arresting, non-dialogue, extended passage.
Based on how the minuscule number of mostly disappointing Disney theme park adaptations to date go, "Jungle Cruise" rests near the top or, depending on your opinion of the "Pirates" flicks, AT the top. (Some of us, believe it or not, were not flabbergasted with the "Pirates" franchise.) Clearing such a low creative bar is certainly nothing to brag about.
As Disney continues to prove, they have a virtually unlimited supply of backlog intellectual properties and they can recycle, reimagine, and reconfigure all of it ad infinitum. These ventures might make some money and win-over some unknowing new audiences, but in the end, they're all just different variations of vanilla and filmmaking at its most safe, lazy, and unimaginative.
Walt Disney would not be pleased.
'Jungle Cruise'
Director: Jaume Collet-Serra
Stars: Dwayne Johnson, Emily Blunt, Paul Giamatti, Jesse Plemons, Edgar Ramirez, Jack Whitehall
Running Time: 2 hours, 7 minutes
MPAA Rating: PG-13
Release Date: July 30, 2021
Rating: 2.5 out of 5
Originally from Washington, D.C., Michael Clark has written for over 30 local and national film industry media outlets and is based in the Atlanta Top 10 media marketplace. He co-founded the Atlanta Film Critics Circle in 2017 and is a regular contributor to the Shannon Burke Show on floridamanradio.com. Since 1995, Mr. Clark has written over 4,000 movie reviews and film-related articles.