Film Review: 'A Prayer Before Dawn': About as Far From 'Rocky' as You Can Get
July 30, 2018 Last Updated: August 1, 2018
R | | Action, Biography, Crime | 10 August 2018 (USA)
I've been thinking about prison a lot lately. Because Keith Raniere, leader of the sex-trafficking cult NXIVM, was my grade school classmate.
He's currently awaiting trial at the infamous Brooklyn Metropolitan Detention Center, the hell on earth that former politician Anthony Wiener's lawyers begged the judge not to send their client to.
Keith said he was, at age 11, the East Coast judo champion, and also the world's smartest man, with an IQ of 240. Even if those things were true, none of those will keep him safe from a life-sentence's worth of maximum-security prison nightmares bearing down on him like the resounding clang of prison gates locking, and the knowledge that your cellie might be a 6-foot-5-inch, 350-pound child molester.
What Keeps a Man Safe?
Muay Thai, apparently. That's Thai boxing to the uninitiated; although, with the rise of the UFC (Ultimate Fighting Championship), Muay Thai is on most people's radars by now.

In terms of boxing, "Rocky," go home. "A Prayer Before Dawn" is a demon-infested, feverish nightmare of a martial arts/survival film that makes "Rocky" look exceedingly lightweight. Bantamweight. Featherweight. I suggest you make a pact right now: Never get caught in Thailand carrying drugs. I also suggest you don't see this film if you have a sensitive constitution.
Billy Moore
Liverpudlian juvenile delinquent and Thai boxer Billy Moore had a heroin addiction, got busted in Bangkok, and was thrown to the wolves in the "Bangkok Hilton," the worst prison imaginable.

The place is crawling with full-body-tattooed hardened criminals. They look a lot like a Thai version of the now infamous, deadly MS-13 gang; like a mass of dark-green demons—as underworldly as any horror film.
Part of the stomach wrenching is the no-need-for-choreography, tried-and-true methods and "best practices" demonstrated by convicts here, such as how to immobilize an inmate by stepping on his chest. On his first night, Billy's held down with feet on his chest and a prison blade dancing before his eyes, and forced to watch an unholy event: the quintessential reason all men fear prison.
Realism

The film was shot in an actual Thai prison, and astounding up-and-coming lead actor Joe Cole worked with real prisoners, still on lockdown.
Cole's Billy transforms, by necessity of survival, into an animalistic fighter who can channel his rage and despair enough to live another day (and take more drugs another day), to the point where he's threatened with possible fatal hemorrhaging. It's a star-is-born, breakout role for Cole.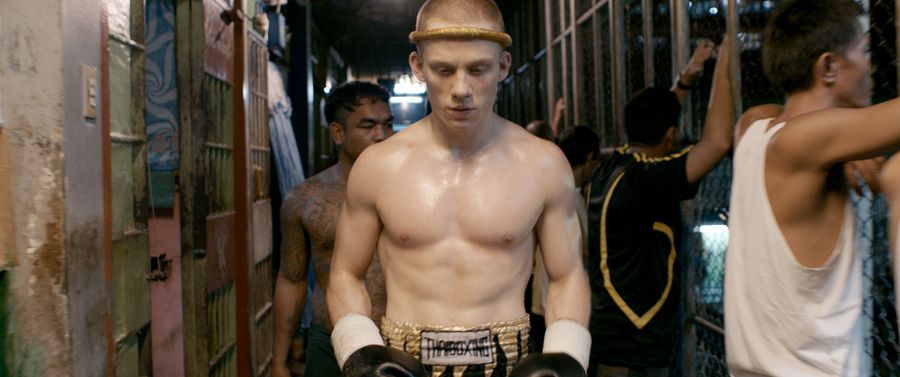 His performance, along with lots of characters who don't need to act to be criminally thuggish enough to haunt your dreams, is pulverizing to the senses. The shaky-cam realism that renders every unrelenting minute of this film as authentic, to the point where you won't really be able to tell whether it's fight choreography or actual beat-downery, will leave you stunned.

The only uplifting thing in the film is a diamond-like scene at its center. It's a scene of stunning beauty, actually, made more so by the corrosiveness of its surrounding frame: At one point, the prisoners are lined up in a courtyard, where there exist traces of architecture that hark back to ancient Thai Buddhist temples—a Buddha statue, a fountain. And a Buddhist priest, walking down the line, anoints inmates, whisking holy water.
In this moment, you may find yourself believing the concept of earth as a last-chance saloon for us humans who have fallen low from heaven—and prisons, as depicted here, as temporary holding pens for the unredeemable, who will soon be written out of the book of life.

"Prayer" will smash your senses. Beware the doom cloud that will settle on you like a pestilence and remain until you read some spiritual literature, do some meditation, and cleanse it out of your system.
I recommend "A Prayer Before Dawn" as a "Scared Straight" type of brutal wake-up call, a Shaolin martial arts stick-warning for teens on the verge of spinning out of control and running afoul of the law.
And I hope they send a Buddhist priest to anoint the inmates at Brooklyn's Metropolitan Detention Center. Otherwise, former classmate Keith Raniere may very well get written out of the book of life.

'A Prayer Before Dawn'
Director: Jean-Stéphane Sauvaire
Starring: Joe Cole, Nicolas Shake,  Panya Yimmumphai, Vithaya Pansringarm, Pornchanok Mabklang,  Chaloemporn Sawatsuk, Komsan Polsan, Sakda Niamhom
Rated: R (Should be X-rated)
Running time: 1 hour, 56 minutes
Release Date: available now on DIRECTV and in theaters Aug. 10
Rated 3.5 stars out of 5