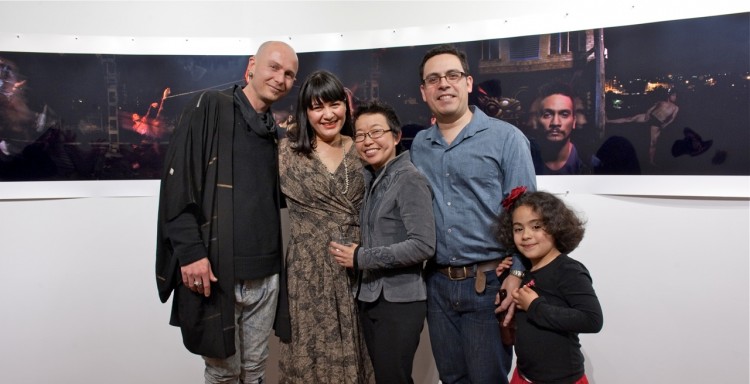 Driven by a desire to fill the gap between commercial and artist-run galleries, the newly established A-M Gallery in Sydney's Newtown offers emerging artists a platform to engage with the public at a professional level.
A-M Gallery owner Maria Aguilera-Mendoza says that galleries tend to fall into one of three groups—commercial, artist-run or spaces-for-hire—but she sees A-M as particularly artist focused.
"We see ourselves as the artists' partners, providing a forum for their ideas that is warm, welcoming, inquisitive, open-minded and fun."
Demonstrating their support of local talent, A-M has launched their first photographic exhibition, "PM", a large-scale figurative photographic panorama that showcases the talents of Sydney-based artists Maylei Hunt and Gavin Bradstreet.
Maylei Hunt says "PM" was the result of a "natural and organic collaboration" that began from a "shout out to circles of friends in the industry". Included among those friends were two dancers from the Indigenous Australian Bangarra Dance Company, Waangenga Blanco and Katina Olsen.
Drawing from their joint expertise in photo media technique and in an attempt to go beyond the visual norms of photo documentation, Ms Hunt and Mr Bradstreet use the grace and agility of the professional Indigenous dancers to challenge the boundaries of photographic movement. The result is a unique take on the artistic traditions related to the figure in the landscape.
Ms Hunt explains that the aim of her photo media practice "is to reinvent people's visual perceptions of film narrative, to see things in different ways."
Talking about the process, Mr Bradstreet said that all the environments and dancers were photographed separately.
"So it was like they were dancing in a virtual space and then it was all brought together digitally at the end through thousands of layers on the computer, which was very time consuming."
As former students of the National Arts School in Sydney's Darlinghurst, it was fitting that their former teacher and mentor photographer Christine Cornish contributed to the opening celebrations.
Referring to the 7-metre-long artwork, she described the exhibit as a "tabloid or stage like cinematic narrative … seems to hold time and engage us."
Incorporating professional aboriginal dancers adds another dimension and relevance.
"Knowing this, we perceive not only the uniqueness of the dancers own artistic integrity, but we are also reminded of their ancient heritage and of their own profoundly meaningful association with the land and with nature," Ms Cornish said.
Alongside photographic ambitions, Ms Hunt is also a curator and teacher who has exhibited extensively in Sydney and Melbourne, and has works in various private and public collections. Gavin Bradstreet works in design and is one half of the successful fashion label Khrysalis Couture.
"PM" will run until Sept 3. For more information. please visit www.a-mgallery.com.