Raised in the south of France, Fig & Olive founder Laurent Halasz drew inspiration for his menu from the Riviera and coastal regions of the south, and from Italy and Spain. His passion for using the best olive oils and the freshest ingredients available shines through every dish.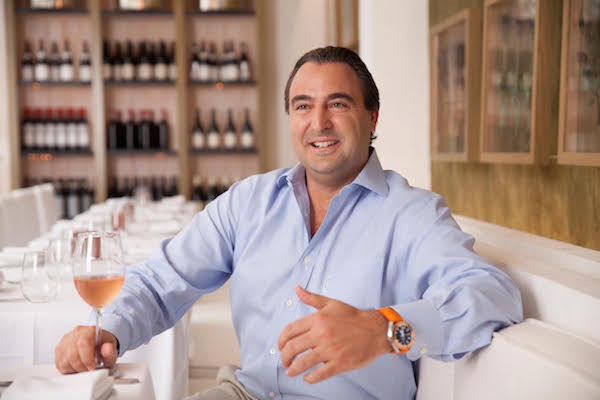 Rather than use butter, Fig & Olive's distinctive fare feature a variety of olive oils chosen to highlight the unique character of each dish, from a full-bodied Andalusian oil in the Paella Del Mar ($29), to a green fruit Provence variety served with the Green Apple Sorbet ($10).
Indeed, each meal begins with a trio olive oils served with crusty bread, a fitting introduction to a series of fabulous plates that can satisfy all the senses. My dining partner and I opted to try a number of the small plates and stick to only one entree, though main dishes like the Fig and Gorgonzola Risotto ($22) served with a fig balsamic glaze, and the Zucchini Blossom & Goat Cheese Ravioli ($26) are alluring options for another visit.
My heart was pounding with excitement over the Burrata & Heirloom Tomato Caprese ($15) appetizer. I can never have enough of this creamy cheese encased in a delicate skin, and here it was perfectly presented, drizzled with an 18-year-old fig and basil balsamic vinegar, and basil green olive oil.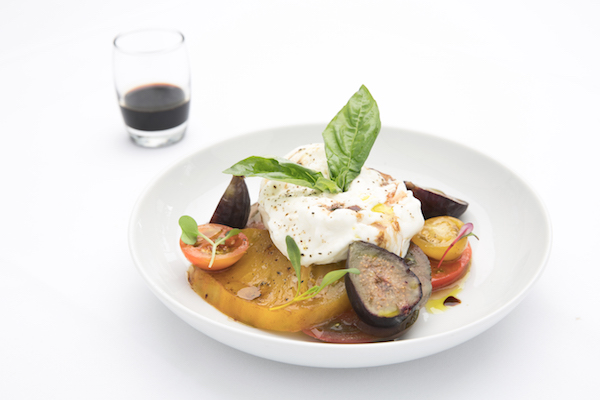 The next standout dish was the very fresh seared Sea Scallops ($18), seasoned with l'orange spice and served with a carrot olive oil tapenade, orange segments, and micro greens. The citrus dressing made with picual olive oil had a gentle heat that was a happy surprise to the palate.

I was also convinced to try the Eggplant Rolletini ($8) and did not regret it at all. Delicate sheets of eggplant were wrapped around goat cheese with ayala basil, and topped with tomato confit and cobrançosa olive oil.
After these light but satisfying plates, I was caught between the Rosemary Lamb Chops ($26) and the Branzino a la Plancha ($26) for the main event. The branzino won. It was cooked perfectly with a crispy skin, and served over olive oil chive mashed potato and a teasing a charmoula cilantro vierge with cobrançosa olive oil. Accompanied by the brilliant Sautéed Spinach with fig, garlic, and marcona almonds ($9), it was beyond fabulous.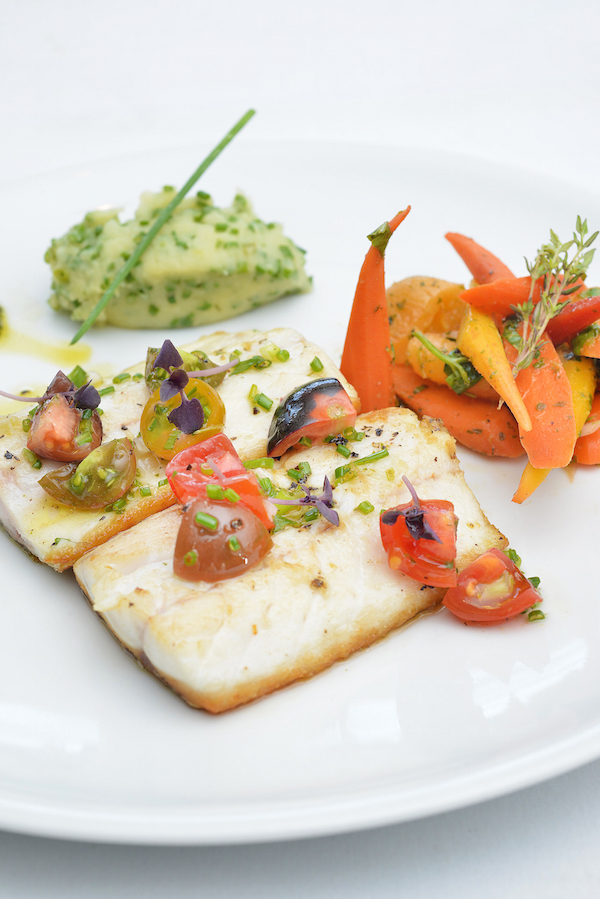 Fig & Olive's diverse wine list includes varietals representing the distinctive terroir of the south of France, Italy, and Spain, alongside select California wines that complement the coastal Riviera profile. But one simply must start with its signature The Fig & Olive cocktail made with blood orange purée, lime juice, organic cucumber vodka, topped off with blood orange olive oil ($14).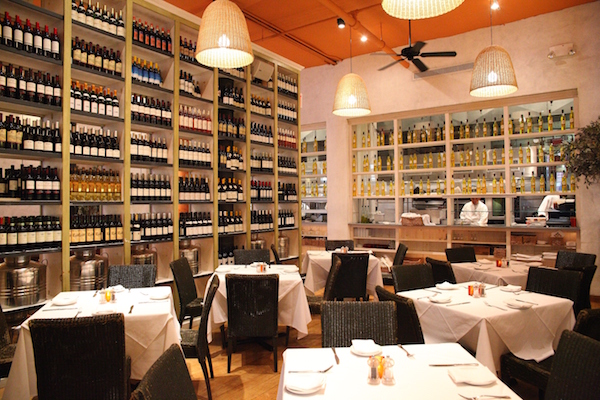 Desserts ($8–12) include specialties such as the Caramelized Cheesecake ($12) with olive oil crisp and caramelized peaches; the paper-thin, warm Caramelized Apple Tart ($10), made from a family recipe handed down by Halasz's mother; and a Chocolate Pot de Crème ($10) with crunchy praline financiers and vanilla cream.
On a typical afternoon, the dining room is packed and the music is pumping, making for an energetic—if not at all peaceful—dining experience. The staff is courteous but busy, so expect a long meal spent enjoying fabulous food in a vibrant atmosphere.
Fig & Olive
Several locations in Manhattan.
Meatpacking District location:
420 W. 13th St.
212-924-1200
FigandOlive.com
Hours:
Lunch: Monday–Friday noon–4 p.m.
Dinner: Sunday & Monday 4 p.m.–10 p.m.
Tuesday–Thursday 4 p.m.–11 p.m.
Friday & Saturday 4 p.m.–11:30 p.m. (bar open till 1 a.m.)
Brunch:
Saturday & Sunday: 1 p.m.– 4 p.m.