Summer's knocking at the door. Memories of melting ice cream and sticky slushies may leap to mind for many of us. But for Esther Choi, summer means cold noodles.
Cold noodles in Korea are common, and the chef-owner of Mokbar in Chelsea Market has created a trio to refresh hungry (and thirsty) palates.
"Growing up I loved anything cold—cold soups, cold side dishes. Even in the winter I crave cold stuff," she said.

Choi, who grew up in New Jersey and South Korea, learned to cook from her grandmother.
At Mokbar (which means "eat-bar" in Korean), traditional Korean flavors are often paired with ramen noodles with Sun Noodle, enticing those ramen lovers with flavors that they might not expect.
New on the menu for example is a Seafood "Miyeok" Ramen soup ($13).

Traditionally, miyeok is a dish served hot, and on birthdays, for health and longevity. Choi was inspired to give it a refreshing tangy vinegary twist, and make it a cold dish. The move was inspired by her mother's cold cucumber soup, a dish that's often served as a banchan.
"It's really good for you," Choi said, "My grandmother used to say to me, 'You have to eat a lot of seaweed, it cleanses your blood."
The many shades of green are striking—from the deep green of kombu strips to the green tea noodles to the faintest shade of cucumber green, all set off by the pale pinkness of the shrimp.
If you're a seaweed lover, there's also a seaweed salad, with four different types of seaweed [$6].
My personal favorite, which was brought back from last summer, is the Beef Kimchi "Naengmyeon" cold ramen dish [$14].

Choi is known for being able to make kimchi out of anything, and in this dish, she makes kimchi with bone broth.
The broth itself is made with beef kimchi, bone marrow kimchi broth, beef broth, and tomato, and goes down easy, like a smooth gazpacho.
The process is laborious—the kimchi alone takes at least 10 days to ferment. My advice is: Don't think of the work that goes into it and just enjoy the fruits of Choi's labor. Beef brisket, a six-minute soy egg, and scallion top this dish.
Choi also whips up a Veggie "Yachae" cold ramen dish, which unlike its brothy cousins, is served with a sauce—think of bibimbap, with its multitude of vegetables and colors, but with ramen noodles instead of rice ($13).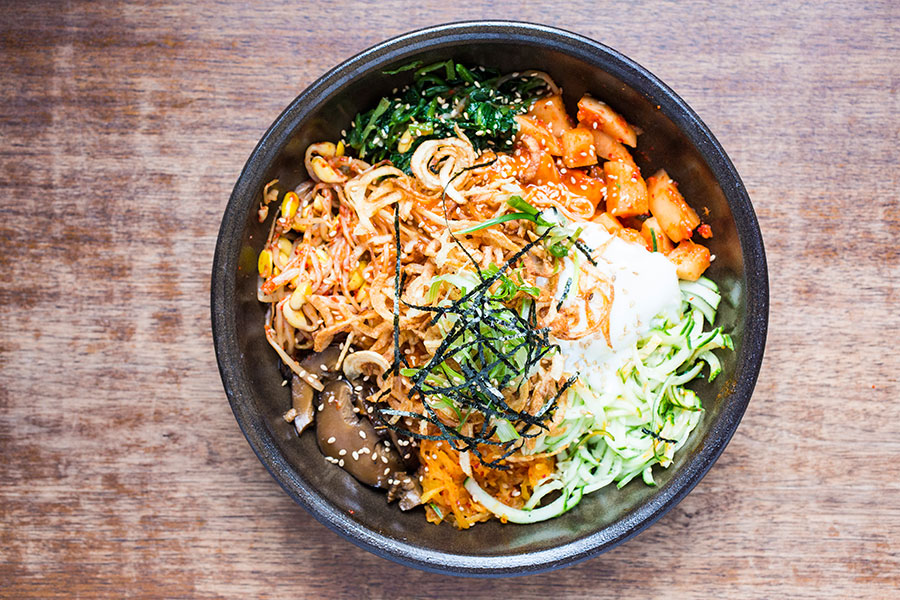 Served with a housemade gochujang dressing, the dish includes bean sprouts, spinach, pickled daikon, cucumber, pickled shiitake, white kimchi, and is topped with poached egg and crispy potatoes.
If you're looking beyond noodles, the menu at Mokbar also features small plates (meant to be eaten with beer or soju).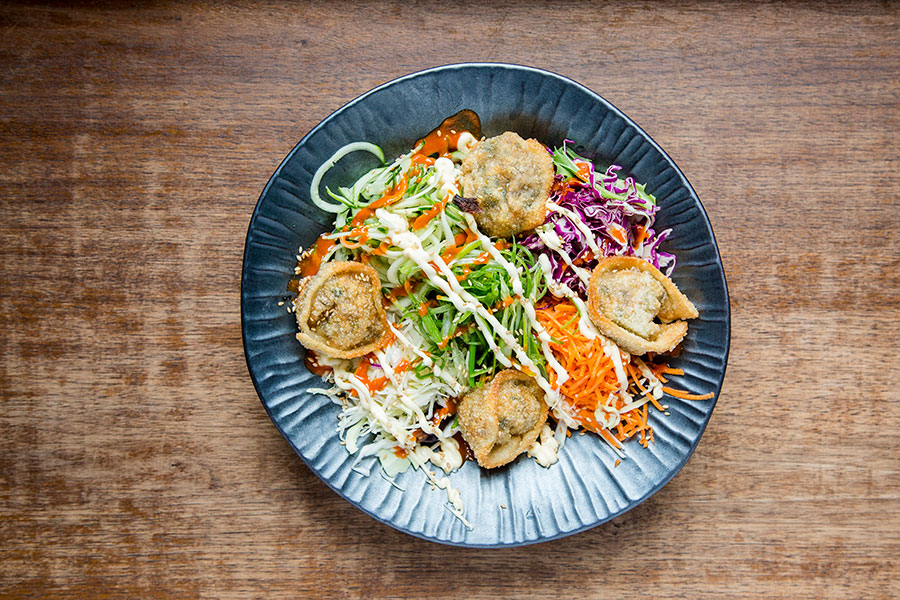 Choi resisted putting wings on the menu for a long time, but she has finally given in, and offers Mok Wings, a cross between southern fried chicken and Korean fried chicken. The wings are battered in corn flakes, flavored with either bulgogi sauce or gochujang ($8).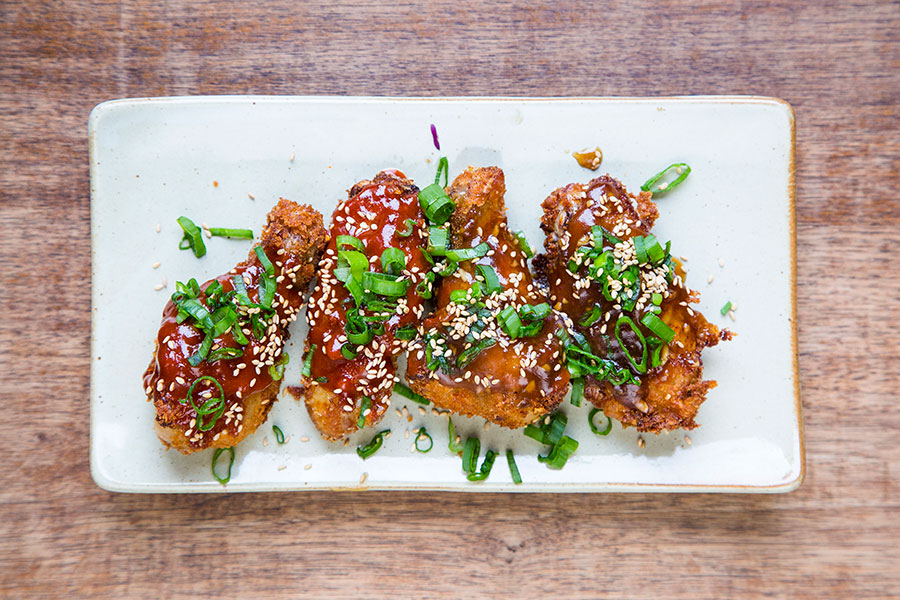 Wing lovers will be happy but if you go, don't miss Choi's take on a couple of traditional Korean dishes. One is her Tteokboki, brown butter rice cakes with an addictive crunch, served with a wonderful combination of minced pork, crispy bacon, white kimchi, and a poached egg ($12). And the Ho'Cake, which is traditionally sweet, but here takes a savory turn with a pork belly filling ($6).
Choi has been working on expanding to a new location.
Mokbar
Chelsea Market
75 Ninth Ave. (between 15th and 16th streets)
646-964-5963
mokbar.com
Hours
Daily 11 a.m.–9 p.m.