The investigation into the motives of a Las Vegas retiree who killed 59 people in the bloodiest mass shooting in modern U.S. history turned on Tuesday to the gunman's girlfriend in the Philippines, where she turned up after the massacre, authorities said.
Stephen Paddock, who killed himself moments before police stormed the hotel suite he had transformed into a sniper's nest on Sunday night, left no clear clues as to why he staged his attack on an outdoor concert below the high-rise building.
But law enforcement authorities are hoping to obtain some answers from a woman identified as Paddock's live-in companion, Marilou Danley, who Clark County Sheriff Joseph Lombardo said was a "person of interest" in the investigation.
Lombardo, who on Monday said Danley was believed to be in Tokyo, told reporters on Tuesday she had been located in the Philippines and the Federal Bureau of Investigation was in the process of trying to bring her back to the United States.
What we know about Marilou Danley, who investigators hope may hold the key to unraveling Vegas shooter's motive https://t.co/9PLhHhWgk5 pic.twitter.com/hPjILmHzyo

— ABC News (@ABC) October 3, 2017
"We are in conversations with her," he said at an afternoon news briefing. But he reiterated police had no other suspects in the shooting itself.
Danley, an Australian citizen reported to have been born in the Philippines, had been sharing Paddock's condo at a retirement community in Mesquite, Nevada, about 90 miles (145 km) northeast of Las Vegas, according to police and public records.
Investigators are examining a $100,000 wire transfer Paddock, 64, sent to an account in the Philippines that "appears to have been intended" for Danley, a senior U.S. homeland security official told Reuters on Tuesday.
The official, who has been briefed regularly on the probe but spoke on condition of anonymity, said the working assumption of investigators is that the money was intended as a form of life insurance payment for Danley.
The official said U.S. authorities were eager to question Danley, who described herself on social media websites as a "casino professional," mother and grandmother, about whether Paddock encouraged her to leave the United States before he went on his rampage.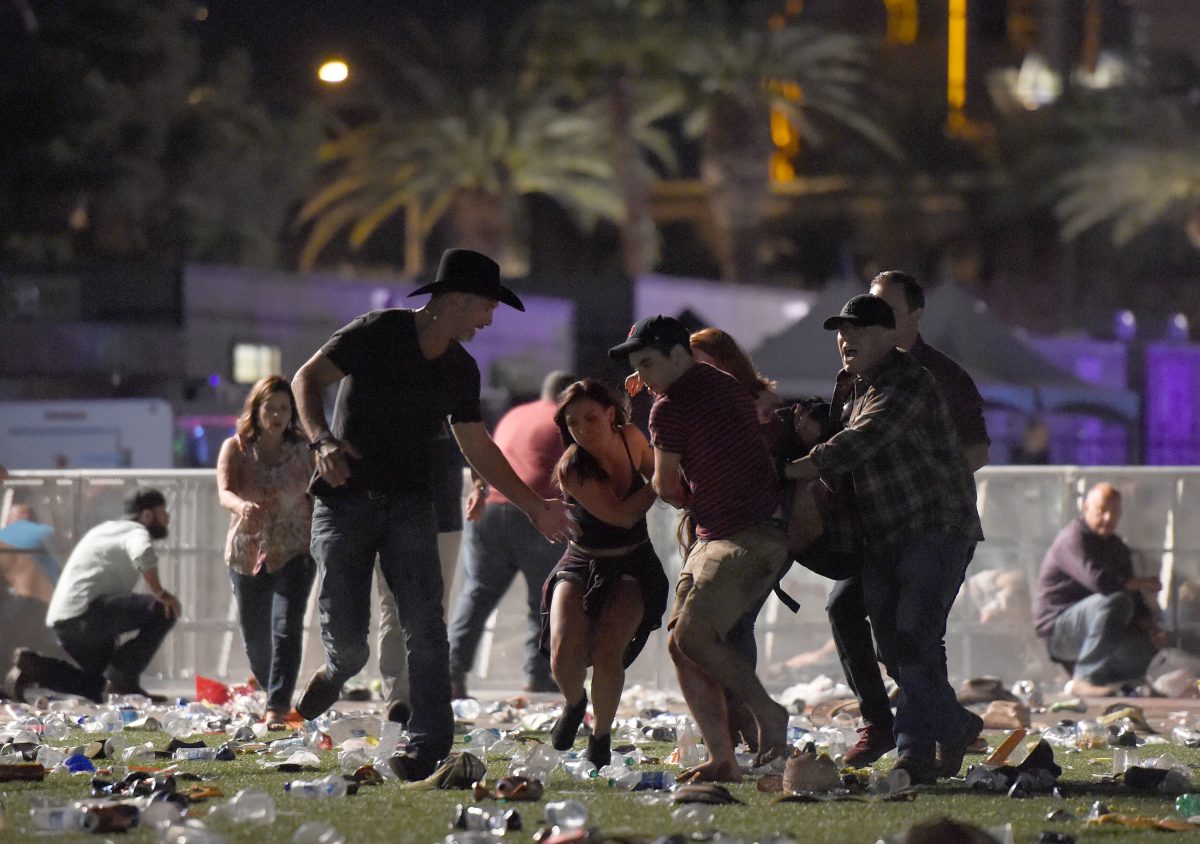 The official said investigators also have uncovered evidence that Paddock may have rehearsed his plans at other venues before ultimately carrying out his attack on the Route 91 Harvest country music festival from the 32nd floor suite of the Mandalay Bay hotel on the Las Vegas Strip.
Fresh details about the massacre and the arsenal of weaponry amassed by Paddock emerged on Tuesday.
Lombardo said Paddock strafed the concert crowd with bullets for nine minutes before taking his own life, and had set up cameras inside and outside his hotel suite, apparently, in part, to provide him advance detection of police as they closed in on his location.
Video footage caught by people on the ground showed throngs of people screaming in horror, some crouching on the open ground for cover, hemmed in by fellow concertgoers, others running for cover as extended bursts of gunfire rained onto the crowd of some 20,000.
More than 500 people were injured, some trampled in the pandemonium. At least 20 of the survivors admitted to one of several hospitals in the area, University Medical Center, remained in critical condition on Tuesday, doctors said.
The union representing firefighters disclosed that a dozen off-duty firefighters who were attending the music festival were shot while trying to render aid to other spectators, two of them while performing cardiopulmonary resuscitation on victims.
"This is a true feat of heroism on their part," said Ray Rahne of the International Association of Fire Fighters.
But the central, unanswered question to the bloodshed was what drove the gunman's actions.

Federal, state and local investigators have found no evidence that Paddock had even incidental contacts with foreign or domestic extremist groups, and reviews of his history show no underlying pattern of criminal behavior or hate speech, the homeland security official said.
While investigators had not ruled out the possibility of mental illness or some form of brain injury, "there's no evidence of that, either," the official said.
Paddock's brother, Eric, has described himself as mystified by the attack.
"It just makes less sense the more we use any kind of reason to figure it out," Eric Paddock said in a text message on Tuesday. "I will bet any amount of money that they will not find any link to anything … he did this completely by himself."
He said the family did not plan to hold a funeral for his brother, who was not religious, saying it could attract unwanted attention. He described his brother as a financially well-off enthusiast of video poker and cruises, with no history of mental health issues.
President Donald Trump told reporters on Tuesday that Paddock had been "a sick man, a demented man."
ATYPICAL KILLER
Paddock seemed unlike the troubled, angry young men who experts said have come to embody the mass-shooter profile in the United States.
Public records on Paddock point to an itinerant existence across the U.S. West and Southeast, including stints as an apartment manager and aerospace industry worker. He appeared to be settling in to a quiet life when he bought a home in a Nevada retirement community a few years ago.
Police said they found 23 guns in Paddock's suite at the Mandalay Bay hotel. They found another 19 firearms, explosives and thousands of rounds of ammunition at his home in Mesquite, Nevada, 90 miles (145 km) northeast of Las Vegas.
Another seven guns were found at a property associated with Paddock in Reno.
A search of his car turned up a supply of ammonium nitrate, a fertilizer that can be formed into explosives and was used in the 1995 Oklahoma City bombing of a federal office building that killed 168 people, Lombardo said.
Chris Sullivan, the owner of Mesquite's Guns & Guitars shop, issued a statement confirming that Paddock was a customer who cleared background checks and said his business was cooperating with investigators.