United States agricultural suppliers are sounding the alarm over the rising cost of fertilizers, which threatens to lower crop yields and worsen strains on global food supplies.
"It's put a stranglehold on us," said John Ortiz, sales manager at BigYield.us in Garden City, Missouri, an organization focused on creating strategies that increase the size and quality of crops using liquid-nitrogen-based fertilizers.
"You're always going to need seed. You're always going to need fertilizer" to grow crops on a large scale, Ortiz told The Epoch Times. "People need to eat."
Fertilizers have been in short supply in recent months due to the high cost of natural gas, a main component of their production.
Prices have nearly tripled in the past year alone, Ortiz said.
In 2020, it cost about $48 to treat an acre of top soil with fertilizer. In 2021, it cost around $120 per acre—an increase of $72, Ortiz said.
As a result, farmers are having to consider scaling back on fertilizer applications and seeking alternative methods to energize precious cover soil.
Preparing for Worse Shortages
"We're preparing," Ortiz said, but if the fertilizer "is not there, it's not there. If you run out, you run out. How do you get more?"
Shipping logistics and the rising cost of transportation have also become an issue of concern, he said.
"It's the trickle-down effect," Ortiz said, adding that farmers are "very nervous."
"It's one of these situations we've never been in before."
Ortiz said it's not just the higher price of fertilizer that has farmers worried, but the rising cost of insecticides and herbicides as well.
"Instead of spraying the ground," in many cases, "they're going back to working the ground," using traditional or alternative growing methods. "A lot of guys are going away from growing [non-GMO] corn to growing soy," Ortiz said.
Switching from dry to liquid fertilizers helps to boost efficiency and crop yields, he said.
As the world's fourth largest producer of nitrogen-based fertilizers, the U.S. receives 20 percent of its urea and 40 percent of its ammonium nitrate from Russia. China is also a big supplier of these products as the world's second largest producer and exporter.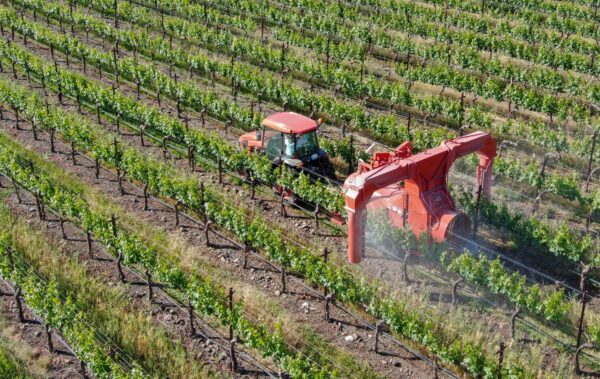 Both countries announced recently that they'll limit exports of nitrogen fertilizers, hoping to contain any further increase in food prices.
U.S. farmers are already feeling the squeeze.
"That's what happens when we rely on the outside for our products—it's crazy," Ortiz said.
CF Industries, a leading U.S. manufacturer and distributor of agricultural fertilizers, recently had to shut down its operations in the United Kingdom amid high natural gas costs and a reported $185 million quarterly net loss in revenues.
Hurricane Ida also forced the company to cease production at its ammonia plants in Louisiana.
CF Industries didn't immediately return a request for comment.
John Kempf, founder of Advancing Eco Agriculture, a regenerative consulting and biological and mineral nutrition products company headquartered in Middlefield, Ohio, said that in some instances, fertilizer supplies are "almost nonexistent."
The "bigger issue," he said, is that a majority of pesticides and herbicides used in agriculture in the United States are made offshore.
They, too, are subject to disruptions and dislocations in the logistical supply chain, he said.
Growing Back to Basics
As a producer and supplier of biological and mineral nutrition products, Kempf said the company seeks to help farmers reduce their dependence on modern fertilizers and pesticides, improve efficiency, and lower costs.
"We believe that farmers have been overusing these products for quite some time," causing ecological damage, Kempf told The Epoch Times.
In the long term, Kempf said that moving away from intensive use of synthetic fertilizers and pesticides in agriculture "will force us to become better farmers."
"We know that 60 percent of nitrogen that is used on the corn crops is not absorbed and goes down the river or it gets tied up in the soil," he said.
He said there's "only one model" that can alleviate the current shortages, which is to become less dependent on artificial synthetic fertilizers and more reliant on "regenerative models" to repair ecological damage caused by the overuse of chemicals.
"We have all the [tools] we need today to implement those models," Kempf said.