Families Set Tone in New Traffic Laws in NYC
April 30, 2014 10:56 pm Last Updated: April 30, 2014 10:56 pm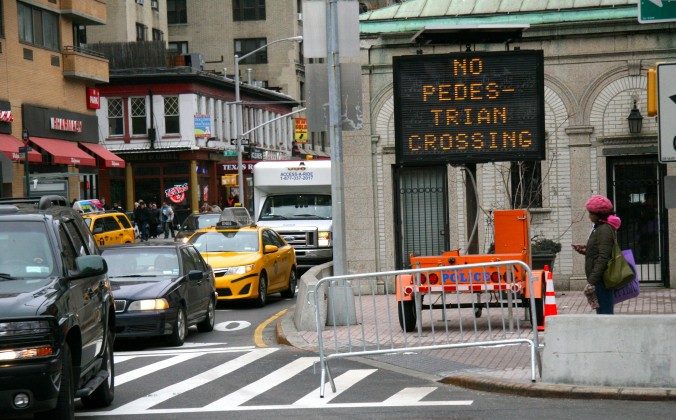 NEW YORK—Kelly Gordon was 22, athletic and outgoing, a caring older sister, and always aimed for the best. In three weeks she would have graduated with honors from Boston College, and had come to New York City for an interview with Goldman Sachs. On April 10, Gordon was struck by one taxi and killed by a second taxi on the Upper East Side.
Her father Donald Gordon heard City Council would be holding a hearing on traffic safety laws and came to support the effort. He did not expect the crowd of families who had lost children in crashes he saw outside City Hall Wednesday.
"It's unacceptable, it's completely unacceptable," Gordon said.
Dangerous streets have long been a problem in New York City—a collision happens nearly every two hours—but it was a family's story that framed the mayor's Vision Zero plan.
Eight-year-old Noshat Nahian had been crossing the street on his way to school when he was killed by a tractor-trailer in Queens. In January, the mayor stood in solidarity with his parents to announce his administration's focus on reducing pedestrian deaths.
On Wednesday City Council reviewed 14 bills and 8 resolutions in relation to Vision Zero, a traffic safety initiative to reduce fatalities to zero in 10 years. It started with the stories of the families.
"We have suffered an unspeakable tragedy and the fabric of our lives has been irreparably torn," said Amy Cohen. Cohen, who organized Families for Safe Streets, is still brought to tears with the mention of the incident that took her son Sammy Cohen Eckstein in Brooklyn. "We don't have another ten years."
"Most of these were not accidents. These tragedies happen because somebody did something wrong," said Council member Mark Weprin. "What we're doing here today is to try and change the way New Yorkers look at driving, to realize that there is a responsibility that comes with the privilege of driving."
In the Details
The families and council members called for action but, still, it is easier said than done.
The proposed legislation runs the gamut, from black boxes in taxis, changing left turn laws, having the city maintain an accurate crash map, to new work zone rules.
Some of the laws, however well meaning, come into conflict with existing procedures or cannot be implemented reasonably.
For example, a blanket requirement of a 24-hour deadline for repairing traffic signals may open the city up to costly litigation, said Transportation Commissioner Polly Trottenberg.
The current goal is actually to repair the signals within two hours. But if there are cases of severe weather, or if fixing a signal in an area with little traffic means pulling resources from something more important, the effects could be detrimental. If the bill comes into law, not accomplishing the repairs in 24 hours might prompt a lawsuit.
Other difficulties include finding the best way to install side guards onto trucks, which would prevent a person from being swept under the truck, but could make it hard for the drivers to see out of their vehicles, depending on the type of truck.
New York City also butts heads with Albany when it comes to many issues in the mayor's action plan relating to traffic cameras and speed limits.
Some worried the Senate would not pass the speed camera bill because there was discussion of the cameras as a revenue-generating tool. Council member James Vacca said the notion was completely wrong. "This has nothing to do with revenue. We want people to slow down their cars."
Many claimed victory on the additional 120 speed cameras the state Legislature approved for the city Wednesday, but there is more to be done. Transportation Chair Ydanis Rodriguez announced he and other council members and advocates would be rallying upstate next week to lower the city speed limit to 20 mph, and he is hoping for hundreds more to join.
While DOT has proposed lowering the citywide speed limit to 25 mph, not 20 mph, Trottenberg has made clear the end goal is to let the city control its speed.
Pressuring Taxis
A major area of contention has been the strict regulation of taxis the mayor has proposed. Immediately after Vision Zero was announced, Council member Helen Rosenthal of the Upper West Side introduced the idea of Cooper's Law.
Nine-year-old Cooper Stock did everything right: he crossed the street at the crosswalk, when the walk sign was on, and holding his dad's hand. But a cab driver had failed to yield.
If the legislation comes to pass taxi drivers would be automatically suspended and have their licenses revoked if they kill or maim someone after failing to yield, pending investigation.
"Anybody here, including me, could hail a cab right now and the driver could be him," Cooper's mother Dana Lerner said of the driver who struck her son.
Many families shared similar stories of drivers who received small fines or no penalties after collisions that killed their children.
New Taxi and Limousine Commissioner Meera Joshi praised the legislation. "My goal is to raise the standard so that the TLC license is synonymous with safety."
But the focus on taxi drivers has resulted in pushback from interest groups. Taxicabs are statistically safer drivers, and they worry they are being singled out unfairly.
This hasn't deterred Rosenthal, who said she will work tirelessly to make Cooper's Law a reality. A driver who has killed on the road should not be able to use it as his livelihood, she said.
Rodriguez, who has worked as a cab driver himself, said he is focused on making sure the city does not go after any industry or group of drivers just because it is easier but any driver, for-hire or not, should be penalized if the driver poses a threat to safety.
"We will support anything that's not pinpointed to a particular industry," said Avik Kabessa, president of the Carmel Car and Limousine Service and a board member of the Livery Round Table.