Chinese economists have analyzed China's trade data and the forecast does not look optimistic.
Last week, the Chinese regime announced that it had recorded a current account deficit of $28.2 billion for the first three months of 2018—the first quarterly deficit recorded since 2001.
But the Chinese regime was still confident, as it continued to incur a trade surplus with the United States. From January to April, China's trade surplus with the United States was $80.4 billion, according to official customs data.
Not So Rosy
However, Chinese economists Deng Haiqing and Chen Xi wrote in a May 8 article in Caixin, a Chinese business magazine, that the numbers are actually not as hopeful as they may appear, due to the depreciation of the U.S. dollar. Comparing April 2018 to April 2017, the U.S. dollar depreciated against the yuan by about 9 percent.
They instead compared the total import and export volume in Chinese yuan, for the same period—January to April—this year and last year. They found that the number was significantly lower this year, " indicating that the foreign trade situation is not optimistic," they wrote.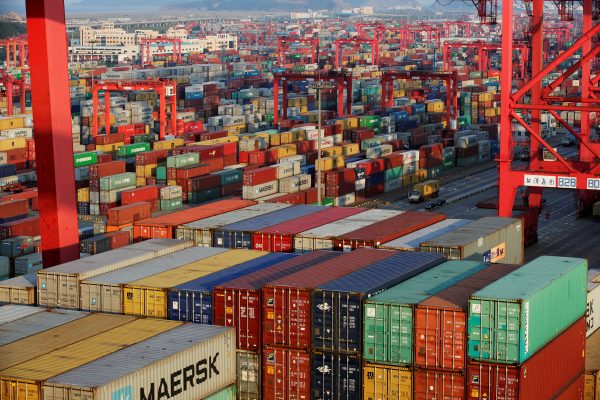 Deng and Chen further analyzed current trends in the Chinese economy and predicted that they would have a negative impact on growth: domestic consumption has been on the decline, while foreign investments in China's manufacturing sector have been sluggish or stagnating. Finally, recent trade tensions with the United States have led to uncertainty in foreign trade.
As land prices and other operating costs continue to rise, particularly in manufacturing hubs such as Shenzhen, many multinationals have begun shutting down their Chinese factories. This week, Japanese tech manufacturer Olympus announced that it will shut down its digital camera factory in Shenzhen, and relocate production to Vietnam.
Last week, South Korean conglomerate Samsung also shut down its Shenzhen factory, citing concerns of falling profits as a result of the United States' announced tariffs on Chinese-manufactured tech goods.
Current Trade Trends Point to Trouble
Meanwhile, a widely-read blogger who writes about the Chinese economy under the moniker "Manzu Yongshi," also gave a more pessimistic outlook, based on official trade data: in 2017, the growth rate of China's total exports grew by 7.9 percent, while the growth rate of China's total imports reached 16 percent—that means imports are increasing by double the export rate. "As a result of this shift, China's total trade surplus in 2017 continued to narrow, reduced by 17.1 percent [compared to 2016]," the blogger wrote.
Meanwhile, China's deficit in service trade—mostly due to a high volume of outbound tourism and technology imports—continues to grow. In 2017, that deficit reached new heights: 1.62 trillion yuan (about $255 billion), according to official data.
In the first three months of 2018, the service trade deficit was $76.2 billion.
Going by such trends, if the goods trade surplus keeps falling while the service trade deficit increases, it is very likely that China will incur a total trade deficit in 2018, concluded Manzu Yongshi.
US is China's Biggest Customer
The latest trade data also reveals just how much China relies on trade business with the United States—and why China stands to lose if trade relations continue to sour.
From January to April this year, China's goods trade surplus with the United States was $80.4 billion, while China's overall trade surplus was 76.7 billion—meaning almost all of China's trade surplus comes from exporting goods to the United States.