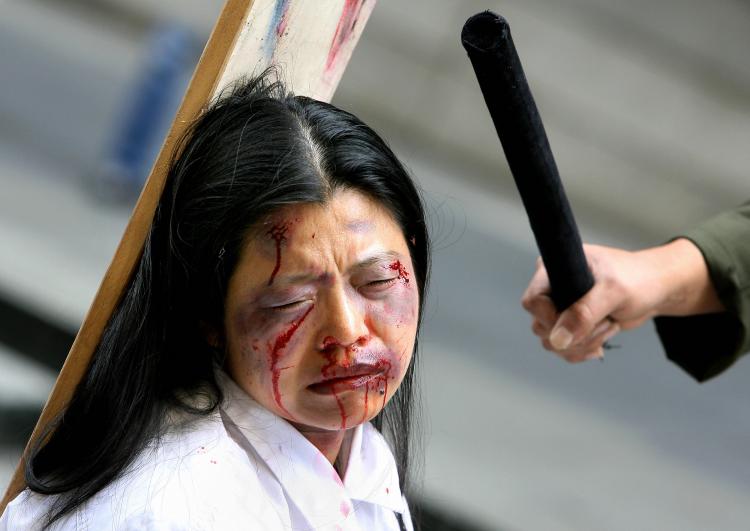 Foreign journalists in Beijing are actively seeking out information about Falun Gong practitioners detained in camps near Olympic venues, as the Chinese regime tries to cover its tracks.
More than 20,000 overseas journalists in Beijing were sent a guide to 're-education-through-labor' camps published by the Falun Dafa Information Centre (FDI), prompting many reporters to investigate the claims of torture and severe rights violations.
Armed with A Journalist's Walking Guide to the Persecution of Falun Gong in Beijing, Beijing correspondent for the Canadian Globe and Mail newspaper Christie Blatchford went to investigate the conditions of Falun Gong detainees in Daxing Women's Forced Labor Camp. But even with a detailed map and local taxi driver she could not find it.
"They are in jail; it's just that this being China, it is not always easy to determine which one," she wrote in her report.
Blatchford did find the Qinghe Emergency Center where the body of a famous 42-year-old Beijing musician and Falun Gong practitioner, Yu Zhou, was being held.
Yu Zhou died of suspected torture in the Tongzhou District Detention Center 11 days after his arrest, according to FDI reports.
No autopsy was ever performed despite pleas from Mr Zhou's family.
"His wife is serving a 12-year sentence at the prison I couldn't find," Blatchford said.
Beijing residents are all too aware that these 'reform' camps are on their doorstep, but "few look too carefully," she said.
Next stop for the Canadian journalist was a re-education through labour camp and a detention centre near Tuanhe in the Daxing District in Beijing. An official told her that she needed permits for an interview—that have to be approved by a number of departments—and she was turned away.
The Chinese regime said that during the Olympics the media would have access to detention facilities, and interviews would be granted without approval from higher authorities.
According to FDI sources in Beijing, who do not want to be named for their safety, after the release of the journalists' guide communist authorities started secretly transferring Falun Gong practitioners to labour camps in Shanxi Province and Inner Mongolia.
FDI's New York-based spokesperson Mr. Erping Zhang said the Chinese regime was replacing true Falun Gong practitioners with non-practitioners who parrot the Chinese Communist Party's hateful stance on the spiritual practice.
Sources in Beijing said the current situation is similar to when the international community wanted to investigate the allegations of organ harvesting from living Falun Gong practitioners at a hospital in Sujiatun, in Shenyang, Liaoning Province in 2006.
Chinese authorities invited UN investigators to investigate the hospital after all evidence of the killings and abuse had been removed.
"We trust journalists in Beijing won't be taken in by these tactics," Mr. Zhang said.