There was evidence as early as the last month of 2020 that people who had received COVID-19 vaccines could still get COVID-19, Dr. Deborah Birx said on June 23.
"We knew early on in January of 2021, in late December of 2020, that reinfection was occurring after natural infection," Birx, the White House COVID-19 response coordinator during the Trump administration, said before a congressional panel.
"And because the vaccine was based on natural immunity, you cannot make the conclusion that the vaccine will do better than natural infection," she added later.
The two primary COVID-19 vaccines, produced by Pfizer and Moderna, are based on messenger RNA technology and are designed to trigger an immune response similar to the response that is triggered by an infection.
Top U.S. officials in December 2020 promoted the Pfizer and Moderna COVID-19 vaccines, which were authorized that month, as being highly protective against infection. According to Food and Drug Administration officials, Pfizer's vaccine was 95 percent effective against infection and Moderna's was 94 percent effective.
Birx at the time called the vaccine "critical" while still urging people to avoid large gatherings and to always don masks when out in public, especially indoors.
But she did not share her concerns that natural immunity and vaccine protection weren't holding up.
During Thursday's hearing, Rep. Jim Jordan (R-Ohio) expressed concern about the government promotion of the vaccines as highly protective, noting that President Joe Biden said as late July 2021 that "You're not going to get COVID if you have these vaccinations."
A short time later, the Centers for Disease Control and Prevention published a study showing that a COVID-19 outbreak in Massachusetts resulted in more cases among vaccinated people than unvaccinated ones, and the agency urged vaccinated Americans to start wearing masks again as a result.
"Why should Americans believe anything the government says about COVID?" Jordan wondered. "When the government told us, told the American people that people who had been vaccinated couldn't get it, were they guessing or were they lying?"
"I don't know," Birx said.
Birx, along with Dr. Anthony Fauci, helped convince then-President Donald Trump to implement ill-fated efforts such as 15 days to "slow the spread," and Americans were encouraged to stay indoors and largely remain only among their families, with claims that would help combat the COVID-19 pandemic. She was also a vigorous advocate of mass testing and mask-wearing, despite division among experts on the strategies.
Birx was testifying to the House Select Subcommittee on the Coronavirus Crisis, which is headed by Rep. Jim Clyburn (D-S.C.).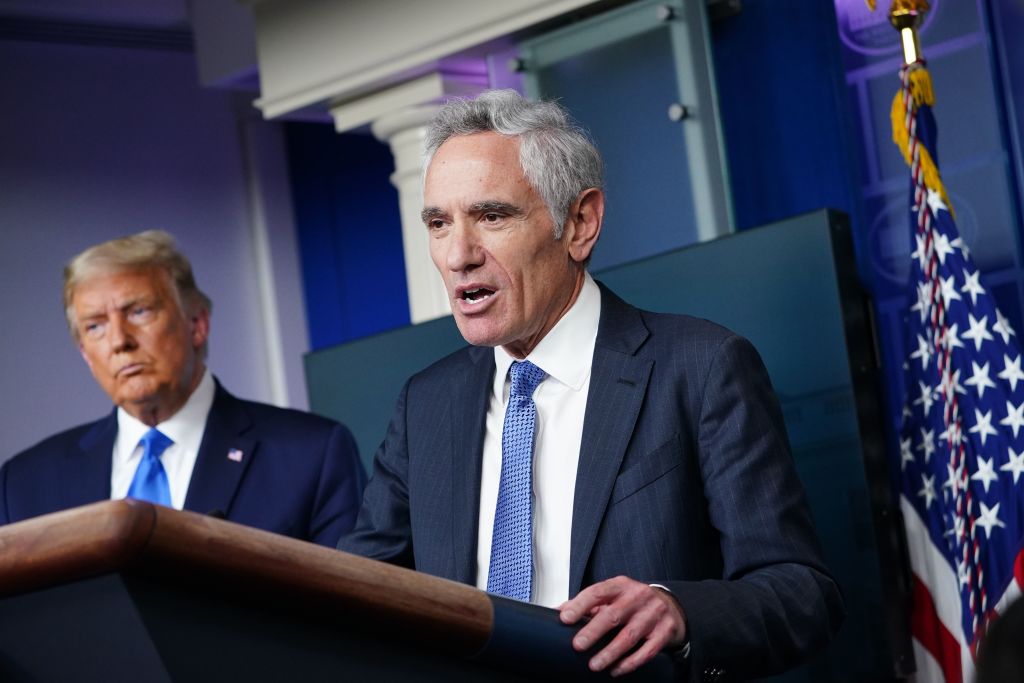 Democrats on the panel asserted that—based on interviews with Birx and others and documents including emails—a group inside the White House headed by Trump adviser Dr. Scott Atlas tried to get Trump to reject "mainstream mitigation measures" and downplay the severity of the CCP (Chinese Communist Party) virus, which causes COVID-19.
Atlas was a proponent of focusing protective measures on people at high risk from COVID-19, like the elderly, while letting people at little risk from the disease, such as children, largely live their lives without interference.
The strategy was put forth in a document called the Great Barrington Declaration, whose authors met with then-Health Secretary Alex Azar in the fall of 2020. Two of them also spoke with Trump and then-Vice President Mike Pence.
Birx said the meetings and support for the strategy were dangerous because she felt it would impede the Trump administration's response to the pandemic. She also reiterated concerns that the administration was focused on the presidential election at the expense of the pandemic response.
Atlas told the panel in an interview that it was clear by March 2020 that the lockdown strategy, which included the closure of schools across the country, "was both illogical and failing because people were dying, even the highest risk people." He recounted "focusing on what would be a way to stop people from dying and simultaneously stop the enormous harms that were coming from these lockdown policies."
Clyburn said the actions by Atlas and others "embraced a dangerous herd immunity via mass infection strategy."
Atlas told The Epoch Times in an email that the report the committee authored "attempts to rewrite history and deflect blame for the failure of the Birx-Fauci lockdowns over two administrations which have resulted in over 1 million COVID deaths and destroyed tens of millions of families and children," adding that "It is a lie to claim that a 'mass infection strategy' was ever advised by me or 'embraced' by anyone."
During his time as Trump's adviser, "I advised a safer, targeted strategy of increased protection of the high-risk groups and stopping the enormous damage to our children, low-risk working class and the poor," Atlas said.
Recommendations from Atlas and others, including Great Barrington Declaration co-author Martin Kulldorff, were adopted by Florida, which quickly moved away from broad restrictions.
"More than 2 years in; Florida's age adjusted Covid death rate is nearly the same as California's, which proves that lockdowns and mandates do not 'save lives'—but do have enormous social, economic, and yes, even public health costs," Christina Pushaw, press secretary for Florida Gov. Ron DeSantis, a Republican, told The Epoch Times in an email.
"We stand by the recommendations of Dr. Atlas, Dr. Kulldorff, and other medical professionals who consistently advocated for a strategy of focused protection and no lockdowns or mass quarantines of healthy people. Even if it was a good policy in terms of public health, which it's not, it is a gross violation of civil liberties and the Constitution. American policymakers should not be taking cues from the Chinese Communist Party," she added.
Clyburn, meanwhile, didn't mention how herd immunity was also promoted by Fauci, the longtime head of the National Institute of Allergy and Infectious Diseases, but via vaccination instead of infection.
"If 75-or-more percent of the population decides they want to get vaccinated, I would hope, by the time we get to the end of the second quarter, into the summer that we will have enough people vaccinated that by the time we get to the fall in the third quarter of the year that we will have that veil of protective herd immunity," Fauci said on CNN in late 2020.
Studies have shown that infection confers greater protection than vaccination, but that the protection from both has been less strong against newer variants of the virus.
Vaccines, especially, have proven increasingly unable to protect against infection and do little against transmission, leading to a significant drop in talk about reaching herd immunity.
"I think that's a pretty complicated question, given the presence of new variants," Dr. Ruth Link-Gelles, a Centers for Disease Control and Prevention official, said in a recent meeting. "We know that protection from both prior infection and from vaccination is not 100 percent. And even children and adults with evidence of past infection and past vaccination can get reinfected. So I think at this point, it's a little bit of a misnomer to talk about."