As the U.S. Coast Guard cleans up the oil spill off the coast of Huntington Beach, California, the city announced Oct. 6 that some of its most anticipated events had been canceled or postponed.
Those fully canceled include the Rockin Fig Vintage Surf Festival, Surf City Days, Huntington Beach Surf Contest, with those postponed including the Los Angeles Times Food Bowl, A Great Day in the Stoke, and the NSSA National Surf Competition.
The canceled events also come amid the cancellation of the third day of the Pacific Air Show on Oct. 3, which was supposed to bring thousands of people to see military planes fly over the ocean.
Other upcoming beach-related events are likely to be postponed or canceled until enough of the estimated 30,000–144,000 gallons of oil is cleaned up by officials, with about 5,544 gallons collected so far.
Recreational fishing has also been completely restricted from the city of Dana Point to Sunset Beach in Huntington Beach from the shoreline to six miles out into the ocean until further notice.
Orange County officials have announced the closure of the Dana Point Harbor, meaning boaters will be unable to enter or exit the harbor until further notice, with impacted boaters encouraged to go to either Huntington Beach Harbor or Long Beach Harbor.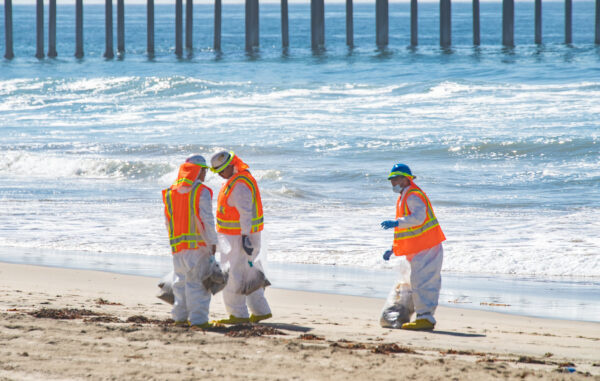 Further south, in Laguna Beach, officials announced on Oct. 6 that oil is beginning to wash up on the sand, prompting the U.S. Coast Guard to initiate cleanup efforts.
"Representatives from the U.S. Coast Guard's Shoreline Cleanup and Assessment (SCAT) Team, 'Hot Shot' Crews, and U.S. Fish and Wildlife surveyed and cleaned all Laguna beaches affected by the oil spill today," the city wrote on their website. "Crews removed the last remnants of oil today. … It was found at North Crescent Bay Beach."
Additionally, live maps of the oil spill show that a large concentration of it has drifted south of Laguna Beach, heading toward San Diego County.
All beaches within the city are currently closed due to hazardous conditions.
Across the county, crews will continue to clean up the spill. While 350 personnel are currently working across the county's coast to manually clean up the oil, the county plans to have 1,500 workers by the end of the week.