A top European Union (EU) official issued a warning to Twitter owner Elon Musk that the social media platform could be blocked if it does not comply with the bloc's regulations.
"There is still huge work ahead, as Twitter will have to implement transparent user policies, significantly reinforce content moderation, and protect freedom of speech, tackle disinformation with resolve, and limit targeted advertising," EU Commissioner Thierry Breton told Musk, according to a readout of a call between the two had on Wednesday.
Breton told the Tesla CEO that Twitter will have to significantly increase efforts to comply with new EU rules, known as the Digital Services Act, which are to take effect next year.
Breton, in a post, wrote that Musk should "live up to commitments on code of conduct on disinformation" to "label hoaxes and disinformation in cooperation with fact-checkers," "promote authoritative sources, " and "demonetize disinformation spread." Breton did not elaborate on what constitutes "disinformation" under the EU's guidelines.
The EU official, meanwhile, wrote that Twitter needs to "reinforce content moderation and protect freedom of speech" to "take down illegal posts." An audit of Twitter will also have to be carried out, Breton said, saying that "EU teams will come and check readiness."
Such rules have been criticized by free speech advocates and conservatives as a form of censorship of viewpoints that are outside the mainstream. They have argued that because terms like "disinformation" and "misinformation" are not clearly defined, as pieces of content and accounts can be subjectively blocked by moderators with left-wing viewpoints.
After Breton's warning, some Twitter users questioned why the EU's rulemaking should have jurisdiction over Twitter, an American company. The EU law is scheduled apply to social media platforms with more 45 million users, which includes Twitter, by mid-2023.
'Twitter 2.0'
The meeting between Musk and Breton comes as the social media firm issued a post elaborating on its content-moderation approach.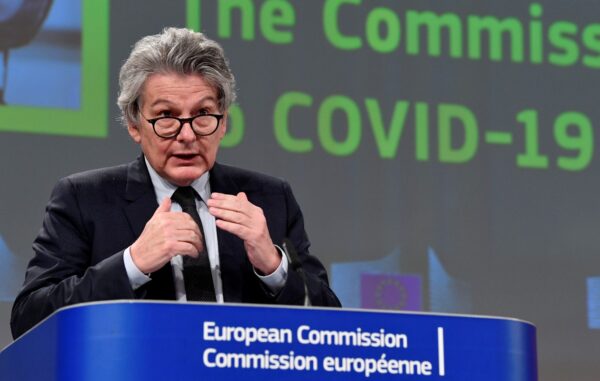 "Twitter 2.0: Our continued commitment to the public conversation," the social media network wrote Wednesday, adding that while "none of our policies have changed," it will experiment in the future. "We believe that this open and transparent approach to innovation is healthy, as it enables us to move faster and gather user feedback in real-time," the post said.
During the call Wednesday, Musk agreed to let the EU's Executive Commission carry out a "stress test" at Twitter's headquarters early next year to help the platform comply with the new rules ahead of schedule, the readout said.
"I think it's exactly aligned with my thinking," Musk told Breton—who heavily promoted COVID-19 vaccine passports in 2021—in the video, according to The Wall Street Journal. "I agree with everything you said, really. I think we're very much of the same mind, and I think anything that my companies can do that would be beneficial to Europe, we want to do that."
Along with European regulators, Musk could also be targeted by Apple and Google, which power most of the world's smartphones. Both have previously blocked apps like the social media platform Parler from their devices last year, triggering concerns about the amount of power the two tech companies wield.
Musk wrote that Apple "threatened to withhold Twitter from its App Store, but won't tell us why." Apple hasn't commented, but Musk went back on his claim Wednesday, saying he met with Apple CEO Tim Cook, who "was clear that Apple never considered" removing Twitter.
The Epoch Times has contacted Apple for comment.
Several days ago, Twitter stopped enforcing a controversial policy targeting COVID-19 "misinformation" that has been deployed to ban thousands of accounts, including those belonging to prominent doctors critical of widespread vaccination and vaccine mandates. Musk said accounts would be restored if they had not broken any laws or engaged in spamming.
The company, under Musk's direction, also restored the accounts of prominent conservatives, including former President Donald Trump, Rep. Marjorie Taylor Greene (R-Ga.), clinical psychologist Jordan Peterson, Dr. James Lindsay, and others. The Tesla and SpaceX CEO further indicated there would be "amnesty" for thousands of other accounts that were banned.
Musk purchased Twitter for $44 billion in October, and since then he has reportedly laid off significant numbers of employees. He also fired the company's previous top management.
The Associated Press contributed to this report.