Two brands of bottled water, sold at Target and Wholefoods, contain "high levels" of the toxic metal arsenic, according to an environmental campaign group.
Non-profit group the Center for Environmental Health said it has sent legal notices to Whole Foods and Keurig Dr Pepper, claiming that two products—Starkey Water and Penafiel—contain levels of arsenic which require a health warning under California's consumer protection laws.
That particular law in California has been much-criticized for taking consumer warnings too far, with a judge ruling last year that coffee shops must display a cancer warning, until the decision was reversed earlier this month.
The CEH does not specify what level of arsenic would breach that California law, known as Proposition 65. However, it appears that the state law (pdf) specifies safe levels of arsenic ingestion for consumers at 10 micrograms per day. (The federal limit for arsenic in water is expressed differently, as 10 parts per billion—the equivalent of 10 micrograms per liter).
CEH did not provide details of what it said was independent testing, or of the levels of arsenic found in the two brands. However, it said in a statement that it confirmed the findings of previous testing carried out by Consumer Reports in April.
That report said two brands reached levels above the federal limit.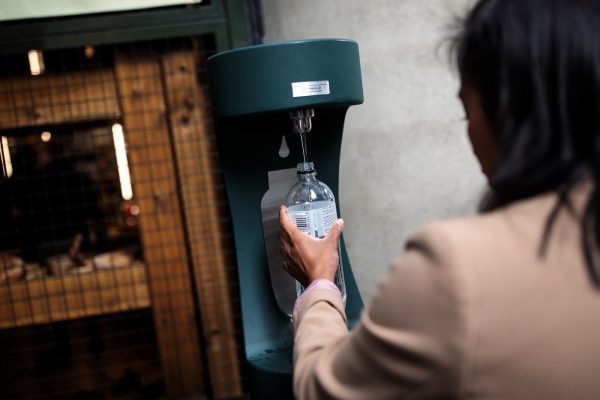 At the time of this report, neither company had provided a response to the media. However, the International Bottled Water Association said in a statement that the previous Consumer Report article contained "several false and misleading statements, makes claims that are not based on sound science, and unnecessarily scares consumers about the safety of bottled water."
After that report was published in April, Penafiel ceased operations for two weeks, with plans to improve their water quality. It was found to have exceeded the federal limit with the water bottled in Mexico.
Plastic Concerns
Michael Green, Chief Executive Officer of CEH. said, "Consumers are being needlessly exposed to arsenic without their knowledge or consent."
"Customers typically purchase bottled water at exorbitantly high costs with the assumption that it is safer and healthier to drink than tap water, unaware that they are ingesting an extremely toxic metal linked to birth defects and cancer."
The IBWA said its response to the April report: "Arsenic is a naturally occurring substance that is widely found in soil, water, and almost all plant and animal life, including the human body. Arsenic can be present at varying levels in many foods and beverages, and these products, like bottled water, are safe to consume and enjoy if they meet all FDA regulations."
"Of the 130 bottled water brands tested by Consumer Reports, only two exceeded the FDA standard for arsenic."
Long-term exposure to arsenic can lead to reproductive harm, circulatory, nervous system and disorders, and cancer, according to the United States Environmental Protection Agency. 
Bottled water surpassed soft drinks in 2016 to became the most popular bottled drink. However, the amount of bottled water is tiny compared to tap water volumes.
"Nearly all of the bottled water sold in the U.S. is sourced domestically," according to the IWBA. "In fact, imported bottled water accounts for only 1 percent of the U.S. market. The vast majority of bottled water companies in the U.S. are small, community-based companies using local water sources and distributing their products within an average radius of 300 miles from their bottling facilities."
Concern has grown in recent years about the possible damaging effects of the plastic from the bottles.
According to an analysis published earlier this month, people consume around 5 grams of plastic a week—about equivalent to a credit card. Bottled water, along with tap water was the biggest source.
A study last year found that 93 percent of tested bottled water was contaminated with microplastic particles.