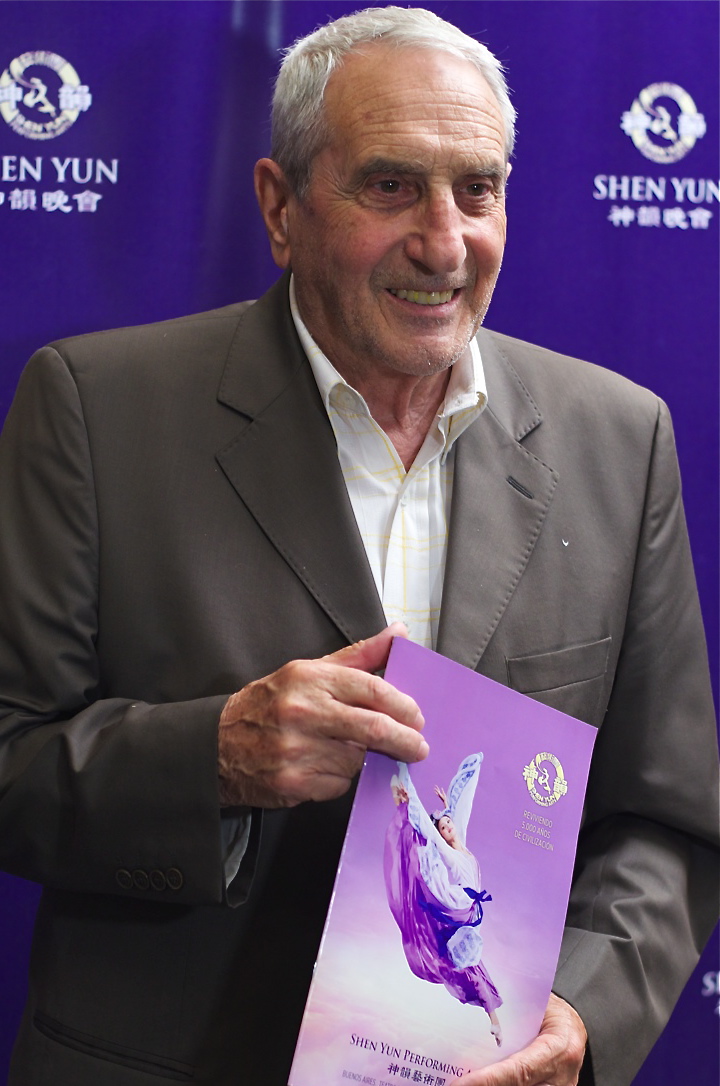 BUENOS AIRES—Argentinian renowned entertainment journalist, Mr. Luis Pedro Toni, said Shen Yun's performance was a marvelous show with extraordinary synchrony. 
New York-based Shen Yun Performing Arts International Company presents 5,000 years of traditional Chinese culture through classical Chinese dance and music, and began its 2013 World Tour in Buenos Aires, Argentina. Mr. Pedro Toni attended the performance at the Teatro Ópera Citi.
"Practically in each scene there are over 50 people—both females as well as males," he said particularly touched by the unison of the performers. 
At the core of Shen Yun's performances is classical Chinese dance with China's numerous ethnic and folk dance styles rounding out the evening, according to Shen Yun's website. 
The performance "has some musical settings and an excellent soprano who sang," said Mr. Pedro Toni. Tenors and sopranos perform piano-accompanied solos. 
"In a collection of short pieces," according to Shen Yun's website, "audiences travel from the Himalayas to tropical lake-filled regions; from the legends of the culture's creation over 5,000 years ago through to the story of Falun Dafa in China today."
Falun Dafa is a peaceful meditation that originates in ancient Chinese culture and is practiced around the world. Currently in China, the Chines Communist regime horrendously persecutes Falun Dafa practitioners. 
"After a dramatic scene with a jail, a struggle, and a conflict," Mr. Pedro Toni said that it was all with a sense that the characters depicted do not lose their spirit despite harsh persecution.
"The gods and the Chinese mythology, with a five thousand year old legend present on the stage—it also transmits tranquility," said Mr. Pedro Toni.
According to Shen Yun's website, Shen Yun's performances recount ancient myths, bygone heroes, or celestial paradises. The ancient Chinese myths and legends reveal China's divine origins and rich folklore. 
The divine culture is very calming, according Mr. Pedro Toni.
"It extracts you of all the noise of every day life, especially in the times we live in today, which are sometimes very pressured," he said. It left him with "an extraordinary relaxation."
Apart from being a spectacular visual performance, Mr. Pedro Toni said, "This is a show that touches the soul."
"You feel a spiritual tranquility," he said, who added that the music transmitted that, and the background settings complemented everything to make that happen, according to Mr. Pedro Toni.
Shen Yun's digital-backdrops are vivid animated settings that extend the stage and create magical windows to different realms and spectacular landscapes.
"What a pity that it was over now and one has to return to reality," Mr. Pedro Toni said. He longed for the really pleasant environment, which gave him a lot of happiness, and would have liked the performance to continue for hours. 
He noted that Buenos Aires is a capital with many shows on the billboards, but Shen Yun is a rarity for the city.
"It would be worthwhile," he said, as the city and people are lucky to experience this exquisite fruit. "This is so excellent."
Reporting by Andres Auzunbud, NTD, and Kelly Ni
New York-based Shen Yun has three companies that tour the world each year on a mission to revive 5,000 years of traditional Chinese culture
For more information, visit ShenYunPerformingArts.org
The Epoch Times publishes in 35 countries and in 19 languages. Subscribe to our e-newsletter.
.