NBA free agent Enes Kanter Freedom, a human rights advocate who has spoken out to bring awareness to communist China's treatment of its Uyghur community, Tibet, Taiwan, and Hong Kong, has been nominated for the 2022 Nobel Peace Prize.
The nomination, which The Atlantic reported last week was made by a member of the Norwegian Parliament, has won support from 30 Nobel laureates, as well as well-wishers on social media.
"I'm honored and humbled to receive the nomination for the Nobel Peace Prize," Freedom wrote on Twitter. "Sometimes taking a stand is more important than your next paycheck."
The majority of the messages left below his post are congratulatory, describing his nomination as "well-deserved."
Sen. Rick Scott (R-Fla.) wrote on Twitter on Feb. 17: "Enes is a fearless fighter for human rights & freedom for all & I couldn't be more proud to see him receive a nomination for the Nobel Prize."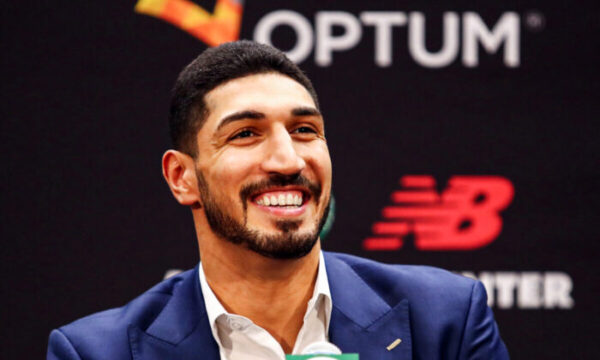 On Feb. 16, Rep. David Valadao (R-Calif.) said he was proud to support Freedom's efforts to "bring awareness to human rights abuses around the world."
Freedom has been outspoken about the issues of China's human rights, which are persistently censored in China. He also urged athletes to boycott the 2022 Beijing Winter Olympic Games, which Beijing has been using as a powerful propaganda tool to enhance its international image.
"The Chinese government does not represent Olympic core values of excellence, of respect, of friendship," Freedom said during a press conference hosted by Scott in January, citing the regime's broad suppression spanning Xinjiang, Hong Kong, and Tibet; its intimidation of Taiwan; and its suppression inside China itself. "They are a brutal dictatorship."
Yao Ming, a former NBA basketball player who now presides over the state-affiliated Chinese Basketball Association, invited Freedom to visit China to develop a "more comprehensive understanding" of Beijing on Jan. 18.
The following day, Freedom responded on Twitter by asking, "Will you join me in visiting Uyghur Slave Labor Camps, Tibet, HK & Taiwan? … Let me know if Xi approves!"
On Feb. 10, Freedom was traded to the Houston Rockets. However, four days later, the Rockets waived him.
"This is outrageous," Bill Browder, head of the Global Magnitsky Justice campaign, wrote on Twitter on Feb. 13. "Enes Kanter Freedom, the only NBA player brave enough to speak out against China's human rights atrocities gets traded from the Celtics to the Rockets and then immediately waived (i.e., fired). A disastrous precedent."
Freedom, who was raised in Turkey, changed his name to Enes Kanter Freedom on Nov. 29, 2021, the day that he completed his citizenship oath ceremony.
Contrary to common belief, there is no public list of the current year's nominees. While some high-profile names have occasionally been leaked, the list of eligible nominees for any year's prizes is not disclosed for another 50 years—a restriction that's governed by Nobel statutes, according to NobelPrize.org.