Elon Musk says he's leaning toward voting for Florida Gov. Ron DeSantis in the 2024 election if he runs for president and predicted that a "red wave" is coming in 2022.
In response to a question from a popular Tesla fan account on Twitter, the Tesla and SpaceX CEO said it remains to be determined whether he will vote for a Republican for president. When asked who he is leaning toward, Musk replied, "DeSantis."
DeSantis, a Republican, hasn't said whether he'll run for president in 2024. Former President Donald Trump is widely expected to run again.
At a press conference on June 15, DeSantis said he's focused on his gubernatorial reelection bid in November.
"I'm focused on 2022," the governor said. "But always appreciate the support from African Americans!"
The brief exchange was part of a conversation on Twitter that Musk started by revealing that he had cast the first vote for a Republican in his life in the special election in the 34th Congressional District in Texas. Musk voted for Mayra Flores, who won the election in the heavily Hispanic district that has voted for Democrats for decades.
"I voted for Mayra Flores – first time I ever voted Republican," Musk said. "Massive red wave in 2022."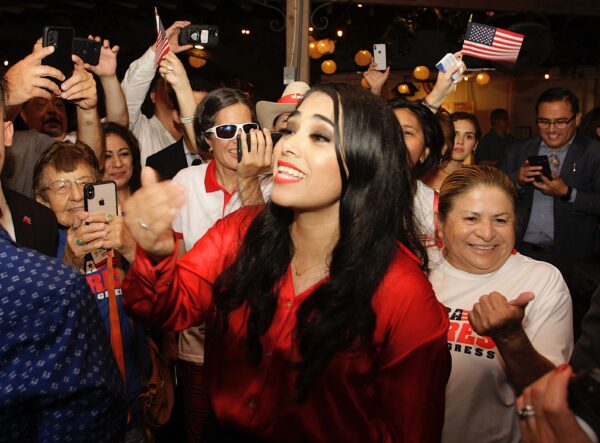 Flores, who is the first Mexican-born woman to be elected to Congress and is married to a Border Patrol agent, will fill the seat vacated by former Rep. Filemon Vela (D-Texas), who resigned earlier this year. Flores's term runs through January; she will have to win the November general election to remain in office.
"I'm forever grateful," Flores said in a victory speech on June 14. "For 100 years, we have been taken for granted."
Republicans at the national level committed money and effort to the Flores race, believing that South Texas Latinos share conservatives' concerns about border security and the economy.
The opportunity to break the South Texas blue barrier has emboldened Republicans, who aim to flip the region red and regain control of the U.S. House of Representatives.
Musk first revealed that he's planning to vote Republican in a Twitter post last month.
"In the past, I voted Democrat, because they were (mostly) the kindness party," Musk wrote on May 18. "But they have become the party of division & hate, so I can no longer support them and will vote Republican."
Musk is in the process of acquiring Twitter and taking the company private.
The billionaire further revealed that he supported Democrat Andrew Yang for president in the 2020 election.
"I supported Yang last time, but DeSantis has a better chance of winning," Musk wrote in a Twitter post.
Darlene Sanchez contributed to this report.