Electronic Surveillance: Gone Too Far?
McCain Institute debates the statement: 'Spy on me, I'd rather be safe.'
November 26, 2013 6:12 am Last Updated: November 25, 2013 8:47 pm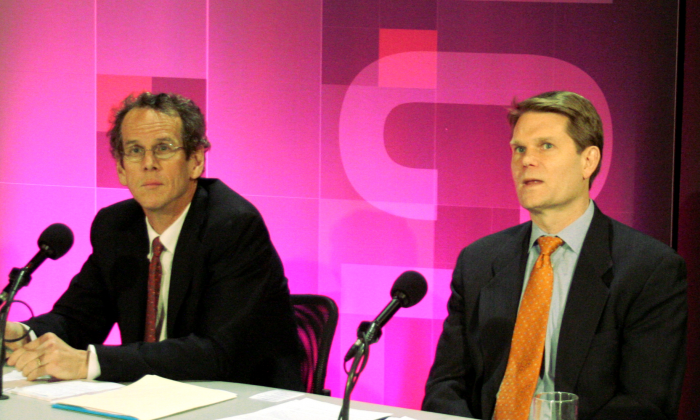 WASHINGTON—Until it was leaked that the National Security Agency monitors the phone calls and emails of American citizens, most Americans had no idea what their government was doing in the name of national security. 
We have now learned that the government collects data about our telephone calls, photocopies domestic mail, collects images from license plate readers and surveillance cameras, and much more. 
Is there any real harm done by the NSA surveillance program to the public? Do the benefits of protecting lives from potential terrorist attacks and national security outweigh the loss of our privacy? Former NSA contractor Edward Snowden's leaks of troves of classified information raise a multitude of questions. 
The McCain Institute for International Leadership recently co-hosted a formal debate on the subject, "Spy On Me, I'd Rather Be Safe." Two debaters for, and two against, considered the question in front of an audience of several hundred people Nov. 20 in Washington, D.C.'
Lawful' Electronic Surveillance
Richard Falkenrath was deputy homeland security advisor under President Bush before and after 9/11. In 2006-2010, he served as the New York City Police Department's deputy commissioner for counterterrorism. 
Falkenrath said that preventing terrorist acts is not difficult when the terrorist plot is uncovered in advance. It was his personal experience that where this has happened in the United States, the initial lead came from electronic surveillance in one form or another. He said "lives are at stake."
Surveillance has more oversight than it did 35 years ago when the president, based on Article 2 of the Constitution, could legally conduct electronic surveillance inside the U.S. for foreign intelligence purposes, without judicial review, according to Falkenrath. 
Falkenrath said he supports "lawful forms of surveillance," backed by the Constitution, statutes, and judiciary review. The approach has had the bipartisan backing of both chambers of Congress, and the Bush and Obama administrations, he said. The Supreme Court has also held that the information is not private.
"The bulk acquisition of telephone records for narrow counterterrorism purposes has been authorized 34 times by 15 different federal judges," said Falkenrath, adding that the judges have said they allowed the authorizations because of the safeguards that are in place.
Mass Surveillance Ineffective, Wasteful
Arguing against the motion was Michael German, who is senior counsel for the American Civil Liberties Union. German was a special agent with the FBI for 16 years, where he specialized in domestic terrorism and covert operations.
German said he didn't question the need for the government to use tools to address terrorist threats, but he questioned whether these tools were necessary and effective. He listed three terrorist bombing attempts that failed: the Christmas Day underwear bomber, the Times Square bomber, and Najibullah Zazi's crew, who brought explosives into New York City.
"Luck was what [saved us] in these cases, not mass surveillance," he said.
Mass surveillance did not prevent the shootings at Fort Hood, and the Army recruiting center in Arkansas, or the Boston Marathon bombing. Too much data overloads the investigators, according to German.
The FBI investigation of Boston Marathon bomber Dzhokhar Tsarnaev was one of 1,000 assessments done that year by the Boston team, and may explain why he wasn't apprehended before he set off the bombs that killed three and injured an estimated 264.
German said the time-tested way of the past was to follow the evidence based on "reasonable suspicion" and "probable cause," not "flawed hunches or profiles." 
German said, "In my 16 year FBI career, I can honestly say I never found a criminal or terrorist by rummaging through the personal information of innocent people."
The data collection of the government is massive and wastes billions of dollars—money that could have been more effectively applied to keep us safe, he added.
"The National Counterterrorism Center says it receives 5,000 pieces of information and puts 350 people on the watch list every day," German said. He quoted a NCC analyst who said, "There are so many databases … people don't know where to get information or they may already have it and not know it."
He said NSA can point to just one instance of a terrorism-related prosecution that might not have been successful. Once, a transmittal of money to Somalia discovered through electronic records was used as material evidence in a trial.
Safeguards in Place
Arguing in favor of the idea that spying keeps us safe was Stuart Baker, who is the author of "Skating on Stilts: Why We Aren't Stopping Tomorrow's Terrorism." He was the first assistant secretary for policy at the Department of Homeland Security (DHS), 2005-2009.
Baker sees nothing wrong with intelligence agencies using data already collected by third parties, such as phone numbers. 
He said that when he was at DHS, they would get from the airlines travel information on reservations, and passport information on everybody coming into the United States—not just the suspects. Baker said this data would have been used to question the underwear bomber after he deplaned if he hadn't been discovered beforehand trying to blow up the plane.
Regarding the massive phone databases collected, Baker said safeguards are in place. Only a limited number of people have access to the data, there are rules for getting access to it, and it's court enforced. Five hundred phone numbers emerge each year from the analysis, and only then would the names of the people be identified. Compared to 1.3 million searches that law enforcement does each day, 500 is a small number, he said.
Transparency and Privacy Violated
Arguing against the NSA's spying was David Cole, who is a professor of law at Georgetown University Law Center. He has litigated many significant cases before the Supreme Court.
Cole said that NSA's secret program violates core principles of democracy: government transparency and citizen privacy. The NSA surveillance program has reversed these by demanding transparency from the public, while employing secrecy itself, Cole said.
"We should have a say how far the government can go in spying on us," Cole said.
Government surveillance may sometimes be justified for national security to keep us safe, he said. However, there is also a role for democracy and the human need for privacy—something "essential to human development" and "political freedom."