An elections supervisor in Coffee County, Georgia, demonstrated in recent videos posted online how Dominion Voting Systems voting software allows votes to be changed through an "adjudication" process. The process allows the operator to add vote marks to a scanned ballot as well as invalidate vote marks already on the ballot.
Adjudication should only serve to resolve issues of voters marking ballots incorrectly, such as filling the bubbles in a way that doesn't clearly show who he or she voted for. Yet it appears a substantial number of ballots went through that process, at least in some Georgia counties. As the Coffee County supervisor, Misty Martin, showed, the system can be set to allow adjudication of all scanned ballots, even blank ones, and effectively allow the operator to vote those ballots.
The videos were posted by local news site Douglas Now, whose publisher, Robert Preston, told The Epoch Times they were filmed this week in the local election office.
"According to our election folks, this Dominion system is flawed, not secure, and open to manipulation if someone were so inclined," Preston said in a Facebook message.
It's not clear how many ballots were adjudicated statewide. The office of Georgia Secretary of State Brad Raffensperger didn't respond to a request for comment.
In Fulton County, which includes Atlanta, over 106,000 ballots were adjudicated by Nov. 4, said Richard Barron, the county's director of elections, during a Nov. 4 press conference. In total, more than half a million ballots were cast in the county. Democrat Joe Biden leads Fulton with 381,144 votes compared to President Donald Trump's 137,240.
Georgia is a key battleground state, controlling 16 electoral votes. The current results show Biden leading Trump by less than 12,000 votes.
"The adjudication process as allowed by Georgia law and election regulations provides for a bipartisan citizen panel to review any ballot within a batch that is flagged by the scanning software as not being clear about the voter's intent," said Fulton County spokeswoman Jessica Corbitt, in a statement emailed to The Epoch Times.
The panel should include one election worker, one Democrat representative, and one Republican representative. Photos taken in Fulton and Gwinnett counties indeed show three-member groups sitting around computer screens scrutinizing ballots.
"The bipartisan voter panel, not workers, performs that review to determine whether the voter's intent is clear," Corbitt said.
She indicated that the number cited by Barron referred to a total number of ballots in batches that went to adjudication, but not every ballot in each batch was adjudicated.
"When a batch of ballots has been adjudicated it means that any ballots flagged within that batch has gone through that citizen adjudication process," she said.
Each batch reflects a stack of several dozen ballots fed into a ballot scanner.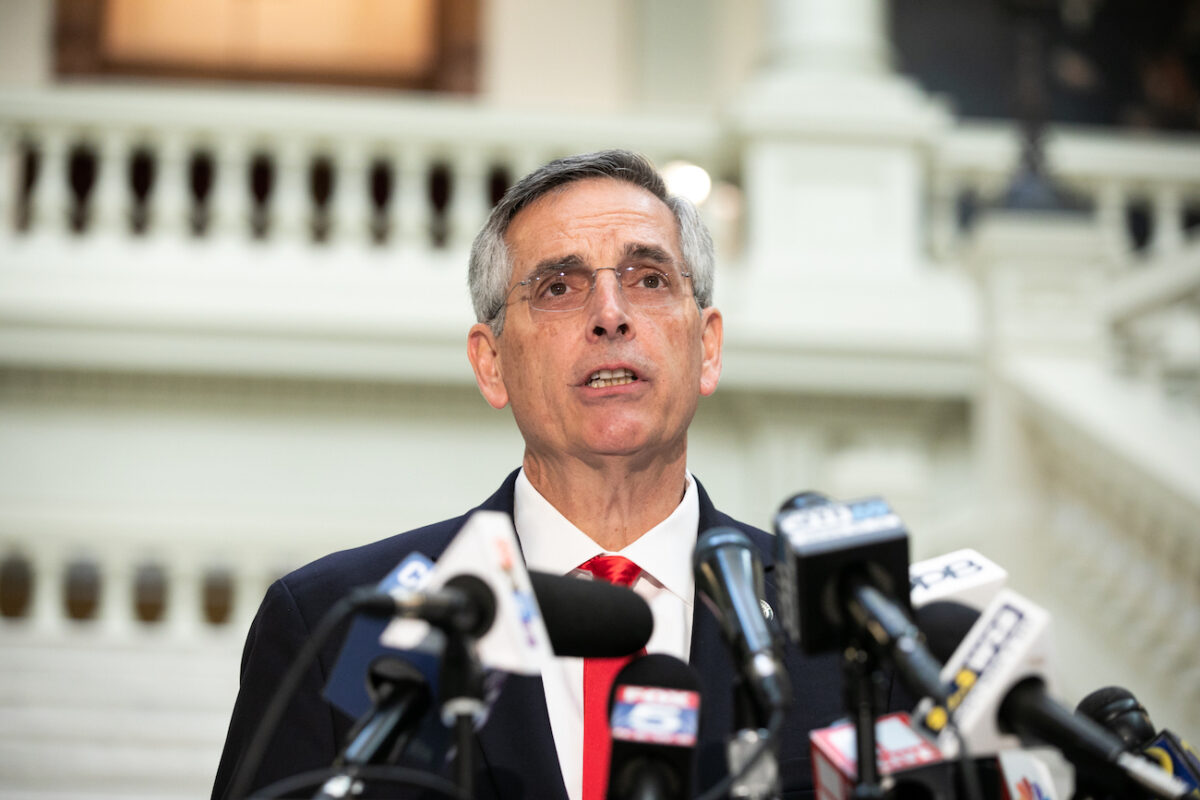 Corbitt didn't respond to any specific questions regarding the number of individual adjudicated ballots in the county, who was on the citizen panels, and whether the work of the panels can be verified through available video footage of the tabulation process.
"We did have panelist adjudicating the ballots, every time they were scheduled by Fulton County Elections Division," Trey Kelly, chairman of Fulton County Republican Party, told The Epoch Times via email.
It appears the work of the panels wasn't affected by the restrictions imposed in response to the CCP virus pandemic. Poll watchers in many states, including Georgia, have complained they were kept so far from the election workers they couldn't meaningfully observe what was being done.
The Georgia and Gwinnett branches of the Republican Party didn't respond to requests for comment on the adjudication process and citizen panel participation.
The Coffee County videos suggest the adjudication process can be accessed by any operator of the Dominion software regardless of whether any observers are present.
Martin said an operator of the software can change the votes with no trace of who did it or which ballots were changed. The system would only mark that at least one ballot in the batch was adjudicated, but "it can't be tracked to exactly what ballot it was," she said.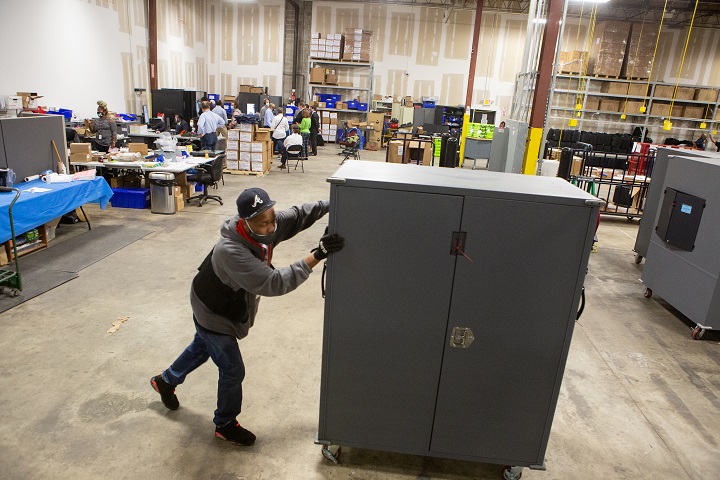 Dominion didn't respond to emailed questions regarding the adjudication feature of its software.
A Dominion brochure advertises that "ballot changes always preserve the voter's original intent. Anyone reviewing a ballot will be able to see how the voter marked their ballot, how the scanner interpreted the intent, and how the ballot was adjudicated."
Gabriel Sterling, voting system implementation manager for the Georgia Secretary of State's office, addressed the Coffee County videos during a Dec. 10 press conference:
"In that system, there's an audit mark that goes along with it and log files so we can see who has done what. So that's kind of how adjudication works."
Information from Gwinnett County, which also went for Biden, indicates only absentee ballots are subject to adjudication, since on election day, people mark their choices on a machine, which then prints out the ballot—this, at least in theory, eliminates the possibility of the voter marking the ballot wrong.
The adjudication process actually started weeks before the election, the county says on its website, since the state election board allowed counties to start opening absentee ballots and scanning them on Oct. 19. The state is getting sued over that decision since the state's law says absentee ballots can only be opened on Election Day.
On Nov. 3, the county reported that since Oct. 19, "the [adjudication] review panels completed a total of 5,900 batches of ballots."
That would easily account for all the more than 120,000 absentee ballots cast in the county, indicating that all or nearly all batches would be marked in the system as adjudicated.
People who vote early in person in Georgia also cast absentee ballots. It's not clear whether those ballots are marked by hand or by a machine and whether they are subject to adjudication.
Gwinnett County didn't respond to emailed questions.
Another question is what happens with the adjudicated ballot. It appears that when the scanner fails to read a ballot for some reason, the ballot needs to be duplicated through a vote marking machine—the voter's choices are entered by an election worker on a touch screen and the machine then prints out a replacement ballot.
Videos from the absentee ballot counting center at the State Farm Arena in Atlanta show several people operating a machine that is apparently printing out replacement ballots. There appears to be nobody observing the process. The county spokeswoman didn't provide a comment on those videos.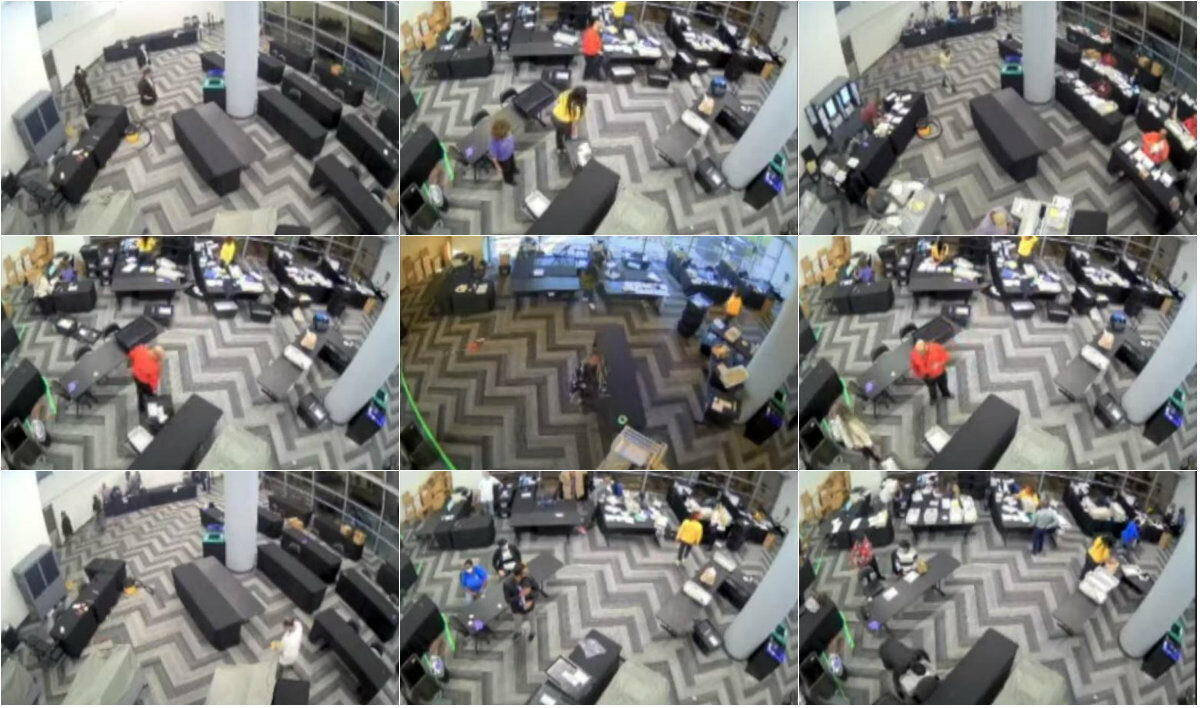 The duplication process might explain why a polling manager in Fulton County testified that she encountered a box of ballots with a batch of 110 that were "pristine" and not folded.
Coffee County refused to certify its election results, citing issues with the Dominion software. The Secretary of State's office blamed the county for delaying the certification.
Dominion has been in the hot seat over allegations of security gaps in its systems. State Rep. Matt Hall, a Republican who chairs the Michigan House Oversight Committee, recently threatened Dominion's CEO with a subpoena if he doesn't appear before his committee voluntarily.
Last week, a state judge ordered a forensic audit of 22 Dominion machines in Michigan's Antrim County, which was flagged last month by GOP officials as having switched 6,000 votes from Trump to Biden before it was reportedly corrected.
A member of Trump's legal team said an "independent team" took part in the audit.
Update: The article was updated with information from a Dominion brochure and Gabriel Sterling, voting system implementation manager for the Georgia Secretary of State's office, and Trey Kelly, chairman of Fulton County Republican Party.