Elderly Chinese Woman Resists Forced Relocation
May 18, 2007 12:00 am Last Updated: May 18, 2007 12:00 am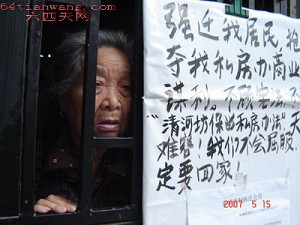 May 13 was Mother's Day, but for 86- year-old Zheng XiaoLan living at 53 Dajinggang in Hongzhou City, Zhejiang Province, it was not a happy day at all. Instead, she was in a great panic because the Hangzhou City Administration And Law Enforcement Bureau forced her to relocate to an old apartment building in Sanliting, a suburb of Hangzhou City.
Dajinggang has been a lively street since the Song Dynasty (around the 13th Century). To date, quite a few traditional shops such as the Hu Qingyu shop, the Zhang Xiaochuan shop, the Zhu Yangxin herb shop and other residences are located on the street. Local government and business enterprises like the street and want to develop it into a new business area. Many residents resisted the forced relocation, but it was in vain.
On May 11, 2007, when many government officials and police came to the street and forced her to relocate, she crawled to the top of the building to resist. This encouraged many people to watch and protest. Those government officials and police had to give up and leave.
In the following several days, she had to shut the door and stay at home fearing that she would be kidnapped and her home would be torn down.
During her stay, food and water were delivered by her daughter each day. Anxiety along with both physical and mental exhaustion made the healthy old lady suddenly thin and pale. She had to take cardiovascular prescriptions to survive.
On May 15, the old lady came out of her home to have a bowl of hot rice porridge under the protection of many neighbors. Meanwhile, she took care of the yaupon trees she planted a long time ago. Fifteen minutes later, when a patrol car came by, she returned to her little room and continued to look outside periodically.
| | |
| --- | --- |
| Zheng's suicide note. (Lian Sheng, www.64tiangwang.com) | Zheng's daughter delivering food to her. (Lian Sheng, www.64tiangwang.com) |
| Zheng placed a wreath in her room to show her determination in resisting forced relocation. (Lian Sheng, www.64tiangwang.com) | |