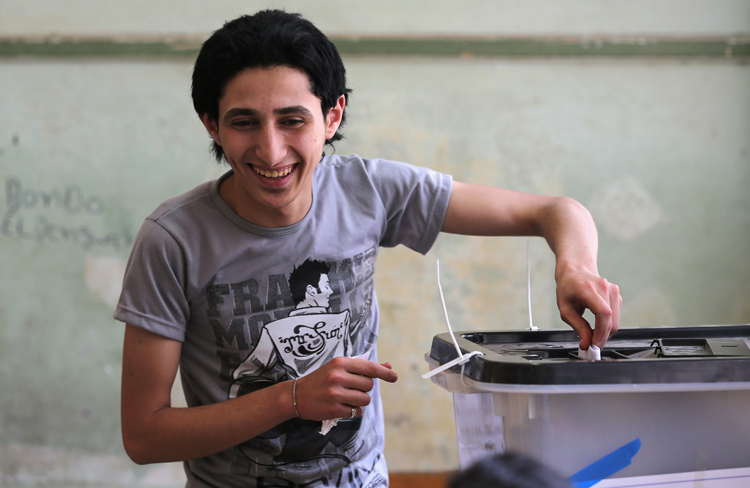 Egyptians' first day of voting for their new president went relatively smoothly on Wednesday, which bodes well for what has been a challenging democratic process since the overthrow of Hosni Mubarak in February 2011.
Voters were in high spirits and a strong turnout is expected, especially in the capital Cairo. Around 50 million people are eligible to vote over two days of voting, May 23–24.
"The process was very well organized, it was not crowded, and it took me less than five minutes to vote," Tarek Danish, a member of the Egyptian Social Democratic Party's Foreign Affairs Committee, wrote via email. He says he believes most Egyptians consider the election legitimate and are excited to exercise their right to vote.
"Today is like a carnival for all Egyptians. They are selecting their president freely for the first time," voter El-Assar told Al-Ahram newspaper.
Thirteen candidates are taking part in the election, including Islamists, secularists, and candidates who served under the old regime. Results of the first free presidential elections will determine the country's future after nearly 15 months of caretaker military rule and before that, 30 years of authoritarian rule under Mubarak.
"No serious incidents reported as of a couple hours ago and observers (U.S. congressional delegation, Carter Center) were telling colleagues of mine it all looked free and fair," Abdallah Schleifer, a journalism professor at the American University in Cairo and former long-term journalist covering the Middle East, wrote via email from Cairo on Wednesday evening, local time.
Concern Over Military Interests
Most of the secular candidates have expressed fear that the Electoral Commission, which is strongly under control of the Supreme Council of the Armed Forces (SCAF), will manipulate the results so that Ahmed Shafik wins, according to Schleifer.
Shafik was the last prime minister under Mubarak and was considered a possible candidate to succeed the long-serving dictator. He is considered the favorite candidate by Egypt's military, which is generally cold toward the Islamist parties.
Shafik was briefly banned from running because of his position in the former government, but won his appeal.
Ten other candidates, who were also banned by the electoral commission in mid-April, including the three front-runners at the time, lost their appeals. They included the Muslim Brotherhood's top nominee Khairat el-Shater, hard-line Islamist Hazem Abu Ismail, and former Mubarak intelligence chief Omar Suleiman. Angry supporters staged mass protests over the decisions.
"The Muslim Brotherhood has more or less threatened as have other, smaller groups, to go to the streets if Shafik wins," Schleifer wrote.
Despite concerns over Shafik's links to the former regime among Jan. 25 revolutionaries, he enjoys genuine support among Egyptians who want to return security to the country. There has been an increase in violence and corruption since last year's uprising.
Other leading candidates in the race include Amr Moussa, a former foreign minister and Arab League chief under Mubarak.
Among the Islamists, the vote is expected to split between the Muslim Brotherhood's backup candidate Mohamed Morsi, and former Brotherhood member, Abdel Moneim Aboul Fotouh. The Islamic parties won an overwhelming victory in parliamentary elections several months ago.
If no candidate wins over 50 percent of the vote in the first round, a runoff election will be held June 16–17.
Whoever wins, Egypt's new president will inherit a struggling economy and will have to deal with boosting the country's security.
"Some things can wait, but not security or garbage problems," a woman in the Al-Basateen District of Cairo, told Al-Ahram newspaper, referring to the poor sanitation and weak police force in her area.
There were some reports of poll-related violence. A low-ranking police officer was shot and killed by unknown gunmen in the Rod Al-Farag District in Cairo, Al-Ahram reported.
The SCAF has said it would cede power to a civilian government by the end of June after Egyptians elect their president.