Egypt Too Chaotic to Control?
July 9, 2013 6:00 am Last Updated: July 9, 2013 11:33 am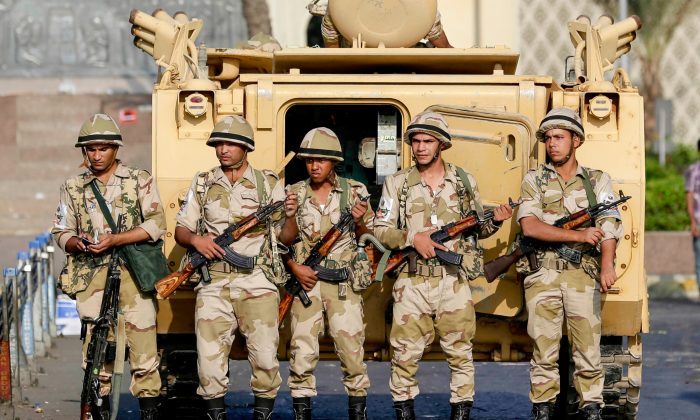 In a nation once again gripped by anger and bloodshed, hopes for a peaceful solution are diminishing by the day. Monday's killings, in which at least 50 protesters and three security personnel were killed, are raising fear of what could become a violent spiral.
In response to the killings in which soldiers used live ammunition on protesters, Muslim Brotherhood leaders called on Egyptians to rise up against the army. They also called for renewed mass protests on Tuesday
Egypt has seen numerous mass rallies since President Mohammed Morsi was ousted by the country's military on July 3, by both those supporting and those opposing him.
"Egypt is entering a period in which crises are developing too rapidly for any of the country's political actors to control," said Lina Khatib, head of the program on Arab reform and democracy at Stanford University, in an email.
In response to the latest violence, Egypt's top cleric, Ahmed al-Tayyeb, warned of a civil war, and took the unusual step by announcing he would seclude himself in his home until the violence ends.
"While civil war on the scale seen in Syria is not likely, with Egypt's size and population, it is not unthinkable that the country collapses into political, social, and economic chaos," Khatib said. 
The situation in Egypt is volatile, as both supporters and opponents of Morsi are calling for more protests. Egypt's interim president, Adly Mansour, who was appointed by the military after Morsi's removal, announced parliamentary and presidential elections would be held in early 2014. 
According to Khatib, the Egyptian military is now making the same mistakes that were seen under the Mubarak regime. 
Article Continues after the discussion. Vote and comment
[tok id=519f8a6fba9d074b82be1654be32f769 partner=1966]
"Under Mubarak, oppression of Islamists forced them to go underground, and led many into the path of extremism. If the current leadership in Egypt continues along this path, we are likely to see a re-emerging trend of Islamist extremism, which will lead Egypt to a future of cycles of oppression and authoritarianism."
On Monday, Egyptian officials closed the headquarters of the Muslim brotherhood in Cairo. According to authorities weapons were found in the office. Last week, Egypt's military arrested leaders of the Muslim Brotherhood and issued arrest warrants for up to 300 members.
According to Tarek Masoud, associate professor of public policy at the Harvard Kennedy School, the biggest challenge for Egypt will be to find a way to include the Muslim Brotherhood in the country's future. 
"It's possible that a crackdown on the Brotherhood will quiet the situation momentarily by disrupting the movement and scattering its followers. But one fears that this would merely be a prelude to a violent regrouping," Masoud said in a post on the Kennedy School's website.