Earth Day: The Face of Climate Change (+Video, Photos)
April 22, 2013 12:14 pm Last Updated: June 24, 2015 8:43 pm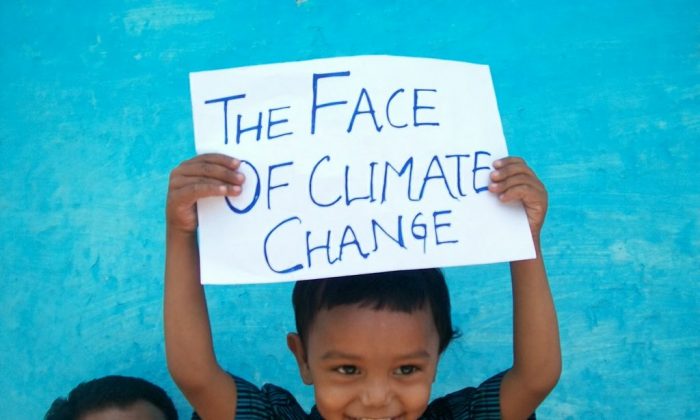 Earth Day: Monday, April 22 is International Mother Earth Day.  A social media campaign compiles "The Face of Climate Change," photos from around the world. 
The theme of 2013's Earth Day campaign is "The Face of Climate Change." Photos from all over the world have been posted on the Earth Day Network's website. 
 "The Face of Climate Change is keeping our oceans clean and safe for all life," reads the comment on a photo of a girl splashing joyfully in the ocean, submitted from Ixtapa, Guerrero, Mexico. 
A couple stands on the beach in Brussels, Belgium (bundled up well for the still-chilly spring weather). The woman holds out her hand, in which she is holding sea shells. The caption reads, "The Sea is changing and needs our help."
One photo shows a water pump in Samashpur, Bangladesh. The post states, "The Face of Climate Change is treasuring limited natural resources."
Vibrant yellow and orange flowers in Karachi, Pakistan are show, with the words, "The Face of Climate Change is being open to changing your habits."
A lady bug rests on the hand of a woman in Tirana, Albania. "The Face of Climate Change is enjoying Earth's little critters."
A young girl holds up a note book with the words "The Face of Climate Change" written on it in Gilbert, Arizona. "The Face of Climate Change is every person doing one thing to help."
The United Nations (U.N.) Secretary General Ban Ki Moon released a statement in honor of Earth Day: "International Mother Earth Day is a chance to reaffirm our collective responsibility to promote harmony with nature at a time when our planet is under threat from climate change, unsustainable exploitation of natural resources and other man-made problems."
"When we threaten the planet, we undermine our only home—and our future survival. On this International Day, let us renew our pledges to honor and respect Mother Earth," he said. 
Around the world, coastal communities try to cope as sea levels rise, polar bears try to find solid footing on melting arctic ice, and droughts plague others. The U.N. urges the worlds people to work against a global problem and nurture Mother Earth this Earth Day. 
An estimated billion or so people are taking action in 192 countries on Earth Day. 
"Bolivians call Mother Earth Pachamama and Nicaraguans refer to her as Tonantzin," states the U.N. website. "Mother Earth is a common expression for the planet Earth in a number of countries and regions, which reflects the interdependence that exists among human beings, other living species and the planet." 
RELATED: African Women Particularly Impacted by Climate Change.